This easy, refined sugar free Coconut Oil Granola is packed with walnuts, seeds and tasty shredded coconut then sweetened with maple syrup. This easy, refined sugar free Coconut Oil Granola is packed with walnuts, seeds and tasty shredded coconut then sweetened with maple syrup. Ready in around 30 minutes, this recipe is also gluten free and will keep you in nourishing breakfasts for days to come.
Making your own maple granola is massively satisfying and surprisingly easy. It's also one of those foods which is much cheaper to create at home than to buy. So why wouldn't you give it a try?
Most commercially prepared granola is so loaded with sugar you might as well be eating crumbled cookies with your milk!
The ingredients in this naturally vegan granola are all unrefined. Moreover the only sweetener is maple syrup, so there's no hidden nasties.
If you need to make this gluten free just make sure to buy certified gluten free oats (which I always do).
The recipe is super simple as well as versatile. You can add in or leave out any ingredients you don't like or you've run out of.
Why you should try this easy Coconut Oil Granola
Making your own granola means you know exactly what is and what isn't in it - SUGAR!
Few delicious cooking smells can compare with fresh toasty granola wafting through your kitchen.
It is a low maintenance make ahead recipe for any visitors you might have staying.
It's a very easy and flexible recipe. Meaning you can use whatever nuts, seeds and dried fruit you have in the cupboard.
This granola, packed into mason jars, makes an easy but thoughtful Christmas or new baby gift.
The Difference Between Granola and Muesli
Put very simply, the difference between granola and muesli is that granola is baked and muesli is raw.
They are both a mixture of oats, nuts, seeds and dried fruit in different quantities. Granola is also mixed with oil and some kind of sweetener and baked in the oven.
Is Granola Healthy?
As with so many recipes, this is entirely dependent on the ingredients used and the portion served.
This coconut granola recipe is reasonably healthy since it's full of unrefined ingredients which are highly nutritious! However it is still quite calorific since it contains good fat from nuts and natural sugars as well as lots of fibre.
As with everything, it is best to watch your portion size and remember that even a small amount is likely to keep you much fuller for longer than to a regular cereal.
What You Will Need To Make Coconut Oil Granola
Oats
You need to use rolled oats for this recipe. Quick oats and steel cut are not suitable.
There is a lot of disagreement on whether oats are gluten free due to the potential for cross contamination. Just remember that oats are guaranteed gluten free if they come certified as such.
Nuts and Seeds
This recipe honestly works with whatever nuts and seeds you have to hand. So don't worry about substituting, whatever you have will work.
For example, pecans or sliced almonds are fine in place of the walnuts and sunflower seeds are great if you don't have pepitas.
Unsweetened Coconut Flakes
I love the texture and crunch of these but if you're not into coconut (which I know some people definitely are not) it's fine to leave them out.
Maple Syrup or Honey
Either one of these natural sweeteners works perfectly but it is worth noting that honey is not suitable for vegans. So if you are looking to make a vegan granola, make sure to use maple syrup.
Unrefined Coconut Oil
I like to use this in granola along with maple syrup to get that delicious crunchy texture. You can't really taste coconut from it but if you prefer to use another vegetable oil, you can.
Raisins
I'm not ashamed to admit I am a massive raisin fan! But again, if you're not into them any other dried fruit will work well here. Try cranberries, chopped up dried apricots, cherries or a mix of the above.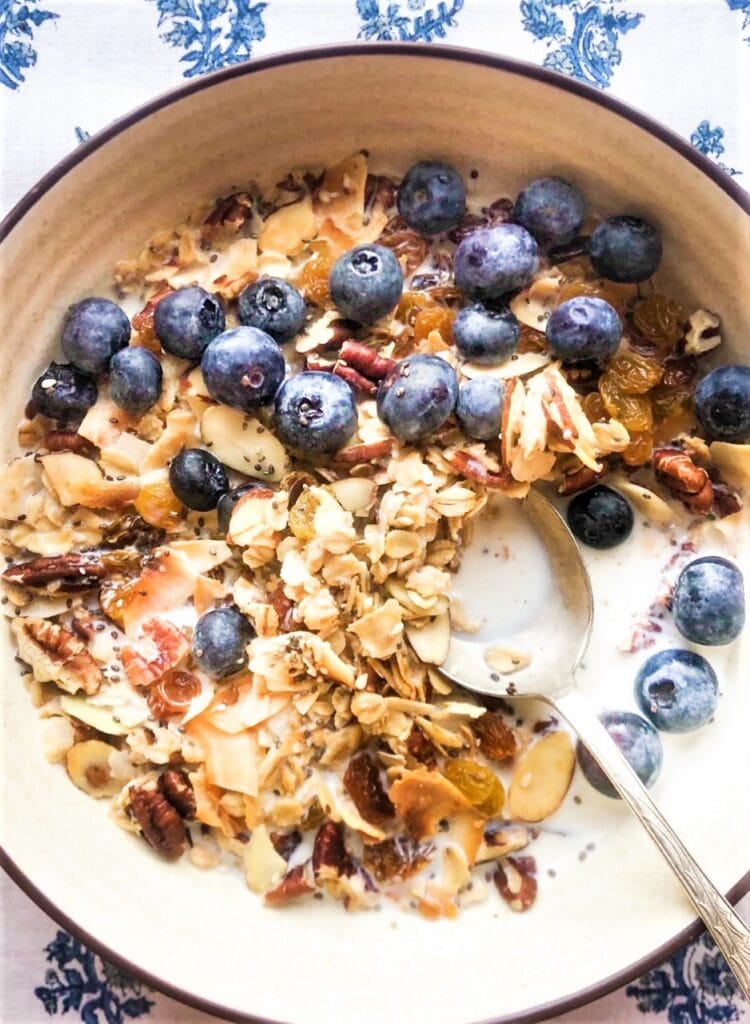 Tips for making the best Coconut Oil Granola
If you like big clusters of nuts and oats press the granola together and flatten it out on the baking tray before baking. Then after 20 minutes or so of cooking break it up a little. For a lighter texture you can sprinkle spread out the oats and nuts on the tray.
Make sure the granola bakes in a thin layer for maximum crunch. Spread it out on the baking sheet and use two trays if you need to.
Line the baking sheet with parchment for easy clean-up.
Gently stir in the dried fruit at the end when the granola is out of the oven. If it is baked with the oats it will burn and taste bitter.
Store granola in an airtight container for up to 14 days - if it lasts that long!
How to serve Homemade Coconut Oil Granola
I love to serve mine with yoghurt and fruit.
Alternatively you can just add your favorite milk for a quick and easy breakfast.
Sprinkle over icecream for a quick dessert
It's also delicious spooned over cooked fruit as a kind of cheat's crumble.
This granola is also useful to keep in your bag as a healthy snack.
How long will Easy No Sugar Granola keep for?
This granola will keep for a couple of weeks in an air-tight container at room temperature (if you can keep from eating it for that long!)
Did you know you can freeze Coconut Oil Granola?
To keep that granola super crunchy, or if you make a bigger than usual batch, it can be stored in the freezer for up to 3 months.
Just make sure to put it in an air tight container and be sure to defrost it on the countertop overnight before using.
Pin This Coconut Oil Granola Recipe For Later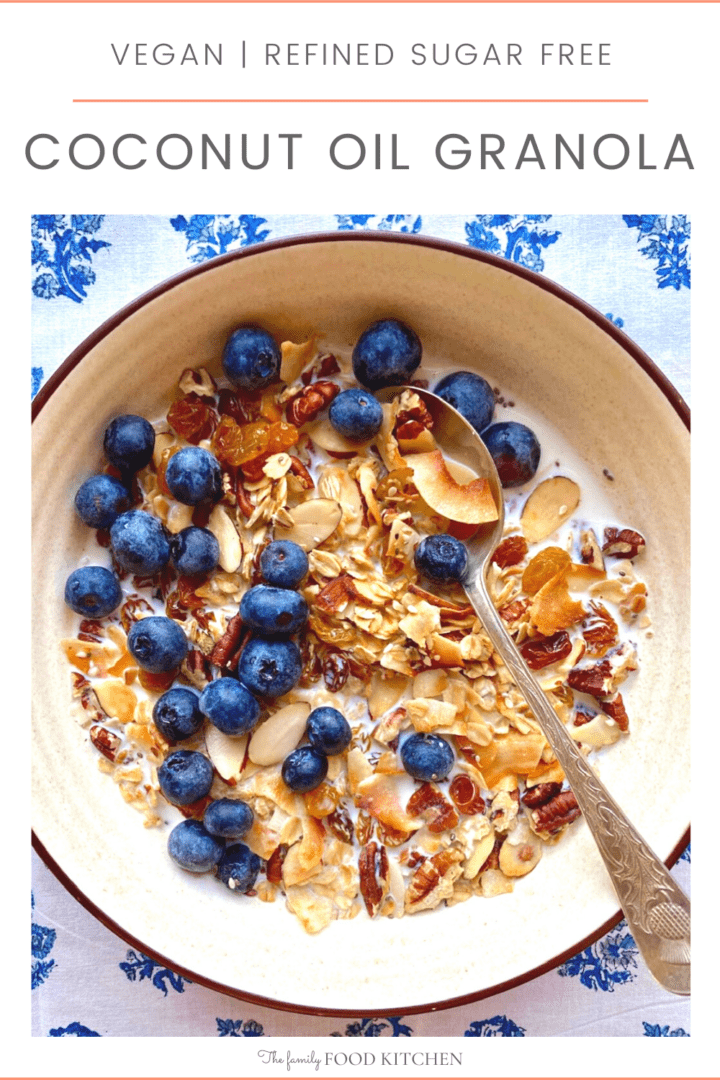 What Do You Think?!
I'd love to know what you think about this recipe! I'd be so grateful if you scroll down to the bottom of the page and leave a star rating and comment.
Don't forget to go over to Facebook and Instagram and make sure you're following me so you can join in the chat. And remember to save this recipe to your Pinterest too!
---
More Easy Recipe Ideas
Enter category or post id numbers in below block setting. Delete this para!
---
Printable Recipe
Coconut Oil Granola (Vegan & Refined Sugar Free)
This easy, refined sugar free Coconut Oil Granola is packed with walnuts, seeds and tasty shredded coconut then sweetened with maple syrup. This 30 minute vegan granola is also gluten free and will keep you in nourishing breakfasts for days to come.
Ingredients
4

cups

Rolled Oats

-

gluten free if required

⅓

cup

Chopped Walnuts

½

cup

Dried Shredded Coconut Flakes

-

unsweetened

⅓

cup

Pepitas

2

tbsp

Flax Seeds

2

tbsp

Chia Seeds

3

tbsp

Coconut Oil

⅓

cup

Maple Syrup or Honey

⅓

cup

Dried Raisins
Instructions
Preheat the oven to 325°F/160°C

Mix together the oats, nuts, coconut and seeds in a large bowl.

In a small saucepan, heat the coconut oil until it melts with the honey or maple syrup.

Carefully pour the hot oil over the oat mix and stir until everything is well combined.

Tip onto a large parchment lined baking sheet, making sure the granola is nicely spread out and can toast evenly.

Bake for around

25

-30 minutes, stirring occasionally, or until the granola is nicely golden brown.

Let the granola cool then stir through the dried fruit.
Nutrition
Serving:
1
g
Calories:
193
kcal
Carbohydrates:
24
g
Protein:
4
g
Fat:
9
g
Saturated Fat:
5
g
Sodium:
5
mg
Potassium:
177
mg
Fiber:
4
g
Sugar:
5
g
Vitamin C:
1
mg
Calcium:
37
mg
Iron:
1
mg
Nutritional information is provided as a courtesy only and should be taken as an estimate rather than a guarantee. Ingredients can vary and the Family Food Kitchen can't guarantee the accuracy of this information.
This recipe has been shared with the #CookBlogShare community hosted this week by Midge at The Peachicks Bakery