This Quick & Easy Gnocchi with Vegetables can be ready in 15 minutes. Perfect for busy weeknights, the buttery corn and tomato sauce takes store bought gnocchi to the next level.
With fresh corn and ripe tomatoes, this dish is like summer on a plate. The buttery sauce and Parmesan cheese finishes things off perfectly.
Store bought gnocchi is so convenient for busy week nights - it's a staple in the Family Food Kitchen. Plus I find the kids love the these little pillows of dough too.
Why You Should Make This Skillet Gnocchi?
Skillet gnocchi is a great way of using any veggies you have in the fridge
It can be made and on the table in under 15 minutes, so is pretty hard to beat for speed and flavor.
What are Gnocchi?
Gnocchi are small, soft Italian dumpings, most commonly made by combining mashed potato with wheat flour and egg. These soft dumplings can be used in much the same way as pasta and they are great for absorbing delicious pasta sauces.
Varieties of Gnocchi:
The most common gnocchi that you'll find in the store is made with potatoes, flour and egg. Other varieties are available where the potato is switched for sweet potato, squash or other mashed vegetables. You can boil, pan fry or even roast potato gnocchi.
Ricotta gnocchi is made from ricotta cheese mixed with flour and egg. This type is boiled and is light and delicate.
Roman style gnocchi is quite different and is made from semolina flour and baked rather than boiled.
Gnudi are another style which are a hybrid between ricotta and roman style gnocchi.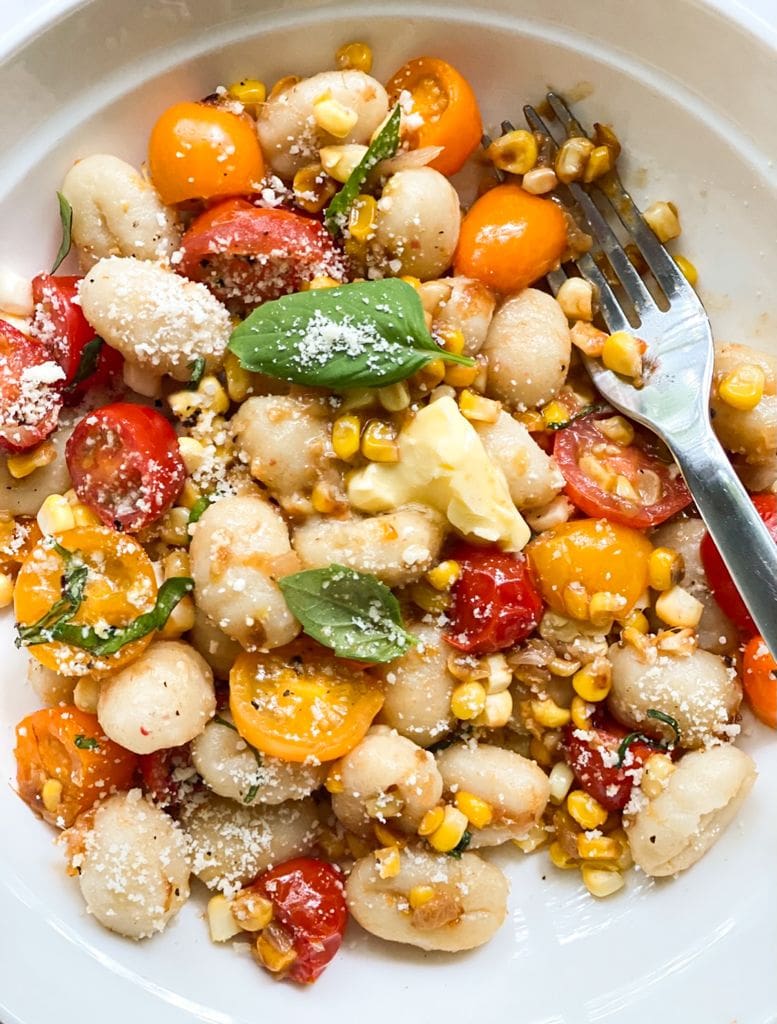 How to Make Gnocchi with Vegetables:
Find a full printable recipe with measurement below.
Cook the gnocchi according to the packet instructions and drain. Reserve some cooking water for later.
Meanwhile make the sauce! Cook the corn and shallots in the butter and season well. Add the cherry tomatoes and cook until they start to burst.
Add the cooked gnocchi and some of the reserved cooking water to make a buttery sauce along with grated cheese.
Check the seasoning and serve with fresh basil and more grated cheese.
What Kind of Gnocchi Should I use?
You can make your own gnocchi if you would prefer, however, I use store bought gnocchi at it is quick, easy to cook and great for those nights when you're pushed for time.
Store bought potato gnocchi comes in two varieties - fresh or vacuum packed. Although the overall taste is very similar, fresh gnocchi has a lighter texture than pre packed. However, vacuum packed gnocchi does have a longer shelf life.
If anyone else is a fan of Trader Joe Gnocchi they do a great lower carb cauliflower gnocchi which would be wonderful in this recipe too.
How to cook Gnocchi?
Gnocchi is cooked by first placing a large saucepan over a medium/high heat and bringing a pan of water to the boil. Add salt to the pan to season the gnocchi while cooking.
When the water is boiling, add the gnocchi to the pan and continue to cook. The gnocchi is cooked when the small dumplings float to the surface of the water.
Variations of Gnocchi with Vegetables:
I use store bought here for speed and ease of cooking. But feel free to try making your own fresh gnocchi if you prefer - here is a tried and true gnocchi recipe. This sauce would also work with some cooked pasta.
Butter adds a richness to the sauce, but you can substitute with a dairy free alternative spread or olive oil if preparing this dish for dairy free or vegan diners.
Sweet shallots flavor the sauce but can be substituted with green onions or a red onion.
Grated Parmesan or a suitable vegetarian alternative adds final flavoring in the sauce. You can also use Grana Padano or Pecorino cheeses.
A grating of fresh Parmesan and some torn basil adds a final flourish of freshness to this dish before serving. Both are entirely optional.
Corn and cherry tomatoes are the vegetables used in this sauce but it's so adaptable I have suggested some different veggies you could add below.
What vegetables go well with Gnocchi?
zucchini
bell peppers
garden peas
green beans
broccolini
spinach
Swiss chard
Tips For Making the best Tomato Gnocchi:
Always retain a small cup of the water you cooked the gnocchi in when making a pasta sauce. This water is full of starch and ideal for thickening the sauce and melding it to the gnocchi.
This dish is best served freshly made as you risk overcooking the gnocchi when reheating it. However, if you do have leftovers, simply warm them gently in a saucepan, adding a little water to thin the sauce if required.
How To Serve Gnocchi with Vegetables
Serve this simple skillet gnocchi in the same way you would any pasta dish. This recipe is packed full of vibrant summer veggies so keep the sides simple.
Warm garlic bread, herby focaccia or crusty white bread are ideal for mopping up any sauce.
A freshly dressed green salad will be a delicious accompaniment to this dish and a great low carb accompaniment to the meal.
For a great tasting salad with complimentary flavors, try serving my Easy Quinoa Caprese Salad on the side.
Pin This Skillet Gnocchi Recipe For Later: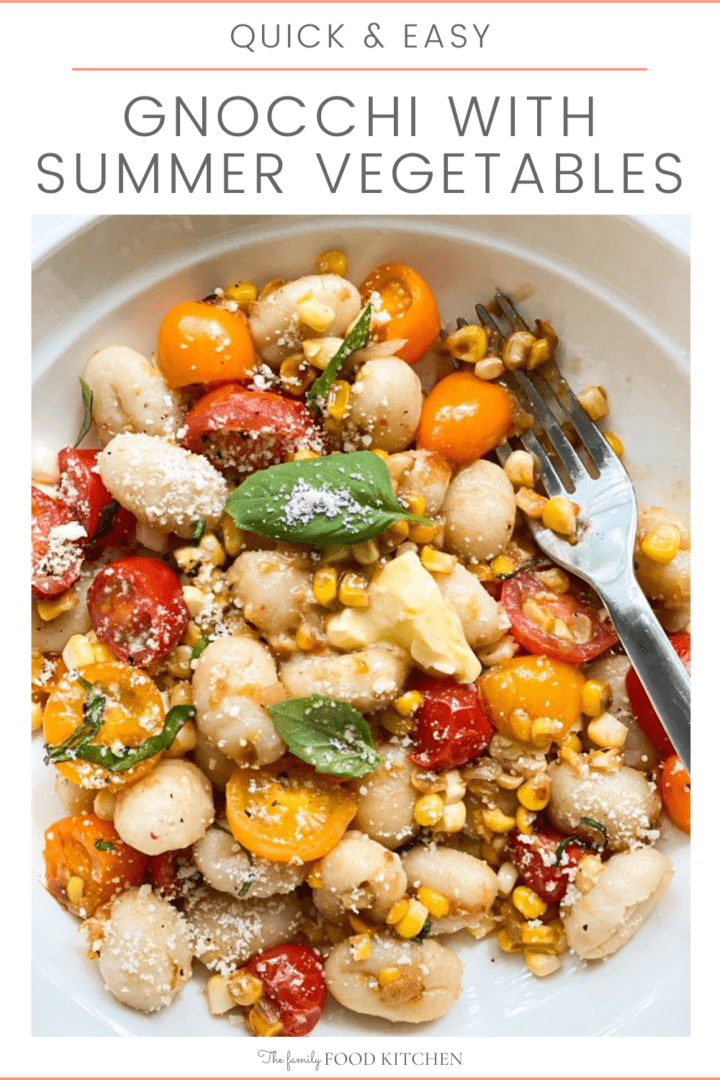 What Do You Think?!
I'd love to know what you think about this recipe! I'd be so grateful if you scroll down to the bottom of the page and leave a star rating and comment.
Don't forget to go over to Facebook and Instagram and make sure you're following me so you can join in the chat. And remember to save this recipe to your Pinterest too!
---
More Easy Recipe Ideas
---
Printable Recipe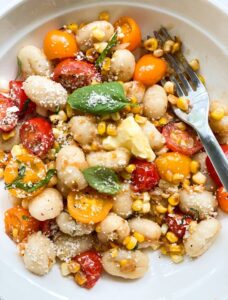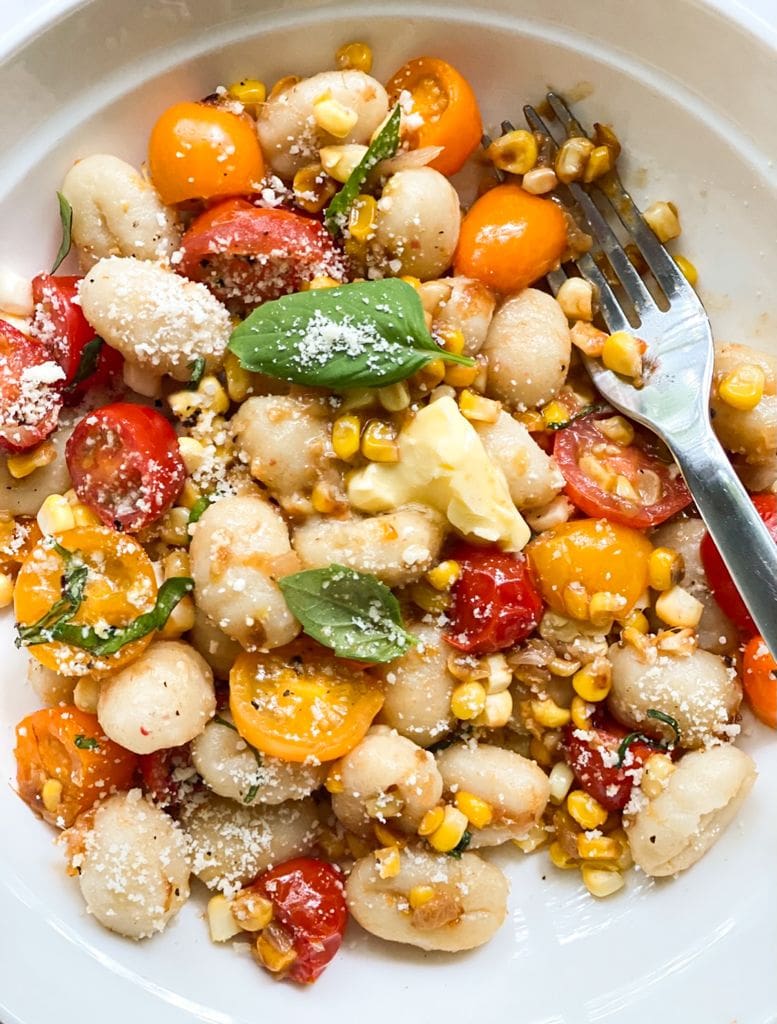 Quick & Easy Gnocchi with Vegetables
This Quick & Easy Gnocchi with Vegetables can be ready in 15 minutes. Perfect for busy weeknights, the buttery corn and tomato sauce takes store bought gnocchi to the next level.
Ingredients
1

lb

Gnocchi

-

I used store bought

4

tbsp

Butter

-

divided

2

Shallots

-

finely diced

1

cup

Corn

-

from 2 ears, frozen is also fine

10

oz

Cherry Tomatoes

-

on-the-vine if possible

½

cup

Grated Parmesan or Vegetarian Alternative

-

optional, plus more for serving

Fresh Basil

-

to serve

Sea Salt and Black Pepper
Instructions
Bring a large pan of salted water to a boil and cook the gnocchi according to the packet instructions.

Once cooked, drain and reserve ½ cup of the cooking water.

Meanwhile melt 2 tablespoons butter over a medium heat in a large frying pan/skillet. Cook the shallots and corn on a medium heat until they start to color and soften. This should take around 8 minutes. Season well with sea salt and black pepper.

Add the cherry tomatoes and turn down the heat. Cook everything together for a further 5 minutes until the tomatoes start to burst. Stir through anothert 2 tablespoons of butter.

Stir the cooked and drained gnocchi into the skillet and stir in ¼ -½ cup of the reserved cooking water to make a buttery sauce.

Add another 1-2 tablespoons butter if you like - this is entirely optional depending on how buttery you would like the sauce to be.

Stir in the grated parmesan or veggie alternative.

Taste and check the seasoning. Adjust if needed,

Serve with fresh basil and more grated cheese if using.
Nutrition
Calories:
447
kcal
Carbohydrates:
54
g
Protein:
12
g
Fat:
22
g
Saturated Fat:
13
g
Trans Fat:
1
g
Cholesterol:
56
mg
Sodium:
735
mg
Potassium:
301
mg
Fiber:
4
g
Sugar:
5
g
Vitamin A:
1081
IU
Vitamin C:
19
mg
Calcium:
180
mg
Iron:
5
mg
Nutritional information is provided as a courtesy only and should be taken as an estimate rather than a guarantee. Ingredients can vary and the Family Food Kitchen can't guarantee the accuracy of this information.
This recipe was shared with the #cookblogshare community, which this week was hosted by Sisley from Sew White.