This one-pot Indian chicken curry with coconut milk is packed full of fragrant spices, but is mild and creamy enough for the whole family to enjoy. This lighter take on a korma style curry is healthier and gluten free, with all the flavor but less saturated fat. It'll be your new family favorite!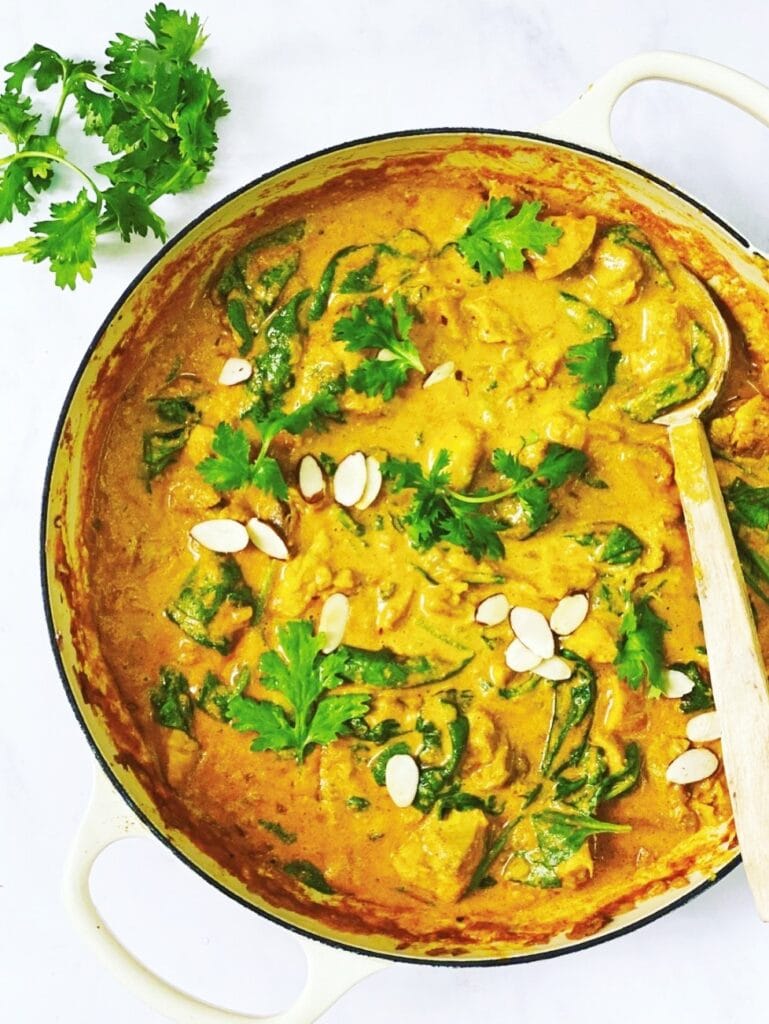 Chicken korma is a creamy, mild flavored Indian curry dish, which is thickened with ground nuts, in this case ground almonds.
Traditionally the creamy element is added with cream or yogurt, but I've added light coconut milk instead. The coconut milk is not only lighter, but adds a lovely flavor to the finished curry.
I cook a lot of easy curry from scratch in my house and it's way simpler than you might think.
Cooking Indian food yourself means you have total control over the ingredients too. Which means no artificial nasties and you can limit excess salt and sugar.
You can also dial up the heat for anyone who likes spice.
This dish is super easy to cook but does require a bit of shopping in advance to make sure you have the spices, light coconut milk and ground almonds. However, these are all well worth keeping in the kitchen since you can use them again and again.
Why You Should Make This Indian Chicken Curry:
This pared back, easy curry is a perfect midweek meal and can be on the table in 45 minutes.
It's a one pot, so has all the flavor but less dishes.
Homemade curries are cheaper, better tasting and healthier than a takeout.
This curry is a lighter way to enjoy a traditional favorite curry dish. If you love cooking with coconut milk you could also try my Chickpea and Spinach Curry.
How to Make Indian Chicken Curry
Find a full printable recipe with measurements below.
Heat the coconut oil in a large saucepan or frying pan, add the onions and fry over a low heat for 10 minutes until the onions have softened.
Add the chicken and sauté for a few minutes before adding the garlic, ginger and dry spices. Stir to combine and cook for another minute until the spices are fragrant.
Add the tomato puree, ground almonds, stock and a pinch of sugar.
Bring to a boil, then turn down to a simmer and cook for a further 20 minutes.
Add the light coconut milk, stir and check for seasoning. Finally add the spinach and stir through to wilt.
Garnish with sliced almonds and chopped cilantro (coriander).
What Cut of Chicken is Best to Use for Indian Curry?
I've made this creamy chicken curry with boneless chicken thighs as they are flavorsome, don't dry out and work really well with the spices in this dish.
You can add chicken breast if you prefer but just make sure that you adjust the cooking times accordingly. Breast meat cooks more quickly than the darker thigh meat.
The chicken needs to cook until it is tender enough to break down using just a fork.
What is the difference between Coconut Milk, Light Coconut Milk and Coconut Cream?
Coconut milk has the consistency of cows milk. It is a blend of coconut flesh and water which is then pressed. The resulting liquid is the coconut milk and the pulp is discarded or used for other purposes.
Coconut cream is thicker and richer in texture than regular coconut milk but made in the same way but with less water and more coconut pulp. As a result, the fat content is higher.
Light coconut milk simply contains more water and therefore less fat than regular coconut milk. This is what I use in this Indian coconut milk curry, making it a healthier option with less fat and lower calories.
Coconut milk can be separated into cream and light coconut milk. If you have ever opened a can of coconut milk and found that it has seperated, the solid layer at the top is cream and the thin liquid at the bottom is the light milk. Give it a good shake or stir to make it into milk again.
If you cannot find light coconut milk, you can use ⅔ regular coconut milk and ⅓ water instead.
How to add flavor to Chicken Curry?
Adding flavor to a chicken curry could not be simpler. I have used a garam masala blend of mild spices in this recipe, but you could also add in some ground cumin or coriander if you wish. Use the blend of spices that you and your family enjoy eating.
Fresh cilantro (or coriander leaf) is added right at the end of the dish as a garnish. This is entirely optional but does add freshness to the curry just before serving.
Is this a healthy Chicken Korma?
This light chicken korma is a lot healthier than many curry recipes and will contain far less salt, sugar and oil than your average takeaway curry.
Salt and sugar are kept to a minimum in this recipe and I use only a small amount of coconut oil to gently sauté the onions.
Heavy cream or yogurt is replaced with light coconut milk, adding not only a creamy texture to the dish, but also enhancing the flavor.
Variations of light Chicken Korma:
To make this curry suitable for vegetarian diners replace the chicken with some roast veggies of your choice instead. Cauliflower, sweet potato, squash, zucchini, bell peppers, the list is endless.
A korma is a mild flavored Indian curry, which makes it suitable for serving the whole family. However, those who enjoy more chili heat could add some freshly sliced red chili to their curry for an added kick.
I always try to 'veggify' whatever I'm cooking, so I've added some fresh spinach leaves towards the end here. Frozen spinach would work too in a pinch, as would stemmed and chopped kale. This lightens things up and adds nutrients and fiber - but leave it out if you prefer.
Tips for making the best Indian chicken curry:
To avoid the danger of tough chicken, make sure you just bring this curry to a boil and then turn down to a simmer, low enough so you can barely see the bubbles.
This dish freezes well so is great for batch cooking. I like to make double the quantity, eat half and freeze the other half for a quick meal at a later date.
A teaspoon of mild chili powder will give you a mild flavored curry sauce. You can easily adapt the heat up or down by adding more or less chili powder according to taste.
How To Serve Indian Chicken Curry:
I like to serve this mild curry with some steamed basmati rice or some soft naan bread. You could also use a chapati or roti bread to mop up the creamy Indian coconut milk curry sauce.
If cooking for a larger group, serve this Light Chicken Korma with some other simple curries alongside, like my Easy Red Lentil Dahl.
Make ahead Chicken Spinach Korma:
This Indian chicken korma is a great make ahead dish. You can prepare one day and once cooked, cover and store overnight in the fridge. The flavors of a curry only intensify if left to sit overnight.
One tip worth noting. If you are planning to cook this Indian chicken curry in advance, cook it up to the point where you've added the coconut milk and seasoned (point 5 in the recipe card).
Then once you have reheated the curry and are just about to serve, stir through the spinach leaves. Adding them just before serving lifts the whole curry and keeps the spinach tasting and looking fresh.
How to freeze Indian Chicken curry:
As with most curries, this is a great dish to freeze. Simply allow the curry to cool completely before placing into an airtight container and popping into the freezer.
It will keep in the freezer for up to 3 months. When ready to enjoy, defrost thoroughly before heating to piping hot and serving.
Pin This Indian Chicken Curry Recipe For Later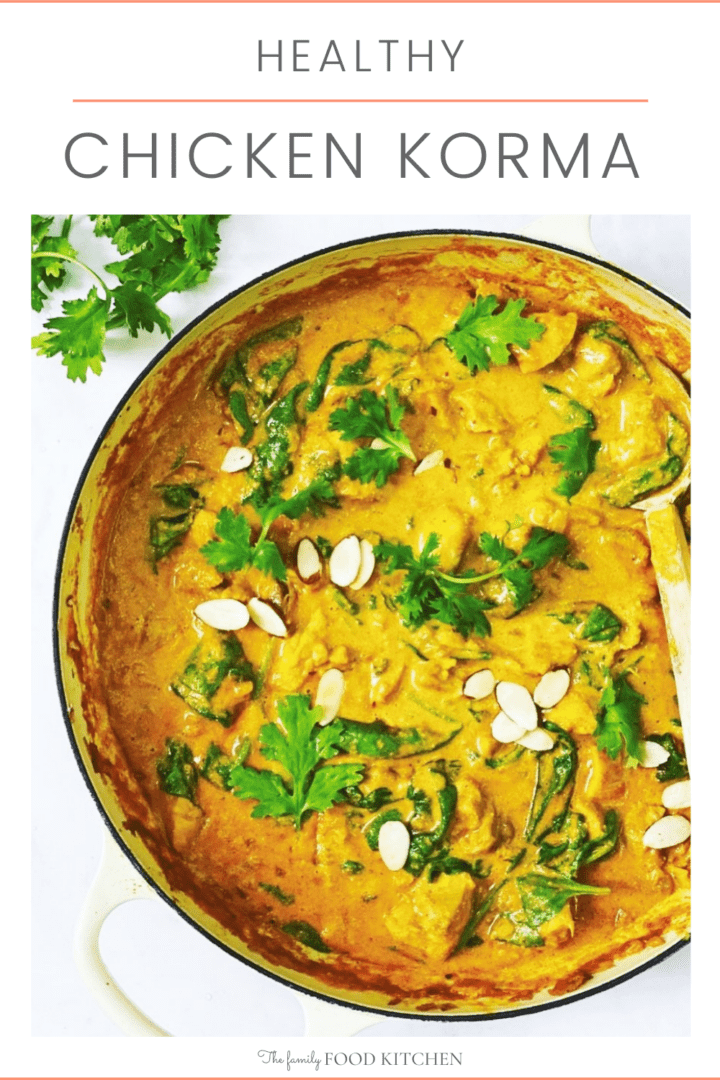 What Do You Think?!
I'd love to know what you think about this recipe! I'd be so grateful if you scroll down to the bottom of the page and leave a star rating and comment.
Don't forget to go over to Facebook and Instagram and make sure you're following me so you can join in the chat. And remember to save this recipe to your Pinterest too!
---
More Easy One Pot Recipe Ideas
---
Printable Recipe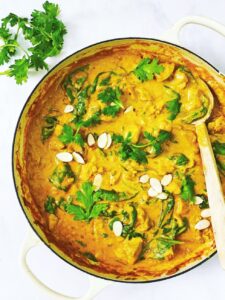 Indian Chicken Curry with Coconut Milk
This one-pot Indian chicken curry with coconut milk is packed full of fragrant spices, but is mild and creamy enough for the whole family to enjoy. This lighter take on a korma style curry is healthier and gluten free, with all the flavor but less saturated fat. It'll be your new family favorite!
Ingredients
2

tbsp

Coconut Oil

1

Onion

-

medium, finely chopped

2

lbs

Chicken Thighs

-

skinless & boneless, cut into bite-size pieces

2

cloves

Garlic

-

crushed

1

inch

Fresh Ginger

-

peeled and grated

1

tbsp

Garam Masala

1

tsp

Mild Chilli Powder

-

optional

¼

tsp

Ground Allspice

2

tsp

Tomato Purée

¾

cup

Ground Almonds (Almond Flour)

1

cup

Chicken Stock

1

pinch

Sugar

½

cup

Light Coconut Milk

Sea Salt and Black Pepper

4

handfuls

Spinach
To Garnish
Fresh Cilantro (Coriander)

-

optional

Sliced Almonds

-

optional
Instructions
Heat the coconut oil in a large saucepan or frying pan. Once hot, fry the onion over a low heat, stirring occasionally for around 10 minutes until it starts to soften.

Add the chicken and fry for a few moments longer, then stir in the garlic, ginger and the dry spices. Stir around in the pan, allowing them to release their flavor into the chicken.

Add the tomato purée, ground almonds, stock and pinch of sugar.

Bring to a boil then turn to a simmer. Cook for about 20 minutes, stirring occasionally.

Taste and season again. Add the light coconut cream and stir.

Finally add the spinach and stir until wilted but still bright green.

Scatter over the almonds and chopped cilantro/coriander, if using.
Nutrition
Calories:
522
kcal
Carbohydrates:
13
g
Protein:
51
g
Fat:
30
g
Saturated Fat:
11
g
Trans Fat:
1
g
Cholesterol:
217
mg
Sodium:
343
mg
Potassium:
861
mg
Fiber:
4
g
Sugar:
3
g
Vitamin A:
3030
IU
Vitamin C:
11
mg
Calcium:
109
mg
Iron:
4
mg
Nutritional information is provided as a courtesy only and should be taken as an estimate rather than a guarantee. Ingredients can vary and the Family Food Kitchen can't guarantee the accuracy of this information.