If you love making soups, try this White Bean Soup with Leek & Potato. Filling, hearty and healthy, its the perfect winter warmer. It also comes together in just 30 minutes - ideal for when life is busy but you still want to eat well.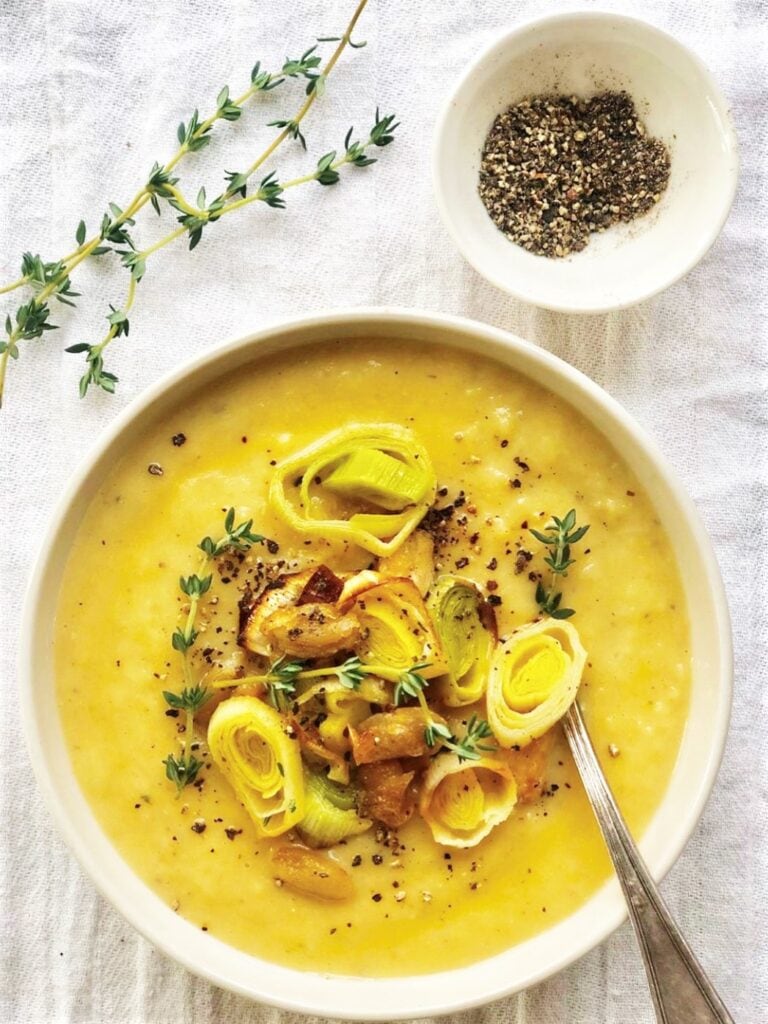 This vegetarian white bean soup is kind of an update of the classical leek and potato. I think that can feel a bit flat and flavorless to our modern palettes.
Roasting the leeks really brings out their sweet flavor and allows for pretty soup topping.
The addition of the garlic and thyme ups the flavor ante and the cannellini beans provide some all important protein to keep you fuller for longer.
Why you should try this White Bean Soup with Leek & Potato
It can be on the table in the table in under 30 minutes flat.
Roasting the vegetables first is a more modern way to make soup and really helps to develop the flavor.
The roast veggies make a pretty garnish too.
Any leftovers make a great lunch for the next day, heated and packed in a thermos.
What You Will Need To Make White Bean Soup with Leek & Potato
Leeks
This vegetable is from the onion family but is much milder and sweeter in taste.
Choose leeks which have a long white to green ratio since the white is more usable. Make sure your leeks are very clean or they can make your dish taste gritty. See my guide on how to clean leeks below.
What is the Best Way to Clean Leeks?
The easiest way to clean leeks is to rinse them under running water to remove any visible sand or dirt. Then, with a sharp knife, remove the dark green end and the root end.
Thinly slice the leek into rings and submerge the sliced leaks in a bowl of water. Swirl them around to make sure you have removed any remaining dirt and drain.
White Beans
I use canned cannellini beans here since I like their nutty flavor. White beans are very nutritious and can help stabilize your blood sugar levels.
They're full of vitamins and minerals and also pack a powerful protein punch too. Roast White Beans are a great alternative to croutons for soup.
What Other White Beans Can I Use?
Any other white beans would work well here!
It can get confusing since there are so many different names bandied about. For example cannellini beans are also called white kidney beans. They are meatier than navy beans or great northern beans but these would also work well.
If you're in the UK where the larger butter bean is popular, these would also be a lovely choice.
Can I Use Dried Beans?
If you have the time to soak and cook your beans from scratch even better! But I used canned beans for convenience here.
Potatoes
These help thicken the broth. Waxy potatoes are generally the best kind to use for soup. I like Yukon Golds but Russets or red potatoes also work well.
Garlic and Thyme
These aromatics add an unbeatable depth of flavor.
Milk
This adds to the thickness of the broth helps to give the soup a rich and creamy sheen. Be sure not to boil the soup after you add the milk as this can risk the soup curdling.
What can I use as a Dairy Substitute in White Bean Soup?
You can use any type of milk substitute you like best. I tend to use almond milk since I like the addition of the nutty flavor - but soy milk, oat milk or rice milk will also work.
Tips for making the Best Leek, Potato & White Bean Soup
Seasoning: Soups always benefit from good seasoning.

Make sure you season the roast veggies before roasting and then taste and adjust the soup as you make it and then again as you blend it. That way you'll get to know how much salt and pepper you like to add.
Make sure the veggies are tender: Veggies for soup must be cooked properly or they won't blend nicely and you may find unappetizing hard lumps in your soup!

The best way to check if they are tender is to eat a piece (after blowing on it - don't burn yourself!)
Blending the soup: You can use either a stand blender or a stick immersion blender here.

For a more chunky soup blend for less time and for a very smooth consistency make sure you blend for a minute or two.
How to serve Vegetarian Leek Soup
This soup comes with ready to serve White Bean Croutons but a delicious hunk of crusty bread and butter never goes amiss.

To add some crunch or extra texture, a scattering of pumpkin seeds over the top of the soup is also a nice touch.
Can You Reheat this Vegetarian Bean Soup?
Yes! This leftovers from this soup will keep in an airtight container in the fridge for three days. Reheat over a medium heat whilst stirring occasionally, until piping hot.
Pin This White Bean Soup with Leek & Potato Recipe For Later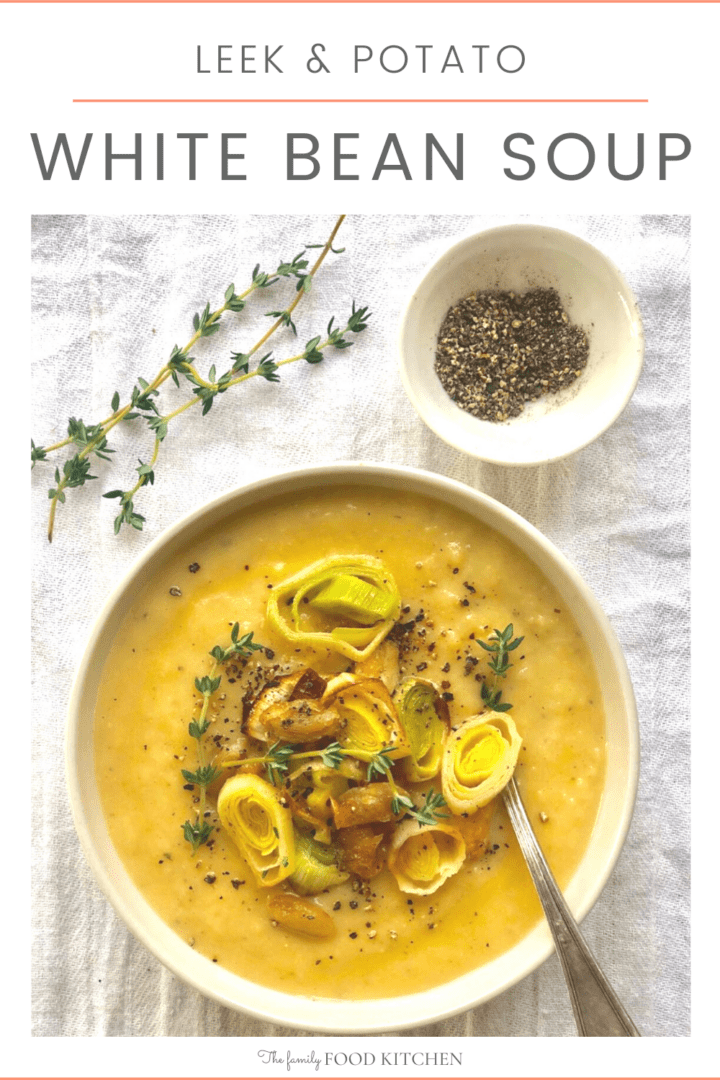 What Do You Think?!
I'd love to know what you think about this recipe! I'd be so grateful if you scroll down to the bottom of the page and leave a star rating and comment.
Don't forget to go over to Facebook and Instagram and make sure you're following me so you can join in the chat. And remember to save this recipe to your Pinterest too!
---
More Easy Recipes
---
Printable Recipe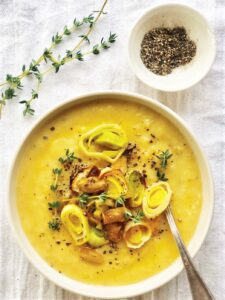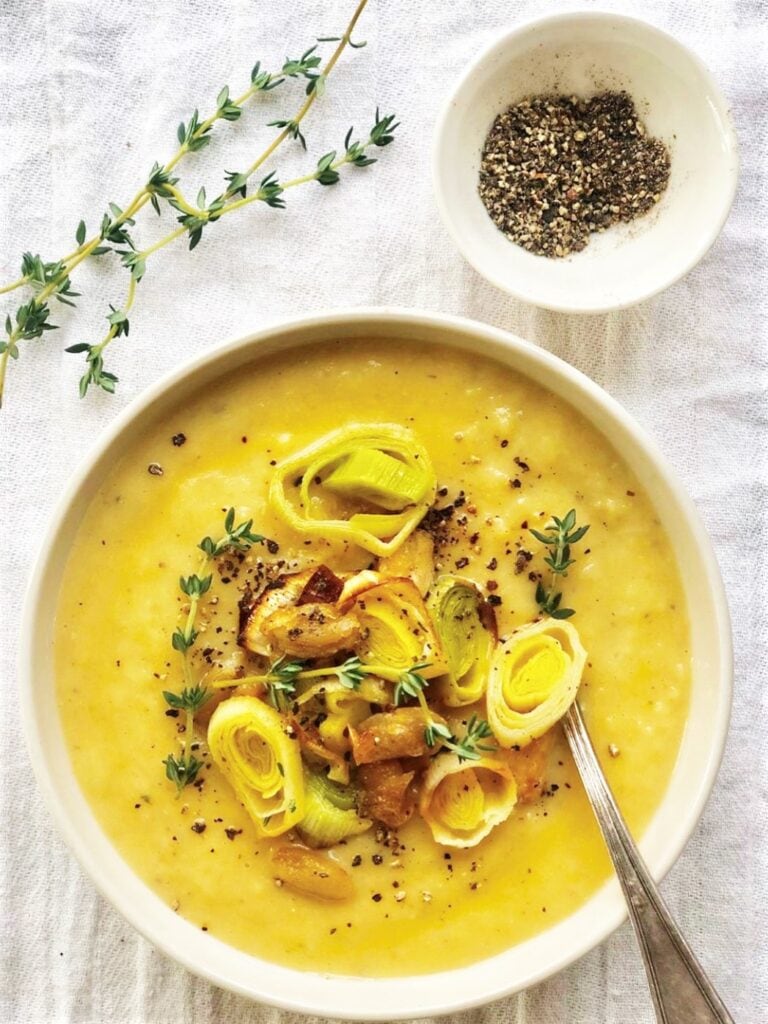 White Bean Soup with Leek & Potato
If you love making soups, try this White Bean Soup with Leek & Potato. Filling, hearty and healthy, its the perfect winter warmer. It also comes together in just 30 minutes - ideal for when life is busy but you still want to eat well.
Ingredients
1

15oz Can

Cannellini Beans

-

drained

2

tbsp

Olive Oil

5

Leeks

-

medium size, well washed and thinly sliced

5

sprigs

Thyme

2

Potatoes

-

medium size, peeled cut into half inch pieces

2

cloves

Garlic

-

peeled and minced

4

cups

Vegetable Stock

-

gluten free if required

¾

cup

Whole Milk

Sea Salt and Black Pepper
Instructions
Preheat oven to 400°F/200°C

Spread half the cannellini beans out on a parchment lined baking tray.

Toss with a quarter of the leek slices, 1 tbsp olive oil, 2 thyme sprigs and salt and pepper.

Roast for

20-25 minutes

until leeks and beans are golden. Take the tray out of the oven and set aside.

Meanwhile heat the other 1 tbsp oil in a large pan and cook the remaining leaks on a low-medium heat until soft (around 8 minutes).

Add the potatoes, garlic, thyme, remaining cannellini beans and stir.

Add the vegetable stock and bring to the boil.

Simmer for

10 minutes

or until the potato is tender.

Use either a hand held stick blender or a stand blender to carefully puree the soup until smooth.

Taste and season again.

Reheat the soup in a clean pan if necessary, on a medium heat, stirring until piping hot.

Divide the soup between bowls and top with the remaining roast leek and cannellini beans.
Nutrition
Serving:
1
serving
Calories:
254
kcal
Carbohydrates:
40
g
Protein:
5
g
Fat:
9
g
Saturated Fat:
2
g
Cholesterol:
4
mg
Sodium:
989
mg
Potassium:
707
mg
Fiber:
5
g
Sugar:
9
g
Vitamin A:
2486
IU
Vitamin C:
37
mg
Calcium:
136
mg
Iron:
3
mg
Nutritional information is provided as a courtesy only and should be taken as an estimate rather than a guarantee. Ingredients can vary and the Family Food Kitchen can't guarantee the accuracy of this information.
This recipe has been shared with the #cookblogshare community, which this week was kindly hosted by Sisley at http://www.sewwhite.com