Love to bake during the Holidays? Then you'll adore making these delicious Puff Pastry Mince Pie Pinwheels. Dusted with powdered sugar straight from the oven these taste like a dream and couldn't be easier.
These 4 ingredient Puff Pastry Mince Pies take just minutes to make, yet are as flaky and delicious as any I have tried. And no they definitely don't contain any meat!
Being a Brit living in the USA I'm always (*massively*) nervous about making mince pies, since I know they're not a traditional holiday food here. But served warm straight from the oven at any holiday party I've thrown, these are always the first things to get eaten!
Why You Should Try Puff Pastry Mincemeat Pinwheels
Mince Pies are genuinely delicious and are one of the few truly seasonal foods we have left.
These mincemeat bites are embarrassingly easy, yet give the impression that you have made a great effort for guests and family!
They use frozen pastry and store-cupboard mincemeat. So they can be whipped up if any unexpected guests descent. Which they always do at Christmas 😉
These alternative mince pies freeze like a dream. Which means you can make, cut and freeze them in advance. Ready to put in the oven and bake from frozen when you need to.
What is mincemeat?
Traditionally Mincemeat did contain meat but this was phased out long ago and today it is most definitely a dessert ingredient. Modern mincemeat that you buy in jars contains no meat.
Mincemeat is a sweet mixture of currants, raisins, sugar, apples, candied citrus peel, cinnamon, cloves and nutmeg. Along with some distilled spices and either beef or vegetable suet.
How to Make Puff Pastry Mince Pie Pinwheels
Find the full printable recipe below.
Unroll the puff pastry on a floured surface and spread the mincemeat all over the sheet making sure it is even and spread right to the edges.
Roll up the pasty like you are making cinnamon rolls.
Chill the roll on a lined baking tray for 30 minutes.
Gently cut the roll into ¾ inch slices and lay each slice cut side up on the baking tray.
Brush the top and sides with beaten egg then bake until golden brown and bubbling.
Serve warm with a dusting of confectioners sugar.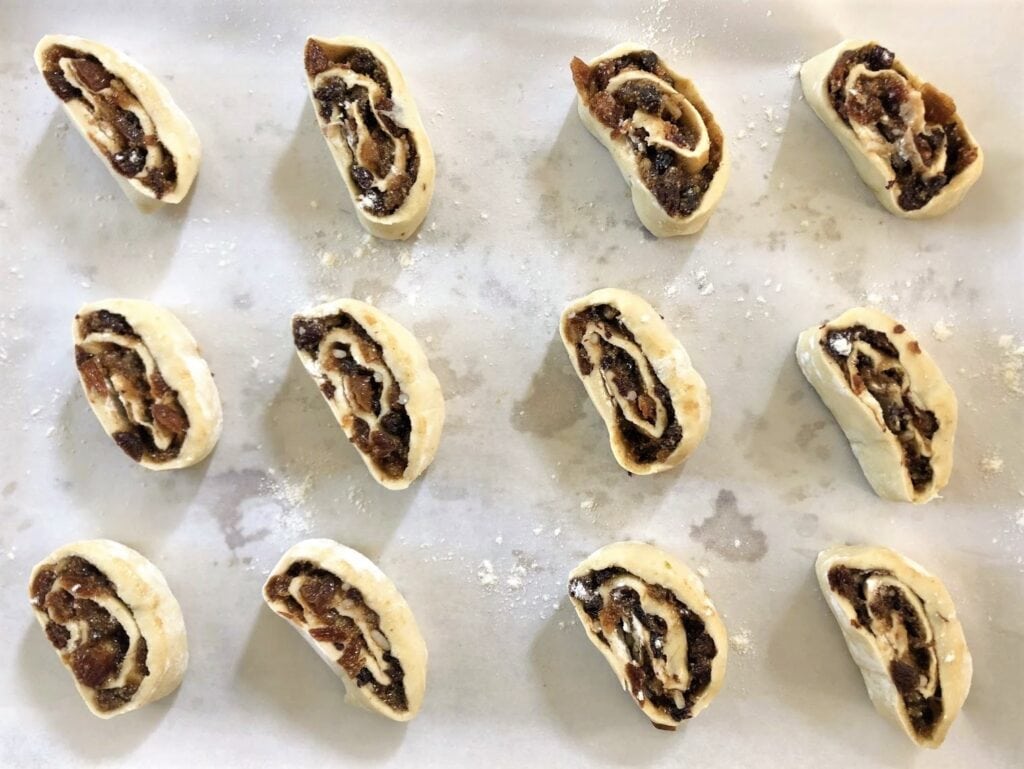 Can Vegetarians Eat Mince Pies?
Mincemeat traditionally used to contain a beef shortening (suet). But more recently this has been replaced by vegetable shortening (suet) and occasionally butter.
To make doubly sure just check the packet on the mincemeat you buy.
Is Store Bought Pastry Good Enough for Baking?
Store bought puff pastry is definitely good enough for baking pies and is often better than anything made at home!
Puff pastry isn't as difficult to make as you might think but it is labor intensive and can take some time. So even professional chefs often use store bought puff.
Store bought is perfect for flaky and delicious mince pies. These days you can also find gluten free and vegan varieties in most stores.
Mince Pie Pinwheel Ingredients
Find the full list and quantities in the recipe below.
Frozen Puff Pastry - This is one of the most useful things you can keep in the freezer. Puff pastry is reliable and versatile. Just remember to defrost it in advance according to packet instructions.
Mincemeat - You can make it from scratch if you want to. However, for this recipe I recommend buying a jar of ready prepared mincemeat from the store to keep things easy.
If you have some spare time and want to have a go at making your own mincemeat this is a wonderful recipe from BBC Good Food.
Variations of Puff Pastry Mince Pie Pinwheels
If mincemeat is not your thing, replace it with your favorite jam instead. Apricot, cranberry, blueberry and raspberry jams would work a treat.
Looking for a sweet chocolate alternative, swap the mincemeat for nutella and some crushed hazelnuts for added crunch.
For vegan diners, replace regular puff pastry with vegan puff pastry and ensure the mincemeat you use contains vegetable suet and not beef suet. Finally, brush the pastry with either some dairy free milk or warmed apricot jam in place of the egg.
To make gluten free puff pastry mince pie pinwheels, replace the regular pastry with gluten free puff pastry and just check the label on the mincemeat to ensure it is also gluten free.
Tips for Making The Best Puff Pastry Mince Pie Pinwheels
The most important thing to remember with puff pastry is to try to keep it cold at all times. Leave it in the fridge until the last minute and then work quickly and try to avoid handling it too much.
Don't spread too much mincemeat onto the pastry. If a lot of mincemeat bursts out, it may burn in the oven.
Always line your baking tray with baking parchment as this stops the pinwheels from sticking.
You can freeze the mincemeat swirls either before cooking or after. Please see below for baking from frozen instructions.
This recipe is easily doubled up if you are feeding a crowd.
How To Serve English Mincemeat Swirls
I always cover my Mince Pie Swirls with a dusting of confectioners sugar. The best way to do this is to place 2 tablespoons of powdered sugar in a sieve and shake it gently on to the pies.
They are delicious warm with vanilla ice cream.
If you want to go down the traditional route, try making brandy butter to serve with the pies. I like this killer recipe for Vanilla Brandy Butter from BBC Good Food.
How Long Will Puff Pastry Mince Pies Last?
Homemade pies generally last less time than commercially prepared pies because they're made with all fresh ingredients (hurrah). But these will keep for a week in an airtight container in the fridge.
How To Reheat Cooked British Mince Pie Pinwheels?
Yes absolutely. Space them out on a baking sheet and re-heat in a hot oven at 350ºF/170ºC for around 8 minutes or until warmed through.
How to Freeze these Alternative Mince Pies?
Yes - mince pies can be frozen for up to 3 months. Either freeze them unbaked after they are rolled and cut, in a parchment lined tupperware. Or freeze them once baked, again in airtight container.
To bake from frozen, preheat the oven to 350ºF/170ºC and bake for 12-16 minutes until the pastry is golden brown.
Pin This Puff Pastry Mince Pie Pinwheels Recipe For Later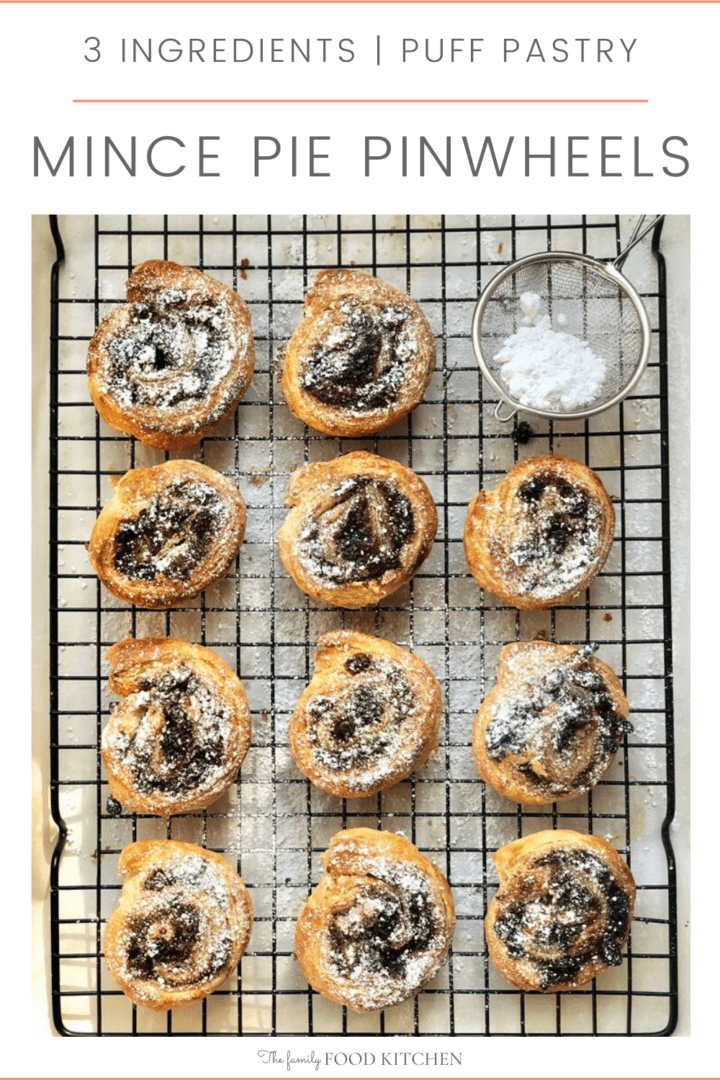 What Do You Think?!
I'd love to know what you think about this recipe! I'd be so grateful if you scroll down to the bottom of the page and leave a star rating and comment.
Don't forget to go over to Facebook and Instagram and make sure you're following me so you can join in the chat. And remember to save this recipe to your Pinterest too!
---
More Festive Recipe Ideas
---
Printable Recipe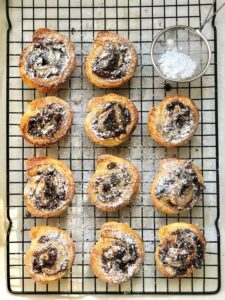 Puff Pastry Mince Pie Pinwheels
Love to bake during the Holidays? Then you'll adore making these delicious Puff Pastry Mince Pie Pinwheels. Dusted with powdered sugar straight from the oven these taste like a dream and couldn't be easier.
Ingredients
1

sheet

Puff Pastry

-

fresh or frozen

1½

cups

Mincemeat

-

vegetarian if required

All-Purpose Flour (Plain Flour)

-

for dusting

1

Egg

-

beaten

2

tbsp

Confectioner's Sugar (Icing Sugar)

-

for garnish
Instructions
Defrost the puff pastry sheet according to the packet instructions, if required.

Dust a countertop with flour and unroll the puff pastry sheet on the flour. The sheet should measure around 10 inches by 12.5 inches.

Depending on your pastry you may need to roll out your rectangle gently to make this size (mine came ready rolled to this measurement.)

Working quickly, spread the pastry sheet with the mincemeat using a palette knife (or blunt cutlery knife).

Try to make the mincemeat as even as possible and spread it close to the edges.

Roll the pastry sheet up tightly lengthways to form a long log.

Carefully transfer to a parchment lined baking sheet and refrigerate for 30 minutes.

Preheat the oven to 200°C/400°F

Using a sharp knife, cut the roll in ¾ inch slices and gently place each slice back on the parchment lined baking tray.

You want the cut side to be facing up so you can see the swirl of filling.

Brush the top and sides lightly with beaten egg and bake for

14- 18 minutes

or until golden brown.

Serve warm if possible and dust with confectioners sugar before serving.
Nutrition
Serving:
1
pinwheel
Calories:
226
kcal
Carbohydrates:
37
g
Protein:
2
g
Fat:
8
g
Saturated Fat:
2
g
Sodium:
260
mg
Potassium:
12
mg
Fiber:
1
g
Sugar:
25
g
Calcium:
2
mg
Iron:
1
mg
Nutritional information is provided as a courtesy only and should be taken as an estimate rather than a guarantee. Ingredients can vary and the Family Food Kitchen can't guarantee the accuracy of this information.
This recipe was shared with the #cookblogshare community, which this week was kindly hosted by Janice at Farmersgirl Kitchen.