These quick 5 ingredient Ricotta Crostini with tomato are the perfect easy appetizer for a gathering of family and friends. Always a total crowd pleaser, set out a platter of these mouthwatering crostini canapés and let everyone help themselves!
Tomato and cheese is always a winning flavor combination. Just top with a sprinkling of micro greens or fresh herbs for that all important party plate appeal.
This is a great appetizer and exactly the kind of simple recipe you need up your sleeve to keep entertaining totally stress free.
When a recipe is this simple, it is worth using the best ingredients you can find. But even if your tomatoes aren't peak-season ripe, the oven roasting process sweetens and intensify their flavor perfectly.
This crunchy crostini also transports well so is a perfect potluck appetizer. Just assemble the toasts before you go and arrange on a wooden board or tray.
Why You Should Make Tomato & Ricotta Crostini?
This easiest appetizer is five simple ingredients only!
Served as a canape, these Italian inspired crostini can be easily doubled or tripled, ready to cater for any number of guests.
The baguette slices can be toasted well in advance - meaning you only have to assemble them on the day.
How to Make Tomato & Ricotta Crostini
Find a full printable recipe card with detailed instructions below.
Cut the bread slices diagonally, brush with extra virgin olive oil and arrange in a single layer on a parchment lined baking tray.
Bake until golden & crispy.
Meanwhile toss the tomatoes in more olive oil and salt then roast in the oven.
Allow the toasts and tomatoes to cool.
Top each slice of bread with a generous smear of the ricotta mixture and two roasted tomatoes. Season with salt and black pepper to taste, cut in half and top with micro greens if using.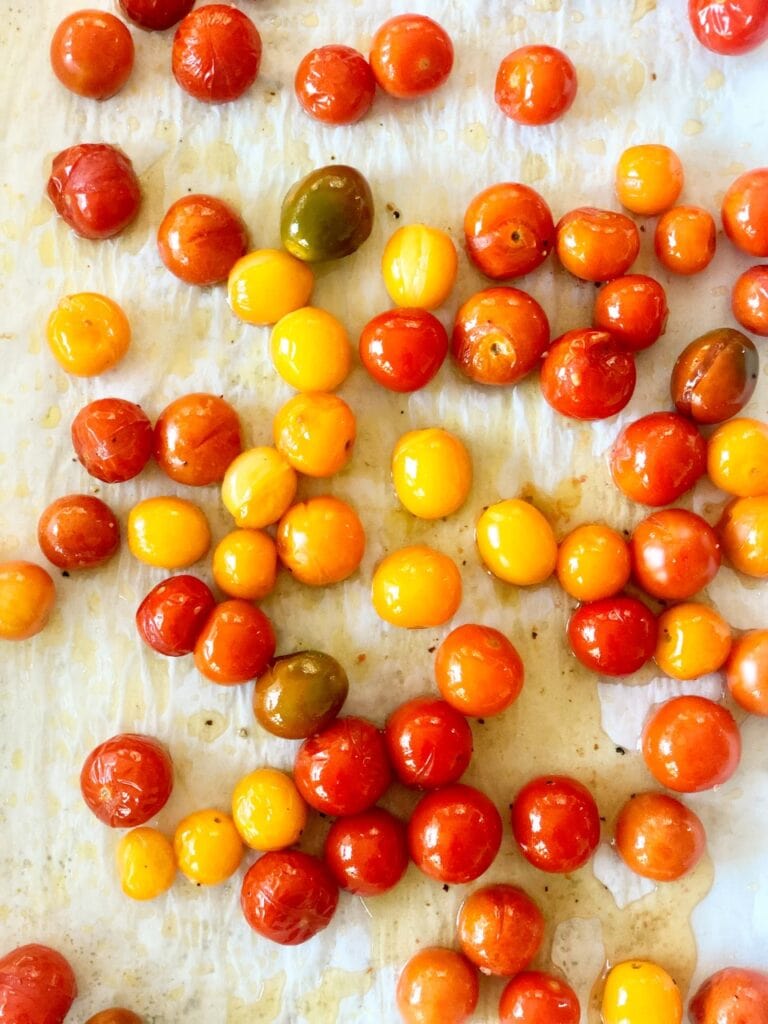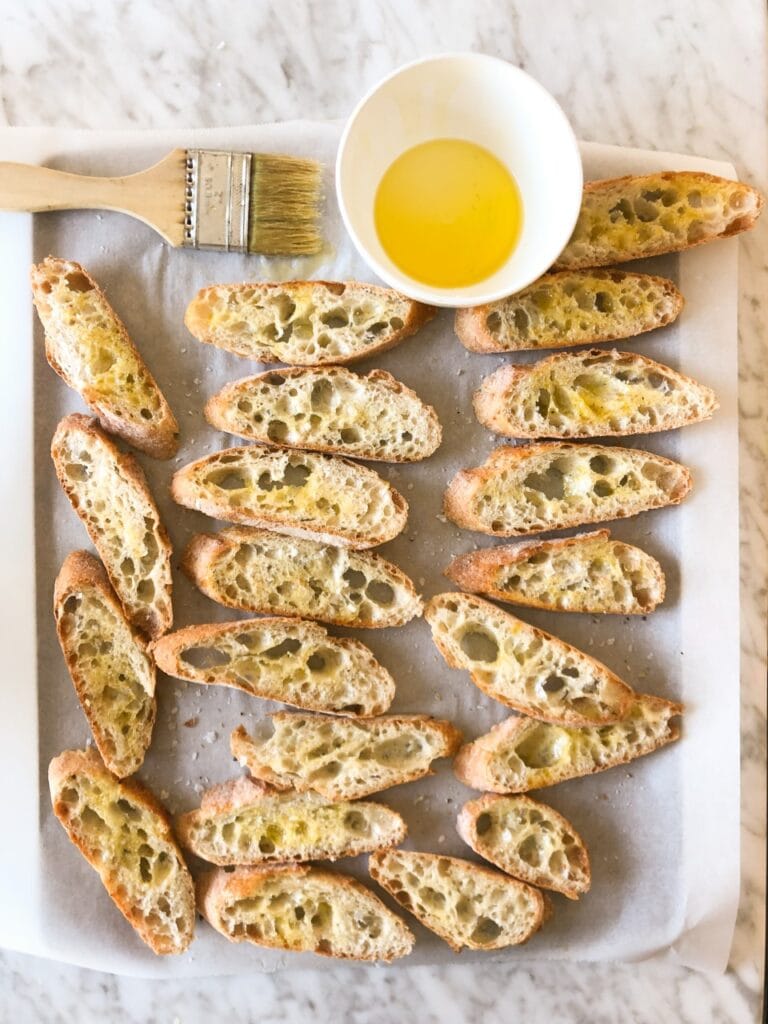 Why roast tomatoes?
Roasting tomatoes really intensifies their flavor. It's especially useful if you're using tomatoes out of season, when their natural flavor may not be at it's best. Simply drizzle over some olive oil and season with a little sea salt. The roasting process draws out the water in these delicious red fruits, leaving them sweeter and full of rich tomato flavor.
What is crostini?
Crostini is a great base for an easy appetizer recipe. It basically means thin slices of bread brushed with olive oil and then toasted.
The word crostini means "little crusts" in Italian. The idea is then to add a delicious topping.
What is ricotta?
Whole milk Ricotta cheese is an Italian whey cheese made from either sheep, cow or goats milk. It is a soft curd style cheese that was created in Italy to use up the whey byproduct in the cheese making process.
Is ricotta the same as cream cheese?
Often confused, ricotta differs from cream cheese. Where cream cheese is made with cream and milk, Ricotta is made from milk only. Therefore, ricotta has a lower fat content than say a cream cheese or mascarpone.
Is ricotta vegetarian?
Most whey cheese, like cottage cheese, paneer or ricotta are made without rennet and therefore suitable for anyone following a vegetarian diet.
However, as with any dietary advice, it is always worth checking the packing to ensure nothing has been added.
How many canapés to serve?
If I'm hosting a party I like to serve 4-6 different canapés per person. Ideally all of these will be prepared ahead of time so that I only have to put them out when my guests arrive.
Need some ideas for canapés? Then why not try some of my other appetizers like these Cranberry Goats Cheese Toasts or my Easy Shrimp Appetizer with Dips. I'm all about great make ahead finger food that can feed a crowd.
Variations of Tomato & Ricotta Toasts:
I have used a French baguette as it has a lovely crisp crust. You can also use Italian bread or any similar crusty style bread.
Cherry tomatoes add a mellow sweetness to these simple toasts. You could also use baby plum or similar small sized tomatoes.
Adding some peeled fresh garlic to the roasting tomatoes is a great way of giving it a subtle garlic flavor.
If you don't have ricotta cheese, substitute with either cream cheese or a little Italian mascarpone instead.
Add a little fresh lemon zest to the ricotta for a hint of citrus.
A drizzle of balsamic vinegar to finish would work well here too.
Alternatively drizzle over some sweet honey or even hot honey for a kick.
Tips For Making Tomato & Ricotta Toasts:
When making these appetizers, allow both the toasts and tomatoes to cool completely before assembling. This will stop the toasts from becoming soggy.
Be generous with the toppings! There's nothing as off putting as a stingy toast serve These need to feel full and bountiful.
Watch the toasts closely in the oven - they should be a nice golden brown. If they are under-toasted you don't get the crunch.
Make sure you season these toasts really well with sea salt if you can. It really brings out the flavor in the ricotta and tomato.
How To Serve this delicious appetizer?
Because they're versatile, these toasts can also be served as a simple starter, allowing 4 per person with a side salad.
Alternatively they're perfect as part of a bigger finger food table for any party or large family gathering.
Can you make Tomato Ricotta Crostini in advance?
A great prep ahead canape, you can make the toasts and roast the tomatoes up to two days ahead but don't make them up until an hour before you intend to eat them or they can go soggy!
Make sure you keep the slices of french baguettes sealed in an airtight container or bag out at room temperature until you need them.
Never wrap baked crostini while warm or they will go soggy. And don't store them in the fridge as this can also lead to soggy bread.
CAN YOU FREEZE these Ricotta crostini?
You can make and freeze the toast portion of this appetizer.
The best way is to first bake and completely cool the toasts on a rack and then store in an airtight container. They will freeze for up to 3 months.
Make sure you thoroughly defrost at room then 'refresh' the toasts in a 375ºF/170ºC oven for a few minutes to crisp them back up.
Pin This Tomato & Ricotta Toasts Recipe For Later
What Do You Think?!
I'd love to know what you think about this recipe! I'd be so grateful if you scroll down to the bottom of the page and leave a star rating and comment.
Don't forget to go over to Facebook and Instagram and make sure you're following me so you can join in the chat. And remember to save this recipe to your Pinterest too!
---
More Easy Appetizer Ideas
---
Printable Recipe
Ricotta Crostini with Tomatoes
These quick 5 ingredient Ricotta Crostini with tomato are the perfect easy appetizer for a gathering of family and friends. Always a total crowd pleaser, set out a platter of these mouthwatering crostini canapés and let everyone help themselves!
Ingredients
1

pint

Cherry Tomatoes

-

Around 30 cherry tomatoes

⅓

cup

Extra-Virgin Olive Oil

-

divided

1

small

French Baguette Stick

2

cups

Ricotta Cheese

Sea Salt and Black Pepper

Microgreens

-

optional
Instructions
Preheat oven to 400°F/200°C

Line a sheet pan with parchment. Place the cherry tomatoes on the pan and toss them in 1 tablespoon olive oil and a sprinkling of salt.

Roast for around 20 minutes

Meanwhile, cut the baguette into 15 diagonal slices around ½ inch thick.

Place the bread slices onto a parchment lined baking sheet.

Put the olive oil into a small bowl. Using a pastry brush, brush the little toasts with olive oil on both sides and sprinkle with sea salt.

Bake for around 15 minutes or until golden and crispy.

Let the toasts and tomatoes cool fully (to avoid the toasts going soggy!)

Top each toast slice with a generous smear of ricotta and 2 or 3 roasted tomatoes. Season again, cut in half and serve. Finish with micro greens if desired (this is optional).
Nutrition
Calories:
75
kcal
Carbohydrates:
5
g
Protein:
3
g
Fat:
5
g
Saturated Fat:
2
g
Cholesterol:
8
mg
Sodium:
67
mg
Potassium:
63
mg
Fiber:
1
g
Sugar:
1
g
Vitamin A:
156
IU
Vitamin C:
4
mg
Calcium:
42
mg
Iron:
1
mg
Nutritional information is provided as a courtesy only and should be taken as an estimate rather than a guarantee. Ingredients can vary and the Family Food Kitchen can't guarantee the accuracy of this information.