These delicious steak crostini are one of my favorite appetizers and once you've tried them you'll know why. Crunchy little toasts are topped with juicy slices of beef tenderloin and topped with horseradish cream. Perfect for easy entertaining!
This steak crostini recipe is one of those simple appetizers that looks and tastes amazing. It's perfect for the holiday season or any time you have family and friends round for dinner.
These easy appetizers don't require much hands on cooking time. Once the beef tenderloin is cooked it really is just a simple assembly job.
Jump to:
Why You'll Love This Steak Crostini
Steak crostini are the perfect sized bite and one of my favorite appetizers.
Containing just 5 ingredients, these beef crostini can be prepared ahead, leaving you only the steak to slice and the crostini to assemble once guests arrive.
They're a stunning appetizer for any dinner party, but can be easily doubled or trebled to serve a crowd as a party canapé.
Filet Crostini Ingredients
Find the full list and quantities in the recipe below.
Beef - For the ultimate treat I use beef tenderloin (beef filet) here since it's so melt in the mouth. You can also use filet mignon which is the cut of steak taken from the smaller end of the beef tenderloin.
Other cuts of steak like New York strip, sirloin steak, hanger steak, flank steak or ribeye steak would all work well in this recipe too, provided they're thinly sliced.
Baguette - a small French baguette is ideal as it has great flavor and lots of crunch from the crust. However, you could also use other crusty breads like sourdough or ciabatta which would work well too.
Horseradish - I recommend using prepared grated horseradish, or for those of you in the UK, use creamed horseradish or horseradish sauce.
Garnish - I like to finish these beef crostini with some watercress and a sprinkle of flaky salt. You could also use arugula (rocket) or micro greens for a burst of freshness.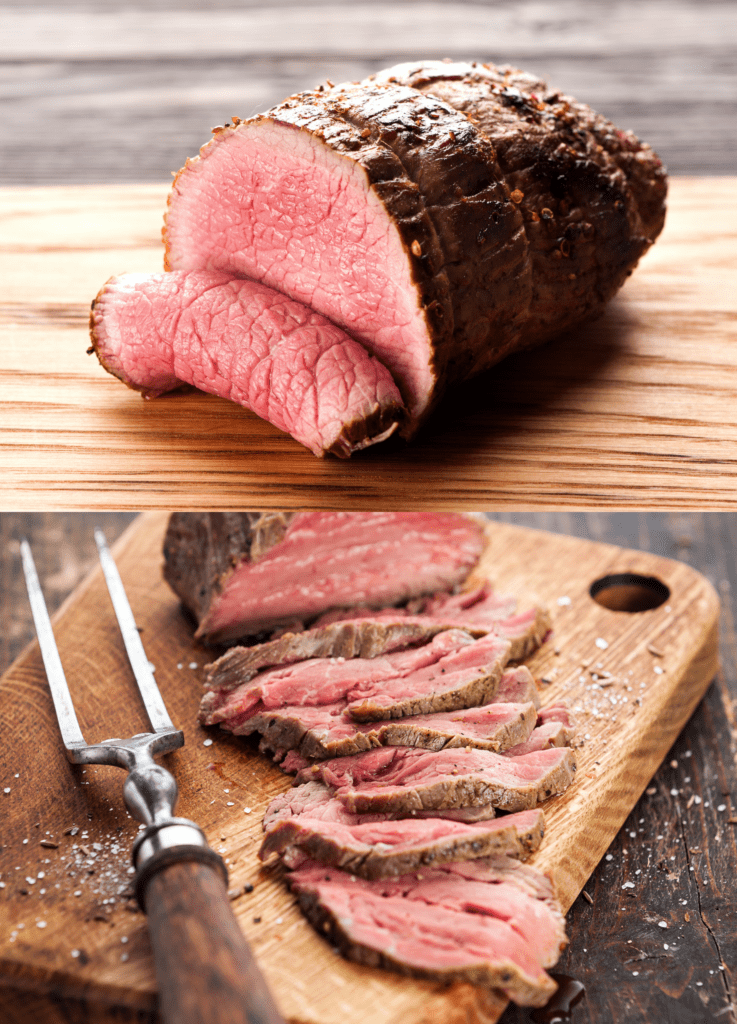 How do you make Crostini - Step-By-Step
Here are some quick instructions. Remember that full method with exact ingredients will be in the recipe card below!
Start by cutting the bread into ½ inch slices. Next toast the slices of French baguette.
Brush each slice with EVOO and season with sea salt. Bake in a preheated oven on lined sheet pans for around 20 minutes.
While the bread is toasting, cook the beef.
Sear the tenderloin (or other steak cut) in a skillet or ovenproof pan over a medium-high heat. Once golden brown on all sides, place in the oven to finish cooking.
Once the bread is toasted, set it aside to cool slightly. When the beef is cooked, cover it with aluminum foil and let the steak rest on a cutting board for 10 minutes.
While the beef is resting, make the horseradish sauce by mixing the prepared horseradish with sour cream.
To assemble the crostini, slice the rested beef and fold a steak slice onto each piece of toast. Add a little horseradish sauce and finish with flaky sea salt and watercress or microgreens.
Frequently Asked Questions
What kind of steak is best to use for canapes?
I suggest using a quick frying cut of steak for canapes. I have used lean beef tenderloin for my steak crostinis but you could also use filet mignon, New York strip, sirloin steak, hanger steak or ribeye steak in this recipe too.
How do you know when steak is done?
As all cuts of steak vary in thickness, so I recommend checking your steak with a meat thermometer as this gives the best degree of accuracy.
The internal temperature for beef should be 130ºF for rare, 145°F for medium rare and 160°F for medium to well done.
Should Beef Crostini be served hot or cold?
You can serve steak crostini hot or cold, although I do prefer to serve these hot. I have everything ready so I can assemble the crostini as soon as the beef has been cooked and rested.
Can you reheat steak?
Steak is best served freshly cooked, you cannot beat it. However, you can warm leftover steak up either in the oven or on the stove top. Do this gently and only warm it through otherwise you risk the steak overcooking and becoming tough.
Can you make crostini in advance?
You can toast crostini up to 3 days in advance of using them. Make sure you keep the toasts sealed in an airtight container or bag out at room temperature until you need them.
Never wrap them while warm or they will go soggy. And don't store them in the fridge as this can also lead to soggy bread.
Once they're topped, toasts should be eaten within the hour to enjoy them at their best.
CAN YOU FREEZE CROSTINI?
You can make and freeze the toast portion of this appetizer.
First bake and completely cool the toasts on a rack and then store in an airtight container. They will freeze for up to 3 months.
Make sure you thoroughly defrost at room then 'refresh' the toasts in a 375ºF/170ºC oven for a few minutes to crisp them back up.
Variations & Substitutions for Steak Crostini
I like to swap the French baguette with a sourdough baguette which is delicious and really adds to the flavor of this simple appetizer.
You cold also rub the baguette slices with a clove of garlic and a drizzle of oil to make garlic crostini.
For garnish - swapping the watercress for some fresh herbs, tarragon, basil or parsley would work nicely.
For a completely different twist switch out the creamy horseradish sauce and top the steak with a thin slice of blue cheese insteaed.
Tips & Tricks For Making Steak Crostinis
Be generous with the toppings, this is so much more than a piece of toast.
Take care to properly season the beef filet as it will make all the difference to the finished dish.
Watch the beef when it's in the oven to avoid overcooking the steak.
Want to get ahead? No problem. Have the crostini made and the juicy steak prepared, ready to slice when your guests arrive. Also prepare the sauce and store in the refrigerator until you are ready to cook, assemble and serve.
When the meat is done take it out of the oven and let it rest for 10 minutes loosely wrapped in foil. Always rest steak as this allows the juices time to be absorbed back into the steak, resulting is a tastier, juicier bit of beef.
Pin This Steak Crostini Recipe For Later
What Do You Think?!
I'd love to know what you think about this recipe! I'd be so grateful if you scroll down to the bottom of the page and leave a star rating and comment.
Don't forget to go over to Facebook and Instagram and make sure you're following me so you can join in the chat. And remember to save this recipe to your Pinterest too!
---
More Easy Appetizer Ideas
---
Printable Recipe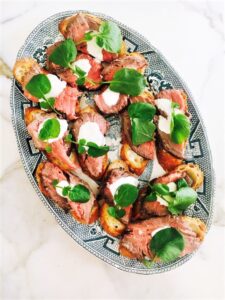 Steak Crostini
These delicious steak crostini are one of my favorite appetizers and once you've tried them you'll know why. Crunchy little toasts are topped with juicy slices of beef tenderloin and topped with horseradish cream. Perfect for easy entertaining!
Ingredients
1½

pounds

Beef Tenderloin

1

cup

Sour Cream

¼

cup

Prepared Grated Horseradish

-

UK - creamed horseradish

1

small

French Baguette Stick

¼

cup

Extra Virgin Olive Oil

-

divided (for brushing)

Watercress

-

or microgreens - optional garnish

Sea Salt and Black Pepper
Instructions
Preheat oven to 400°F/200°C & line two sheet pans with parchment.

Cut the baguette into diagonal slices around ½ inch thick (you should get around 15). Place the bread slices onto a parchment lined baking sheet.

Using a pastry brush, brush each slice with olive oil on both sides and sprinkle with sea salt.

Bake for around 20 minutes or until toasty. Cool for a few minutes.

Meanwhile season the whole beef tednerloin well on all sides.

Add 1 tablespoon of olive oil to an oven proof pan or cast iron skillet. Sear the beef until golden brown over a medium-high heat. Turn with tongs to sear evenly on all sides.

Take the pan off the stove and place in the pre-heated oven to finish cooking. Watch your meat carefully - 10 minutes should be rare, 15 minutes medium rare and 20 minutes medium to well done.

Alternatively check with a meat thermometer - it should be 130ºF for rare 145°F for medium rare, 160°F for medium to well done.

When the meat is done take it out of the oven and let it rest for 10 minutes loosely wrapped in foil.

While the beef is resting, mix the horseradish and sour cream together in a small bowl.

Once fully rested, carefully slice the meat as thinly as you can with a sharp knife.

Now assemble the crostinis! Fold a generous steak slice onto each of the slices of toasted baguette. Top each with a little of the horseradish sour cream.

Finish with some flaky sea salt sprinkles and some watercress or microgreens if desired.
Nutrition
Calories:
190
kcal
Carbohydrates:
1
g
Protein:
9
g
Fat:
17
g
Saturated Fat:
6
g
Polyunsaturated Fat:
1
g
Monounsaturated Fat:
8
g
Cholesterol:
41
mg
Sodium:
48
mg
Potassium:
168
mg
Fiber:
1
g
Sugar:
1
g
Vitamin A:
96
IU
Vitamin C:
1
mg
Calcium:
22
mg
Iron:
1
mg
Nutritional information is provided as a courtesy only and should be taken as an estimate rather than a guarantee. Ingredients can vary and the Family Food Kitchen can't guarantee the accuracy of this information.