Sweet and savory Ricotta & Roasted Grape Crostini are the perfect easy bite sized appetizer. Containing just 5 ingredients, they're ready to go in minutes - and look and taste delicious.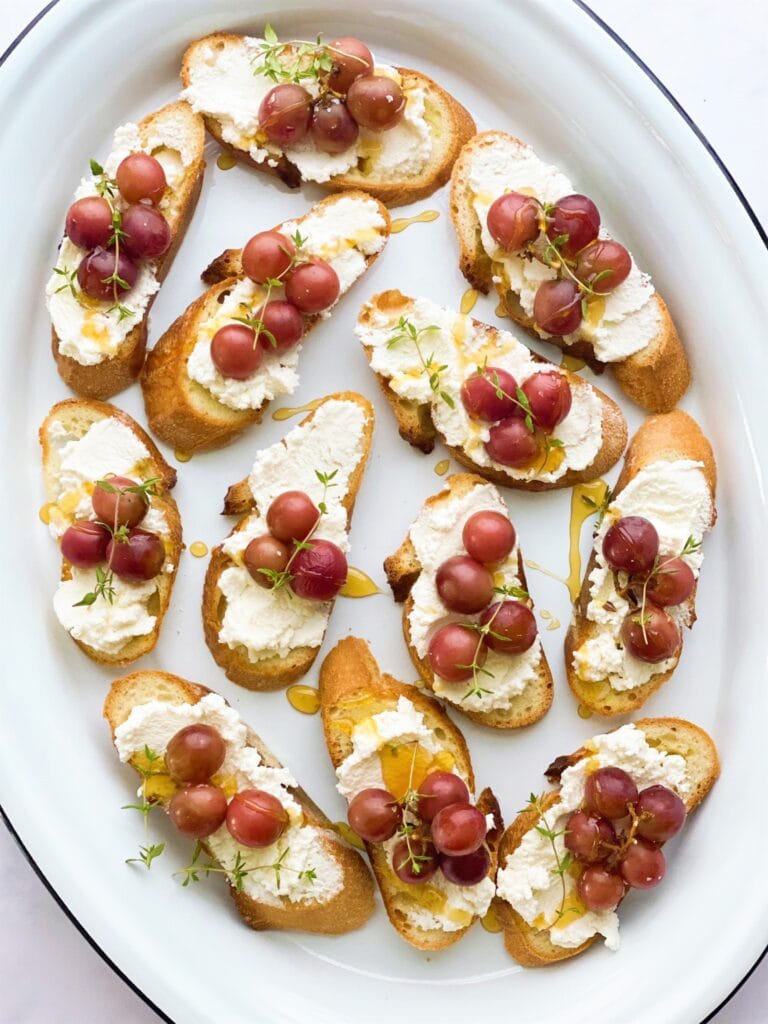 You know that moment where you invite people over and then go completely blank on what food you could serve? That exact moment is when you need this easy Ricotta appetizer up your sleeve.
Crunchy crostini are spread with creamy cheese and then topped with roasted grapes and just a drizzle of honey.
The added bonus to making this appetizer is the grapes smell amazing as they roast! The cooking also really intensifies their aroma and flavor.
Why You Should Make These Ricotta & Grape Appetizers?
These simple ricotta and grape canapes can be made and ready to enjoy in 30 minutes.
They're a stylish starter for any dinner party, but can be easily doubled or trebled to serve a crowd as a party canapé.
This easy starter needs just 5 ingredients with just a touch of seasoning. So they couldn't be easier to pull together.
What is a Crostini?
Crostini, meaning little toasts, are a simple Italian appetizer or canape. Small slices of grilled or toasted bread are topped with meats, cheese, fruits or vegetables. Or most often, a combination of toppings. I love making these since they're so versatile and more importantly - everyone loves them.
What is Ricotta Cheese?
Ricotta is an Italian soft curd style cheese that was created in Italy to use up the whey byproduct in the cheese making process. It is made using only milk and is therefore lower in fat and lighter than either mascarpone or cream cheese, which are made using cream and milk. It's become a very fashionable ingredient and you can see it loads of sweet and savory recipes.
What is the difference between bruschetta and crostini?
Bruschetta is also an Italian appetizer, where larger slices of bread, something like a focaccia or sourdough style of bread, is roasted or grilled, often over coals to give it a charred flavor. These rustic style toasts are then served topped with meats, cheese, vegetables, a drizzle of olive oil or balsamic vinegar.
Crostini are an altogether smaller and more dainty affair. The toasts are made with a smaller more compact bread, something like a white baguette. However, they are topped in much the same way as bruschetta.
Are crostini served hot or cold?
Crostini can be enjoyed both hot or cold. But don't put the toasts into the fridge as they can become soggy. These Roasted Grape Crostini are best served warm or at room temperature.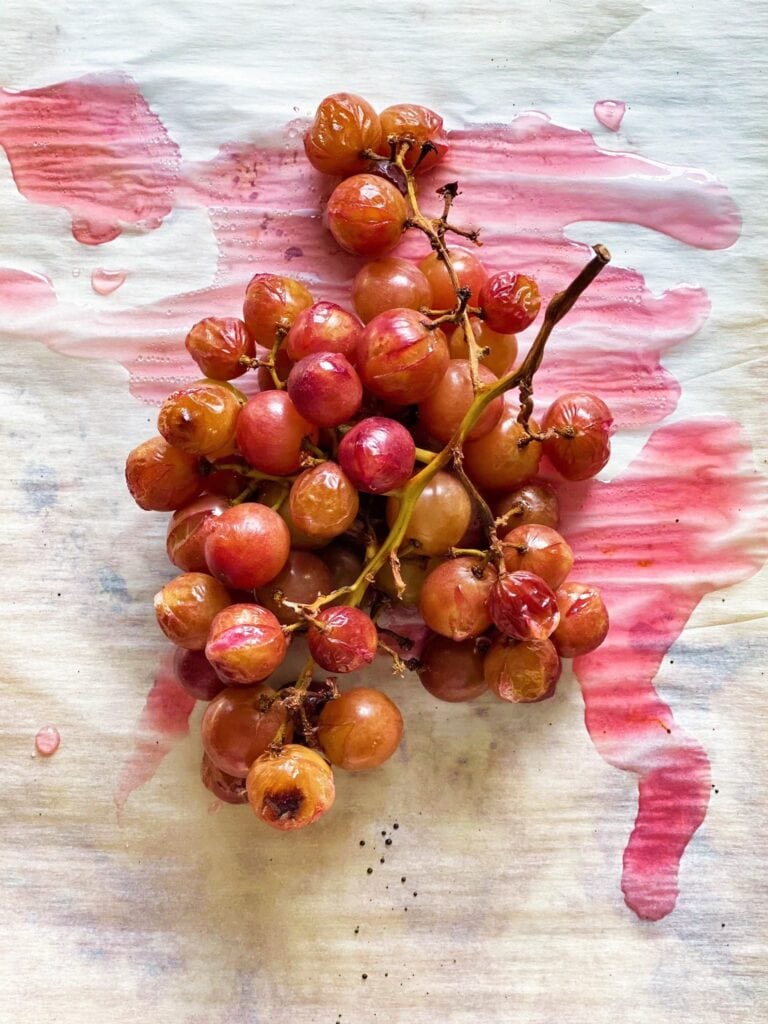 How to Make Roasted Grape Crostini:
Find the full printable recipe below
Slice up a small baguette, brush with olive oil and bake for 20 minutes.
Meanwhile roast the grapes with olive oil and sea salt until they are just starting to burst.
Season the ricotta well with sea salt and spread on the cooled toasts.
Top with the roasted grapes and a drizzle of honey. Garnish with thyme sprigs and serve.
Variations of Ricotta & Roasted Grape Crostini:
So why roast the grapes? It's simple really, roasting any fruit really intensifies the flavor and brings out it's sweetness. But you don't have time you can always top with halved fresh grapes instead.
If you don't have Ricotta, any soft cheese could be used as a substitute. Cream cheese and goat cheese are both delicious here too. Just make sure they're room temperature so they spread properly.
I have used a french baguette but you could also use focaccia or another crusty white bread to make the crostini. .
A drizzle of honey finishes these simple roasted grape and ricotta toasts. You could also add some extra virgin olive oil or a dash of balsamic vinegar.
Tips For Making Roasted Grape Crostini:
When making the crostini, take care and check them often as they are toasting. They should be golden brown in color. You don't want them under-toasted or burnt.
Allow the toasts to cool completely on a wire rack before you top them. This will help the toasts to crisp up and stop the crostini going soggy.
Be generous with your toppings, there's nothing worse than a stingy smear!
All ricotta is not made equal. Always buy fresh ricotta if you can and get the best you can afford. It really makes a difference when you're making such a simple dish.
Make sure you season the ricotta cheese with salt and taste it before spreading on the toasts. Proper seasoning makes all the difference.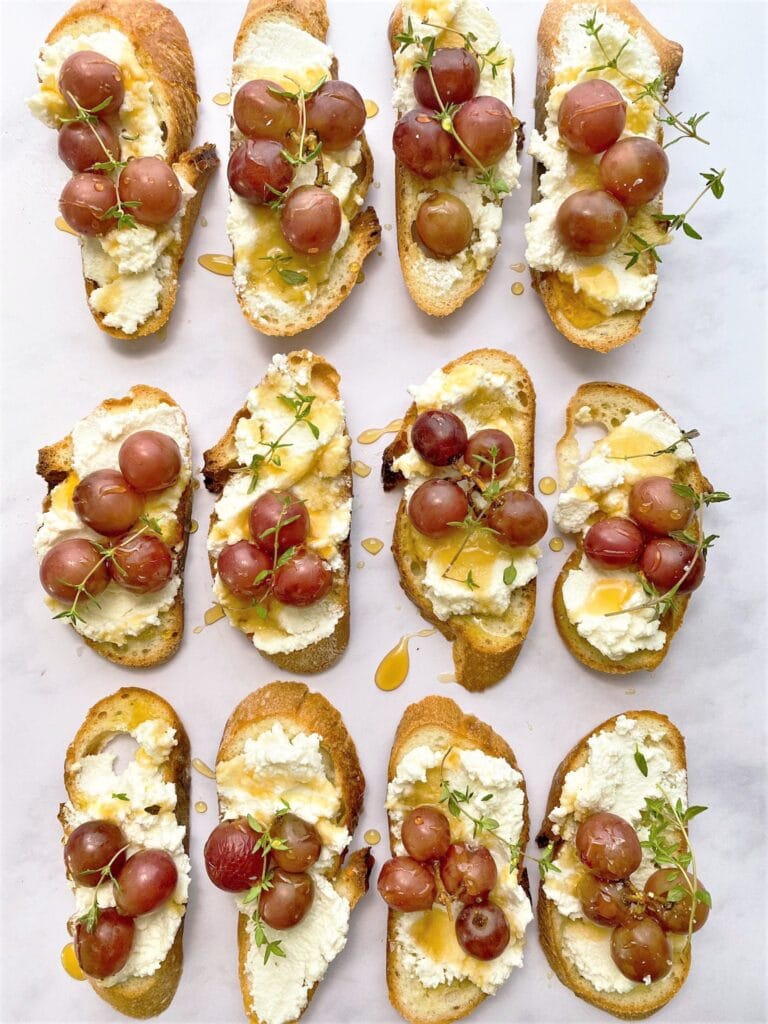 Can you make Crostini in advance?
Want to get ahead - no problem! You can make this recipe in stages by making the toasts in advance and storing them in an airtight container. You can also roast the grapes in advance then assemble crostini when you need them.
How To Serve Ricotta & Grape Toasts:
This recipe makes around 15 smalls toasts so will easily serve 4 as a light starter served with a dressed green salad alongside.
They are ideal as an appetizer for a larger party too - very handy for juggling a drink in one hand and food in the other. Arrange the roasted grape and ricotta toasts out onto a large wooden board or serving platter. That way your guests can help themselves. I usually allow for 4-6 canapés per person.
For more party appetizer ideas why not try my Easy Shrimp Appetizers with Dipping Sauces or my Tomato & Ricotta Toasts. These can easily be doubled up to feed a crowd.
Can you freeze Crostini?
You can make and freeze the toast portion of this appetizer.
First bake and completely cool the toasts on a rack and then store in an airtight container. They will freeze for up to 3 months.
Make sure you thoroughly defrost at room then 'refresh' the toasts in a 375ºF/170ºC oven for a few minutes to crisp them back up.
Pin This Ricotta & Roasted Grape Crostini Recipe For Later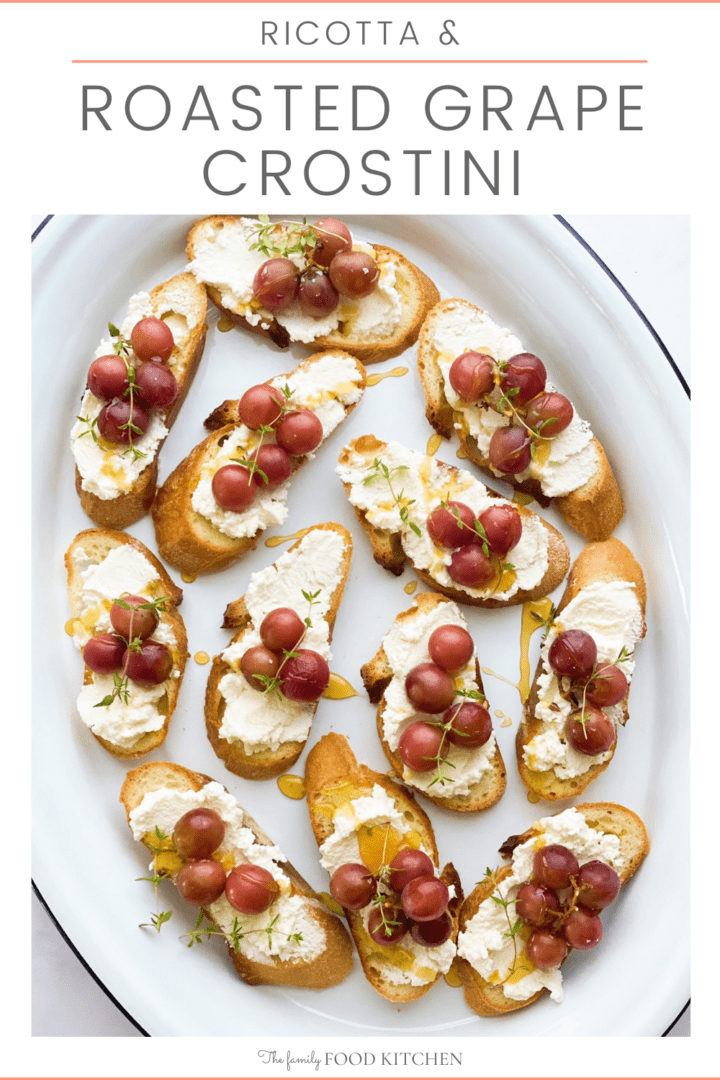 What Do You Think?!
I'd love to know what you think about this recipe! I'd be so grateful if you scroll down to the bottom of the page and leave a star rating and comment.
Don't forget to go over to Facebook and Instagram and make sure you're following me so you can join in the chat. And remember to save this recipe to your Pinterest too!
---
More Easy Appetizer Ideas
---
Printable Recipe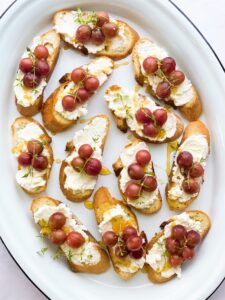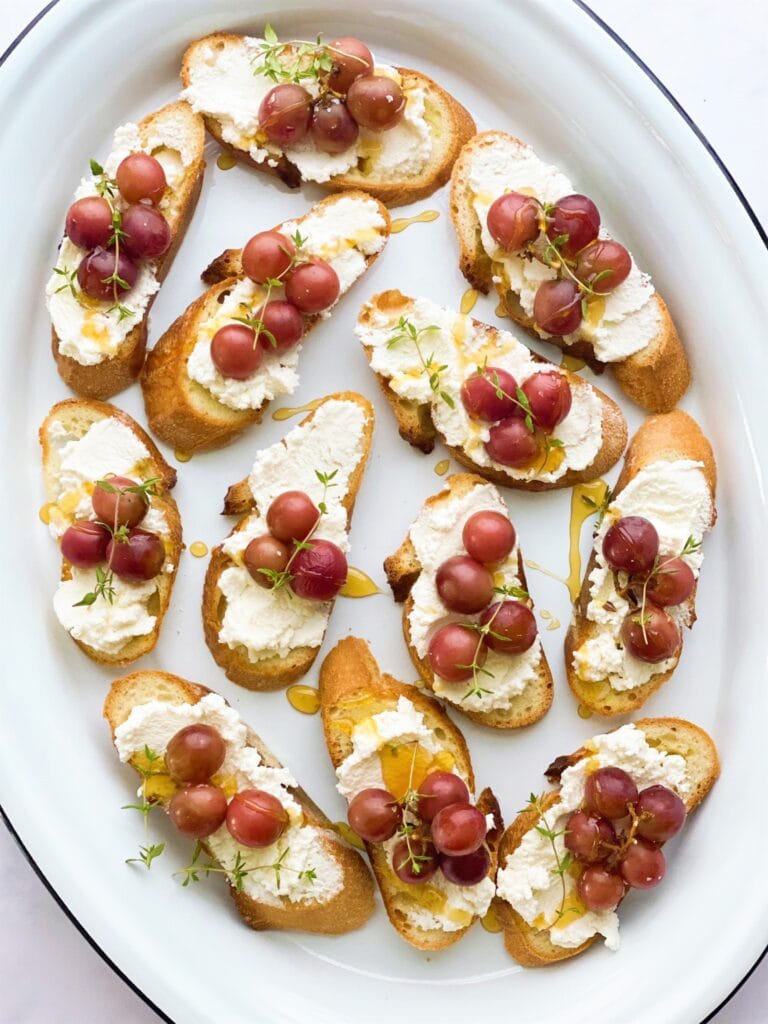 Ricotta & Roasted Grape Crostini
Sweet and savory Ricotta and Grape Crostini are the perfect easy bite sized appetizer. Containing just 5 ingredients, they're ready to go in minutes - and look and taste delicious.
Ingredients
1

lb

Seedless Red Grapes

⅓

cup

Olive Oil

-

divided

1

small

French Baguette Stick

1

cup

Ricotta Cheese

2

tbsp

Honey

Sea Salt
Instructions
Preheat oven to 400°F/200°C & line two sheet pans with parchment.

Cut the baguette into 15 diagonal slices around ½ inch thick. Place the bread slices onto a parchment lined baking sheet.

Using a pastry brush, brush them with olive oil on both sides and sprinkle with sea salt.

Bake for around 20 minutes or until toasty. Cool for a few minutes.

Meanwhile place the grapes on a separate baking sheet, season with salt and drizzle with olive oil.

Bake for 8-10 minutes until they are roasted and one or two are just starting to burst their skins). Allow to cool a little.

Season the ricotta well with sea salt and spread each crostini with a generous amount.

Top each crostini with a few roasted grapes - I took most of my grapes off the stem so they're convenient to eat - but you can leave some on the stem for pretty presentation.

Drizzle over the honey and garnish with thyme sprigs.
Nutrition
Calories:
102
kcal
Carbohydrates:
9
g
Protein:
2
g
Fat:
7
g
Saturated Fat:
2
g
Cholesterol:
8
mg
Sodium:
19
mg
Potassium:
77
mg
Fiber:
1
g
Sugar:
7
g
Vitamin A:
93
IU
Vitamin C:
1
mg
Calcium:
38
mg
Iron:
1
mg
Nutritional information is provided as a courtesy only and should be taken as an estimate rather than a guarantee. Ingredients can vary and the Family Food Kitchen can't guarantee the accuracy of this information.
This recipe was shared with the #cookblogshare community, this week kindly hosted by Karen at Lavenderandlovage.com