For a vegetable side that can be prepared in minutes, you have to try my roasted Brussels sprouts and sweet potatoes. This healthy and delicious double duty side dish goes with everything!
Roasting Sweet potatoes and Brussel sprouts together is a no brainer. Not only do you save on dishes, the mellow sweet potato balances out the stronger tasting sprouts nicely.
As you probably know by now, roasting is my favorite way to cook vegetables as it really brings out their deep flavor.
This sheet pan brussel sprouts and sweet potato dish takes only 10 minutes to prepare and 30 minutes to roast in the oven.
It's a perfect entertaining or Thanksgiving side since you can get on with preparing the rest of the dinner.
Jump to:
Why You'll Love Sprouts & Sweet Potatoes
This vegetable mixture requires very little hands on prep. The perfect side dish for your Thanksgiving menu side or holiday table for sure!
Roasting brings out the flavor and sweetness in all vegetables and I find my kids are far happier eating roasted veggies, than steamed or boiled. Yes the whole family will eat this - even the sprouts.
Roasted vegetables are a great way of adding to your 5-a-day and it's a naturally gluten-free recipe.
This recipe feeds 6, but can be easily doubled if catering for larger numbers of diners or a holiday dinner.
Brussels Sprouts & Sweet Potato Ingredients
Find the full list and quantities in the recipe below.
Brussel Sprouts - Use fresh brussels sprouts. If they're small you can leave them whole or for larger sprouts cut them in half to help them to cook quicker.
Sweet Potato - Use any variety of sweet potato in this recipe, I use 3 medium sized potatoes.
Oil - I like to use olive oil for flavor, you could also use sunflower or vegetable oil.
Seasoning - Alongside sea salt and black pepper, I like to add some red chilli flakes, but this is entirely optional and you can leave them off if you prefer.
How to Make Roasted Brussel Sprouts & Sweet Potatoes - Step-By-Step
Find the full printable recipe card below.
Prepare the brussels sprouts by trimming and cutting in half where necessary. Prepare the sweet potatoes by cutting into ¾ inch pieces. You can peel the sweet potatoes first or clean them thoroughly and leave the skin on.
Split the sprouts and potatoes cubes across baking sheets lined with parchment or aluminum foil for easier clean up.
Drizzle olive oil over both trays and sprinkle salt and pepper on. Toss everything together until combined.
Roast in a preheated oven until tender and starting to go golden brown at the edges - around 30 minutes.
Sprinkle over some red pepper flakes if desired and serve hot.
Frequently Asked Questions
How to trim a Brussel Sprout?
Trim off the stem at the base of the brussel sprout, being careful not to take too much away, only the very end. Then remove any outer leaves that may be brown or a little bruised. Finally, cut the sprouts in half ready for roasting.
Why do my brussel sprouts taste bitter?
Sprouts sometimes taste bitter because of some of the compounds contained within them which are released during the cooking process. Some people find them more bitter than others.
To help balance out the bitterness add other flavors. I cook sprouts in olive oil and sometimes like to add some freshly squeezed lemon juice or a pinch of chili flakes.
How to use leftover brussel sprouts
Leftover sprouts taste great in stir fries alongside any leftover roast meats like chicken or turkey. Or how about frying them in a hash the next day with extra veggies and topping with a fried egg.
You could also shred them and add to leftover mashed potato and make some leftover bubble and squeak cakes.
How to use leftover roast sweet potato?
Leftover sweet potato can be combined with any leftover sprouts to make a great tasting hash the next day, just top with a fried or poached egg. Leftover sweet potato is also great served cold in salads, poke bowls, in tacos or quesadillas Or try adding them to my Spicy Chickpea Buddha Bowl.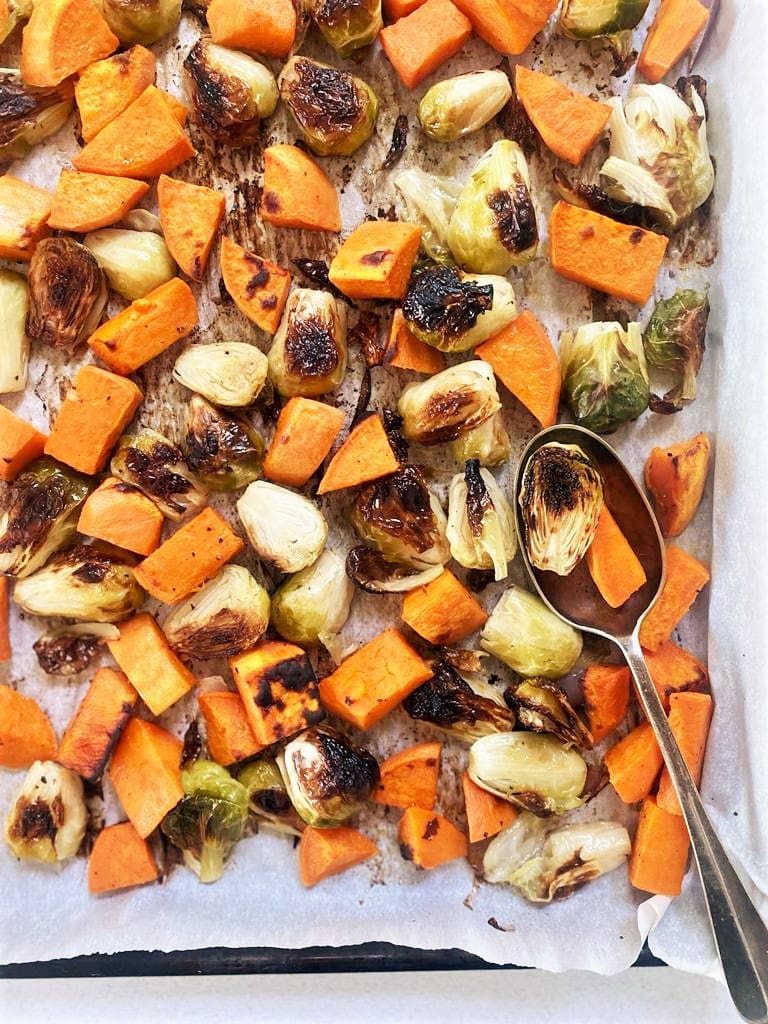 Variations & Substitutions for Sweet Potatoes & Brussel Sprouts
Sprinkle over some chopped fresh herbs, eg parsley, thyme or cilantro, just before serving.
For something richer add a sprinkle of feta cheese.
For a burst of citrus fresh flavor, add some lemon zest or a squeeze of fresh lemon juice.
Try adding some pumpkin seeds or finely sliced pecan nuts for some crunch.
I've added red chili flakes, but you can also play with the spicing on this dish. Try some smoked paprika, ground cumin or a pinch of cumin seeds.
For something sweeter finish the vegetables with a drizzle of balsamic vinegar or a splash of maple syrup.
Tips & Tricks For Making Sheet Pan Brussel Sprouts and Sweet Potatoes
Take your time to season your veggies generously with salt and pepper, it will make all the difference to the finished dish.
Line the roasting pan with baking paper or aluminium foil for a faster clean up.
Divide the veggies between 2 baking sheets and spread out in a single layer. This give the veg space to roast rather than steam in the oven.
The perfect holiday side - these veggies can be prepped the day before then kept over night in the fridge in an air tight container or zip lock back.
How To Serve This Delicious Side Dish
This is a great tasting and versatile side dish. The flavors work with a variety of main dishes.
Try this easy vegetable side with my Roast Chicken, Braised Lamb Shanks, Lemon Caper Chicken Breasts, my Sheet Pan Caprese Chicken, Creamy Garlic Chicken Thighs or my Pork Tenderloin with Mushroom Cream Sauce.
How To Reheat this Brussels Sprouts recipe?
Store leftover sprouts and sweet potato in an airtight container in the refrigerator for up to 3 days. When ready to enjoy, place the vegetables on a baking sheet lined with baking paper, add a little more oil if necessary and place into a hot oven to warm through.
Can you freeze Roasted Sprouts & Sweet Potatoes
You can absolutely freeze roasted sprouts and sweet potatoes. Just store them in an air tight container. Defrost thoroughly before re-heating gently.
Pin This Roast Brussel Sprouts & Sweet Potatoes Recipe For Later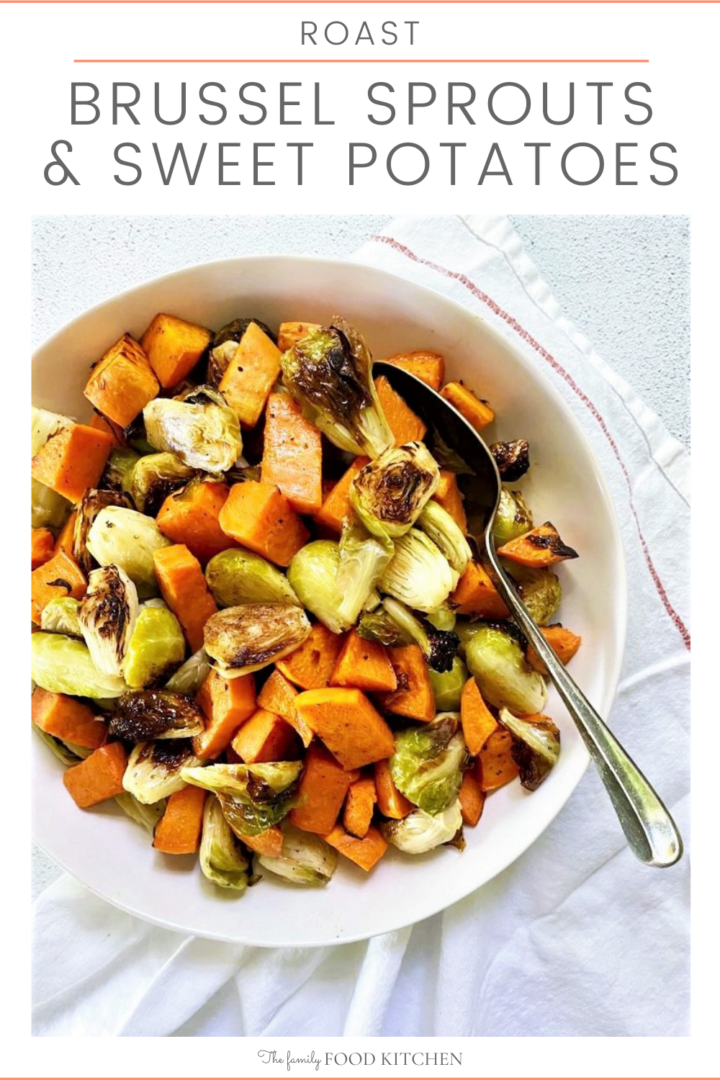 What Do You Think?!
I'd love to know what you think about this recipe! I'd be so grateful if you scroll down to the bottom of the page and leave a star rating and comment.
Don't forget to go over to Facebook and Instagram and make sure you're following me so you can join in the chat. And remember to save this recipe to your Pinterest too!
---
More Easy Side Dish Recipe Ideas
---
Printable Recipe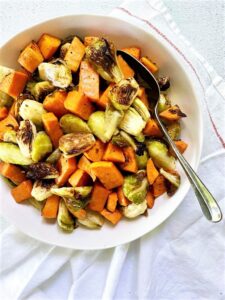 Roast Brussel Sprouts & Sweet Potatoes
For a vegetable side that can be prepared in minutes, you have to try my roasted Brussels sprouts and sweet potatoes. This healthy and delicious double duty side dish goes with everything!
Ingredients
1

lb

Brussel Sprouts

-

trimmed and halved

3

medium

Sweet Potatoes

-

peeled or unpeeled, cut into ¾ inch cubes

4

tbsp

Extra-Virgin Olive Oil

Sea Salt and Black Pepper

Red Pepper Flakes

-

optional
Instructions
Preheat oven to 425ºF/210ºC

Line 2 large baking sheets with parchment paper or aluminium foil.

Arrange spouts and sweet potato across both the baking sheets and drizzle with olive oil using half on each tray.

Season well with sea salt and black pepper and toss until combined.

Roast until tender and starting to go golden brown at the edges - around 30 minutes.

Sprinkle over some red pepper flakes if desired and serve!
Nutrition
Calories:
212
kcal
Carbohydrates:
30
g
Protein:
4
g
Fat:
10
g
Saturated Fat:
1
g
Polyunsaturated Fat:
1
g
Monounsaturated Fat:
7
g
Sodium:
81
mg
Potassium:
675
mg
Fiber:
6
g
Sugar:
6
g
Vitamin A:
16601
IU
Vitamin C:
67
mg
Calcium:
66
mg
Iron:
2
mg
Nutritional information is provided as a courtesy only and should be taken as an estimate rather than a guarantee. Ingredients can vary and the Family Food Kitchen can't guarantee the accuracy of this information.