These 4 ingredient honey roasted parsnips are a quick and delicious veggie side dish that can be served alongside any meal. Oven roasting parsnips until they're tender and golden really brings out their flavor - once tried, you'll make these on repeat.
Sometimes with food less really is more. The beauty of this dish is it's total simplicity, and the classic sweet flavour mixed with salty seasoning.
These sheet pan root vegetables make a great low carb alternative to fries. In fact they're such a great tasting root vegetable they go with just about anything.
And when other side dishes can be over complicated - they're the perfect side dish accompaniment to Sunday Roast Dinner (Christmas dinner too!). I promise they'll be the least troublesome thing you make all day!
Why You Should Make Crispy Roast Parsnips
Requiring very little preparation and only 30 minutes in the oven, my honey butter roasted parsnips are ideal for weeknight dinner.
Loved by the whole family, oven roasted parsnips are the perfect way to add to your 5-a-day.
Roasting vegetables brings out their natural sweetness. I can easily sell these to my kids as these 'parsnip fries' too.
How to Make This Parsnips Recipe
Find the full printable recipe in the recipe card below.
First trim and peel the medium-sized parsnips. Next cut them into batons of a similar size and place on a parchment paper lined large baking sheet.
Toss with olive oil, a little salt & black pepper then roast until tender and turning golden brown - around 30 minutes.
Add a little bit of honey, then the butter and toss again until all the parsnips are coated.
And serve!
Do I Need to Boil Parsnips Before Roasting?
The simple answer is no! Boiling parsnips means you lose a lot of the flavor in the water the parsnips are cooked in.
Instead I like to put the parsnips onto a sheet pan with some olive oil and seasoning before roasting them in the oven. Roasting parsnips really retains and enhances their sweet flavor.
Do I need to remove the core of parsnips?
You don't usually have to remove the core of the parsnip. The core runs down the center and isn't an issue when the parsnip is young and tender.
However if it's getting towards the end of the season and the flesh in the core feels very dense and thick, you might want to consider removing it.
How to Cut Parsnips into Equal Size Pieces
You want to try and cut the parsnip into equal sized pieces, that way they will all roast evenly at the same time. No special equipment required, just a chopping board and sharp knife.
Start by taking a firm hold of the parsnip and cutting in half (or into thirds if it is really long). Then cut the thinner piece in half through the middle and the thicker half into quarters - see images below.
Can I make vegan roasted parsnips?
Feeding vegan diners? No problem! Replace the honey with maple syrup or agave syrup for that sticky sweetness. You can also substitute the butter with a little extra olive oil or simply leave it off the dish entirely.
Air Fryer Honey Roasted Parsnips
You could absolutely make these honey roasted parsnips in the air fryer! Just keep an eye on the cooking time, which will depend on how efficient your air fryer is.
Variations of Honey Roasted Parsnips
This delicious side dish is easily adapted and my simple approach to roasting can be applied to lots of different veggies. You may have to adjust the cooking time a little depending on what you're cooking.
Here are some variations and substitutions for roasting vegetables using this method of cooking:
Vegetables: carrot; beetroot; squash; sweet potato; turnip or rutabaga (swede). Alternatively try a combination of these veggies.
Honey: maple syrup; agave syrup
Herbs: garlic cloves; thyme sprigs; a sprinkle of dill
Spices: cumin seeds; fennel seeds; anise; nutmeg; aleppo pepper
Vinegar: Balsamic Vinegar
Tips For Making Glazed Parsnips
Line a baking sheet with baking parchment as this stops the parsnips from sticking to the bottom of the pan. It also makes cleaning up a breeze.
When cutting the parsnips into batons take care and hold firmly to avoid them slipping. Always use a sharp knife.
Oven heat varies so keep an eye on your parsnips. Make sure they are tender and turning golden brown before serving.
Whenever you're roasting veggies, try to spread them out in a single layer on the baking sheet. If they're too crowded they'll steam and go soggy rather than bake. Use 2 sheet pans if necessary.
To minimize dishes, you can roast parsnips in with other root veggies such as carrots or sweet potatoes.
Don't add the butter and honey until the parsnips are cooked and out of the oven - otherwise it might burn.
How To Serve Sheet Pan Roasted Parsnips
This great tasting veggie side is so versatile! It can be served alongside a whole host of main dishes. Why not serve these roasted parsnips with my Creamy Garlic Chicken Thighs or my Pork Tenderloin with Mushroom Cream Sauce.
I also often serve them in place of regular fries for a great tasting low carb alternative.
They're also perfect for Thanksgiving dinner or any holiday meal.
How To Reheat Honey Roast Parsnips?
This is definitely one of those easy sides that is best served hot, straight from the oven. However, if refrigerated in an airtight container, leftover roast parsnips can be easily reheated by placing them back in the oven on a roasting tray to warm through. You may need to add a little extra olive oil to stop them drying out.
Pin This Honey Roasted Parsnip Recipe For Later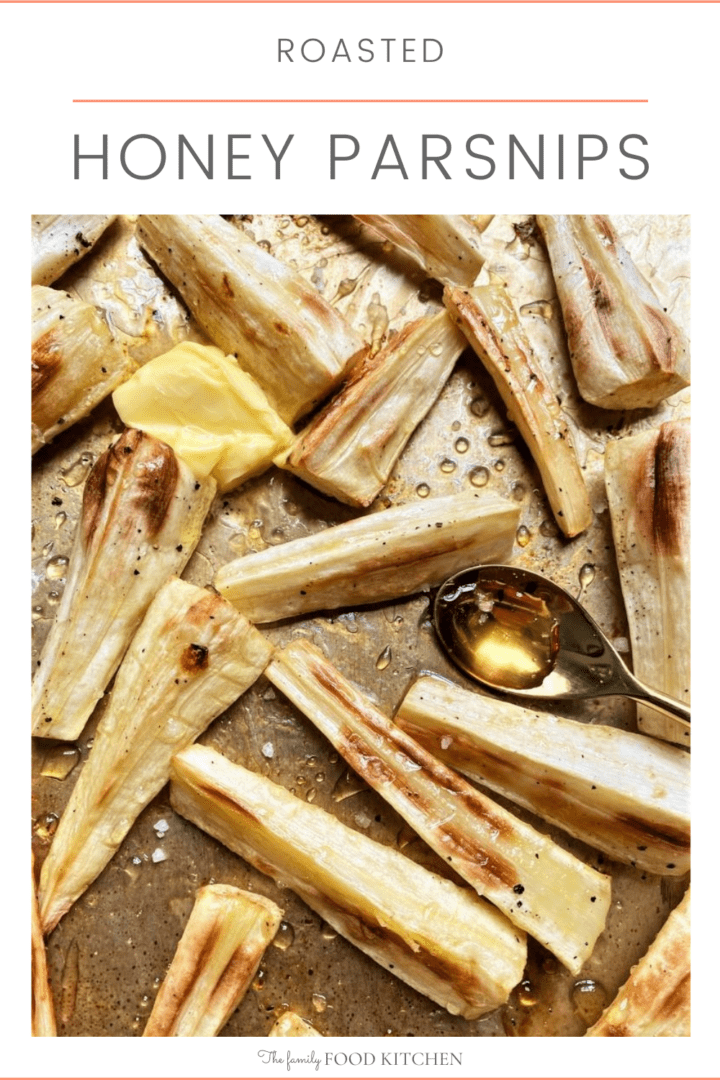 What Do You Think?!
I'd love to know what you think about this recipe! I'd be so grateful if you scroll down to the bottom of the page and leave a star rating and comment.
Don't forget to go over to Facebook and Instagram and make sure you're following me so you can join in the chat. And remember to save this recipe to your Pinterest too!
---
More Easy Side Dish Recipe Ideas
---
Printable Recipe
Honey Roasted Parsnips
These 4 ingredient honey roasted parsnips are a quick and delicious veggie side dish that can be served alongside any meal. Oven roasting parsnips until they're tender and golden really brings out their flavor - once tried, you'll make these on repeat.
Ingredients
6

Parsnips

-

medium parsnips, trimmed and peeled

1

tbsp

Olive Oil

-

or vegetable oil

1

tbsp

Runny Honey

1

tbsp

Butter

-

salted or unsalted is fine

Sea Salt and Black Pepper
Instructions
Preheat the oven to 425ºF/210ºc.

Cut the parsnips in half through the middle.

Cut the smaller half into 2 and the larger half into 4 batons.

1 tbsp Olive Oil |

Sea Salt and Black Pepper

Place on a parchment lined baking sheet, toss in the olive oil and sprinkle generously with sea salt and black pepper.

Space the parsnip sticks out on the parchment in an even layer so they roast and don't steam and go soggy.

Roast for around 30 minutes, turning occasionally, until the parsnips are soft and the outsides are starting to turn golden.

1 tbsp Runny Honey |

1 tbsp Butter

Take out of the oven, drizzle on the honey and finish by adding the butter.

Sea Salt and Black Pepper

Toss, season again with sea salt and serve immediately.
Nutrition
Calories:
246
kcal
Carbohydrates:
46
g
Protein:
3
g
Fat:
7
g
Saturated Fat:
2
g
Polyunsaturated Fat:
1
g
Monounsaturated Fat:
4
g
Trans Fat:
1
g
Cholesterol:
8
mg
Sodium:
49
mg
Potassium:
875
mg
Fiber:
11
g
Sugar:
15
g
Vitamin A:
87
IU
Vitamin C:
40
mg
Calcium:
85
mg
Iron:
1
mg
Nutritional information is provided as a courtesy only and should be taken as an estimate rather than a guarantee. Ingredients can vary and the Family Food Kitchen can't guarantee the accuracy of this information.
This post was shared with the #cookblogshare community, which this week was kindly hosted by Chloe at Feast Glorious Feast.