This delicious one-pot Pork Tenderloin with Mushroom Cream Sauce is packed with flavor. But it's so simple it can be on the table in half an hour, making it perfect for a busy midweek family meal. If you're looking for a change from the usual chicken or pasta - read on!
Forget your childhood memories of chewing on dried out pork. These tenderloin medallions retain all their flavor and juices.
The deliciously rich sauce is flavoured with shallots, garlic and just a touch of sweet Marsala wine. When paired with the earthy flavor of cremini mushrooms, it packs an unbeatable savory punch.
Why You Should Make Pork Medallions with Mushroom Sauce
This simple one-pan dish is ideal for those busy mid-week dinners. All the flavor with less dishes. For another great 30 minute dish that the whole family will enjoy, try my Salmon with Spinach Cream Sauce.
Pork tenderloin, as the name suggests, is the most tender cut of pork. It's economical too.
Although simple to make, this dish is definitely elevated enough to serve to guests. Which makes it perfect for entertaining.
What is the difference between Pork Tenderloin and Pork Loin?
Pork tenderloin is not to be confused with pork loin, they are entirely separate cuts of meat!
Pork tenderloin, or fillet, is a long, rather narrow cut that is cut from the muscle running along the backbone. There is very little fat on pork tenderloin, this is a really lean cut of meat.
Whereas pork loin is a wide and flat cut, often with a thick layer of fat and it can be cut either boneless or bone-in.
Pork tenderloin is cooked fast and at a high temperature. Whereas pork loin is predominantly a roasting cut.
How to Cook Pork Tenderloin
They key to cooking pork tenderloin is to cook it quickly and at a high heat. This is not a cut that should be slow roasted.
Because this cut of meat contains very little fat it can overcook and become dry quickly.
In this recipe for pork tenderloin with mushroom wine sauce, the pork fillet is first cut into 1 inch medallions. Slicing the tenderloin up like this means that the meat will cook evenly, but also really quickly.
Each medallion is flattened a little and seasoned with salt and pepper before being cooked for 3 minutes on each side.
The pork is then removed from the pan and set aside to rest, while the sauce is prepared. Resting allows the meat juices to work back into the pork, resulting in a juicy, tender piece of meat.
Don't waste anything, so remember when adding the pork back into the pan, add the cooking juices too. This adds extra flavour to the finished sauce.
Cooking the meat in this way ensures lovely tender pieces of pork.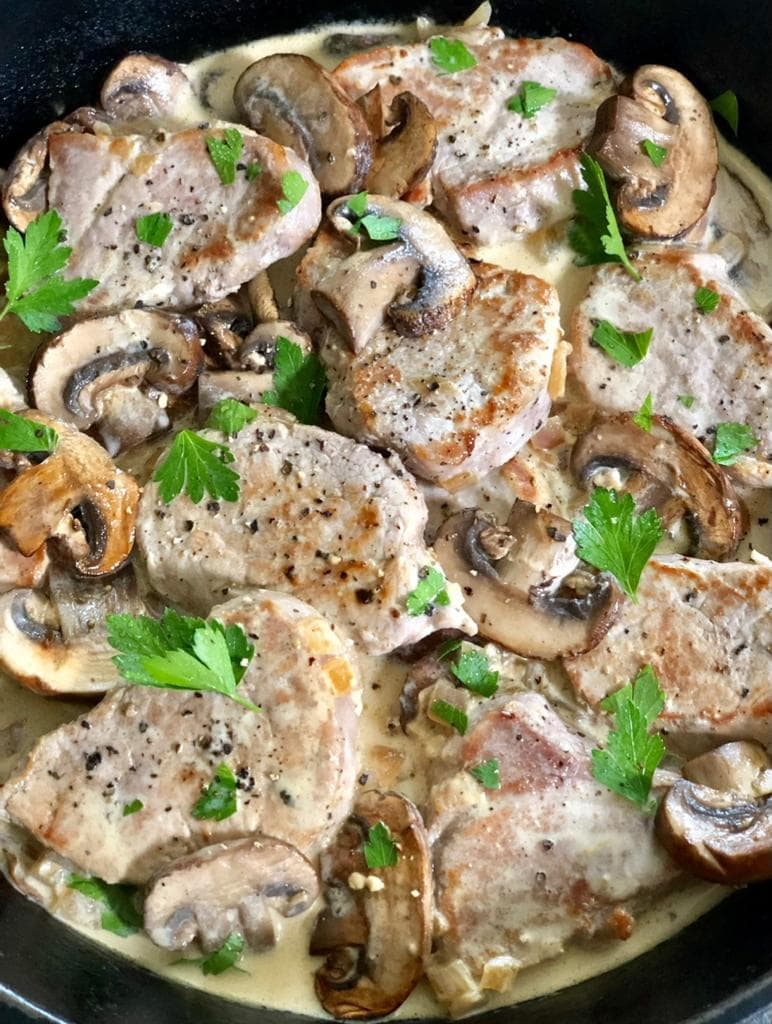 Variations
You can substitute the pork tenderloin with pork loin chops. However, be aware that you will have to adjust cooking times accordingly. A chop will take longer to cook than a lean medallion of pork tenderloin.
I have used cremini mushrooms in this recipe, however, use any mushrooms that you enjoy eating. Oyster, button or chanterelle mushrooms would be a great substitutes in this dish. If you enjoy eating mushrooms as much as I do then why not try my Creamy Mushroom Pasta!
The sauce is flavoured with sweet shallots, you could also use leek or a yellow onion if you would prefer.
Marsala wine, is a lovely sweet fortified wine that is made in Sicily. If you don't have marsala then I would recommend replacing with a sweet sherry, something like an Oloroso would be a great substitute. Or you could also add a splash of port instead.
If you don't drink alcohol, it's fine to leave out the marsala. Add an extra splash of chicken stock if you find you need to make the sauce thinner.
Tips For Making the Best Mushroom Wine Sauce
Always cook the sauce using the same skillet that you used for cooking the pork. That way you don't lose any of the lovely pork flavour from the pan.
Add in your shallots and stir them around the pan, picking up any crispy bits leftover from cooking the pork. These crispy bits add lots of flavour to the finished dish.
Next add the mushrooms and allow them to cook for a good 5 minutes before adding in the garlic. Only saute the garlic for a minute, any longer and you risk it burning.
Add the marsala wine to the dish and reduce a little. This not only burns off the alcohol, but will also help thicken the final sauce.
Mix through the Dijon mustard and give the sauce time to cook, and for flavors to combine. Next check the seasoning and add in the cream.
When you add the pork tenderloin back into the mushroom cream sauce ensure you also add back in any resting juices from the pork as this adds extra flavor.
Only heat for 2 minutes to warm the pork through - you don't want the pork overcooking at this stage!
Adding some chopped parsley at the end of the cook is entirely optional. However, it does add a lovely freshness to the finished dish.
How To Serve Pork Tenderloin with Mushroom Cream Sauce
This is a filling dish as there is a real richness to the sauce. For that reason I like to keep any additional side dishes on the simple side. After all, the sauce is already packed full of creamy mushrooms.
Some steamed greens, or broccolini would balance the dish. If looking to add a carbohydrate, simply steamed rice or some new potatoes would be enough with the rich and creamy sauce.
Can you reheat Pork Tenderloin with Mushrooms?
Once cooked, this dish can be cooled and stored, covered, in the refrigerator until you are ready to serve it. When ready to enjoy, remove from the fridge and allow to come to room temperature, before placing over the hob and heating up to piping hot.
Pin This Pork Tenderloin with Mushroom Recipe For Later
What Do You Think?!
I'd love to know what you think about this recipe! I'd be so grateful if you scroll down to the bottom of the page and leave a star rating and comment.
Don't forget to go over to Facebook and Instagram and make sure you're following me so you can join in the chat. And remember to save this recipe to your Pinterest too!
---
More Easy One-Pot Recipe Ideas
---
Printable Recipe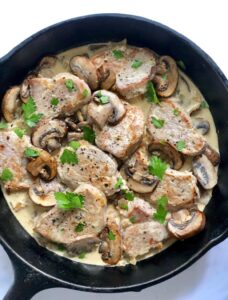 Pork Tenderloin with Mushroom Cream Sauce
This delicious one-pot Pork Tenderloin with Mushroom Cream Sauce is packed with flavor. But it's so simple it can be on the table in half an hour, making it perfect for a busy midweek family meal. If you're looking for a change from the usual chicken or pasta - read on!
Ingredients
2

lb

Pork Tenderloin

2

Shallots

-

finely sliced

10

oz

Mushrooms

-

sliced (I used cremini but any kind will do)

2

cloves

Garlic

-

crushed

⅓

cup

Marsala Wine

1

tbsp

Dijon Mustard

1

cup

Chicken Stock

-

gluten free if required

¼

cup

Heavy Cream (Double Cream)

Sea Salt and Black Pepper

Chopped Parsley

-

optional
Instructions
Cut the pork into one inch medallions. Flatten each in your palm and season well with sea salt and pepper.

In a medium skillet, cook the medallions over a medium high heat for around 3 minutes on each side. Remove from the pan while you make the sauce. Cover to keep warm.

Stir the sliced shallots into the same skillet. Scrape up all the bits from the pork and cook over a medium low heat for around 5 minutes - until soft.

Add the sliced mushrooms and cook for another 5 minutes. Then stir in the crushed garlic.

Add the marsala to the pan and turn up the heat. Let it bubble for a minute or two.

Add the mustard and the stock. bring the sauce to a simmer, letting the flavours come together for 5 minutes.

Season again to taste and finish by stirring in the cream. Add the pork back to the pan for two minutes to re-heat.

Serve and garnish with chopped parsley (optional).
Nutrition
Calories:
406
kcal
Carbohydrates:
10
g
Protein:
51
g
Fat:
15
g
Saturated Fat:
6
g
Trans Fat:
1
g
Cholesterol:
170
mg
Sodium:
259
mg
Potassium:
1262
mg
Fiber:
1
g
Sugar:
5
g
Vitamin A:
228
IU
Vitamin C:
3
mg
Calcium:
38
mg
Iron:
3
mg
Nutritional information is provided as a courtesy only and should be taken as an estimate rather than a guarantee. Ingredients can vary and the Family Food Kitchen can't guarantee the accuracy of this information.
This recipe has been shared with the #cookblogshare community, hosted this week by Louise at A Strong Coffee