This homemade Brunch Bagel board is sure to become a new family favorite. Taking just 20 minutes to make, this pick and mix DIY Smoked Salmon and Cream Cheese Bagel Bar has something for everyone. And if you're looking for that rare unicorn - a brunch which is truly relaxing for the person hosting - read on.
Brunch is always a good idea. But how many times have you found yourself sweating over the stove making pancakes or cooking eggs for a crowd? Or even just your family....
The beauty of this bagel platter is 1) it's so easy and 2) it can all be prepared in advance.
Plus you can refill it as you go - so it's ideal for entertaining.
Add in 'delicious' and 'stylish to look at' and you've got the perfect crowd pleaser.
Why you should try this Brunch Bagel Board
A brunch bagel board is the ultimate customizable restaurant quality breakfast. From the comfort of your own home.
The stunning smorgasbord style presentation pops with color and is a feast for the eyes as well as the stomach.
It's perfect for celebrations.
What Should you put on a bagel board?
Here are all my best tips and tricks for making an epic DIY Bagel Brunch Board!
Bagels
It's a good idea to hunt down the very best bagels you can, since this is the backbone of your board. And make sure they are fresh, obviously!
It's great to serve a nice variety of bagels since everyone (everyone!) has strong opinions on what they do (and don't!) like when it comes to the top of a bagel.
Should the bagels be toasted for cream cheese and lox?
Everyone has a view on this, but the consensus seems to be if the bagels are fresh they don't need to be toasted.
Remember too that toasting the bagels will add an extra layer of work. And it can be tricky keeping them warm once toasted.
If you really do like them toasted, halve them and toast in the oven under a medium broiler (grill in the UK), until golden.
Cream Cheese
And lots of it! It's good to offer a variety of different cream cheeses as well as plain.
Scallion cream cheese is a popular choice. You can either buy or make it by stirring chopped scallions through plain cream cheese. Vegetable cream cheese is another nice choice.
Protein
Smoked salmon or lox slices are the classic bagel paring. I also love to include eggs on my bagel platter. Boil for 6 minutes for that perfect jammy yolk.
What is the different between smoked salmon and lox?
Smoked salmon is cured or brined, then smoked. Lox is cured, but not smoked. Both taste delicious on bagels but lox is said to be saltier with more of a raw texture.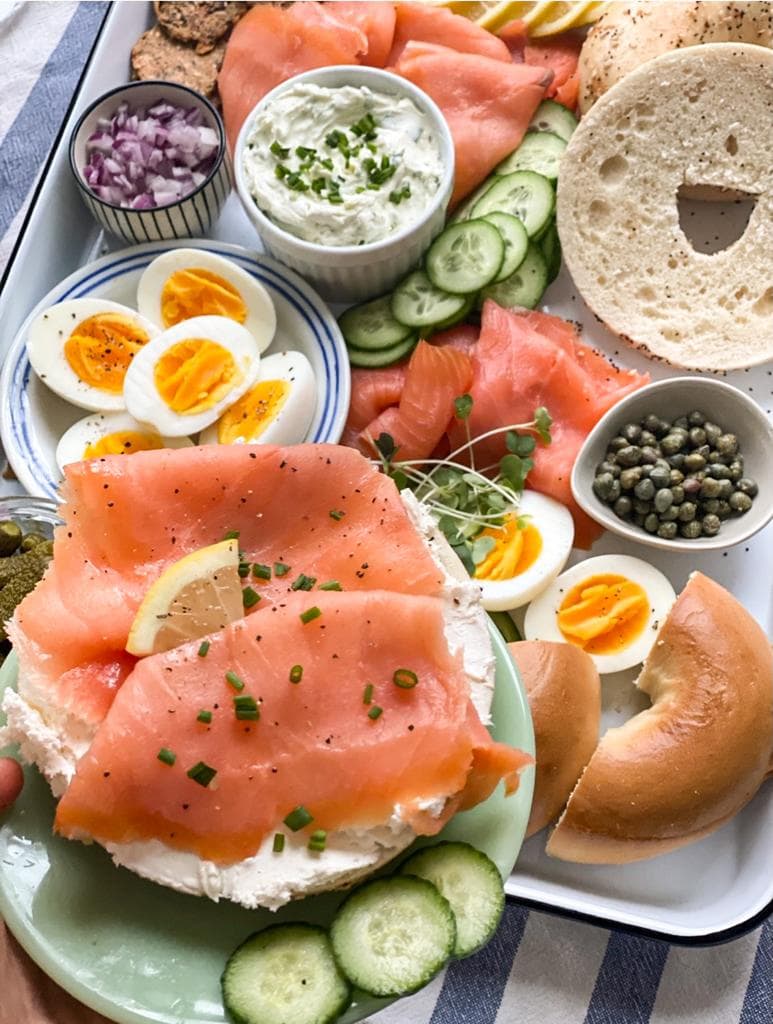 Vegetables
Vine tomatoes, red onion slices and cucumbers all go well and make that board pop with color. Slice them thinly so you can fan them out around the other ingredients.
Other Fixings
It's ideal to offer a variety of add ons. Lemon slices are an essential with smoked fish. Cornichons, capers and horseradish are all classic bagel additions, so just pick your favorites and have fun with it.
How to assemble an easy Brunch Board
Before your guests arrive find a large serving board or platter. Next decant the cream cheese and other fixings into smaller bowls so you can place them directly on the board.
Now slice the bagels and use them to anchor your platter. Place them around the board so guests can grab them easily.
Carefully separate the salmon slices and add them to the platter. They look nicest with the edges folded over.
Add the halved eggs. Now fan out the sliced cucumbers and tomatoes and add the other fixings. Add some chopped chives or dill if you like.
Take a moment at the end to make sure everything is nicely spaced and placed. Think of it as your mini masterpiece on the table 😉
Add knives, plates and napkins and serve. Encourage your guests to get stuck in, and help themselves. I bet you won't have to ask twice!
Frequently asked Questions
What variations can I put on a bagel board?
You can add as many different toppings as you can think of. Don't like salmon? No problem. Make a bacon bagel and egg board.
If you are into the smoked fish, how about adding in some other varieties like sable or smoked mackerel? Whitefish salad and tuna salad are also a great addition.
Avocado slices are always a good idea. And sliced jalapeños add some heat for anyone who likes it.
How many bagels should I serve per person?
Plan on one bagel per person.
How much cream cheese should I buy per bagel?
To make sure you have enough for a generous serving, get around one to one and a quarter pounds of cream cheese per dozen bagels. That's around 6 oz of cream cheese per 4 bagels or around 1.5 oz per bagel (3 tablespoons).
How much smoked salmon do I need per bagel?
Plan on around 2-3 oz of smoked salmon or lox per bagel.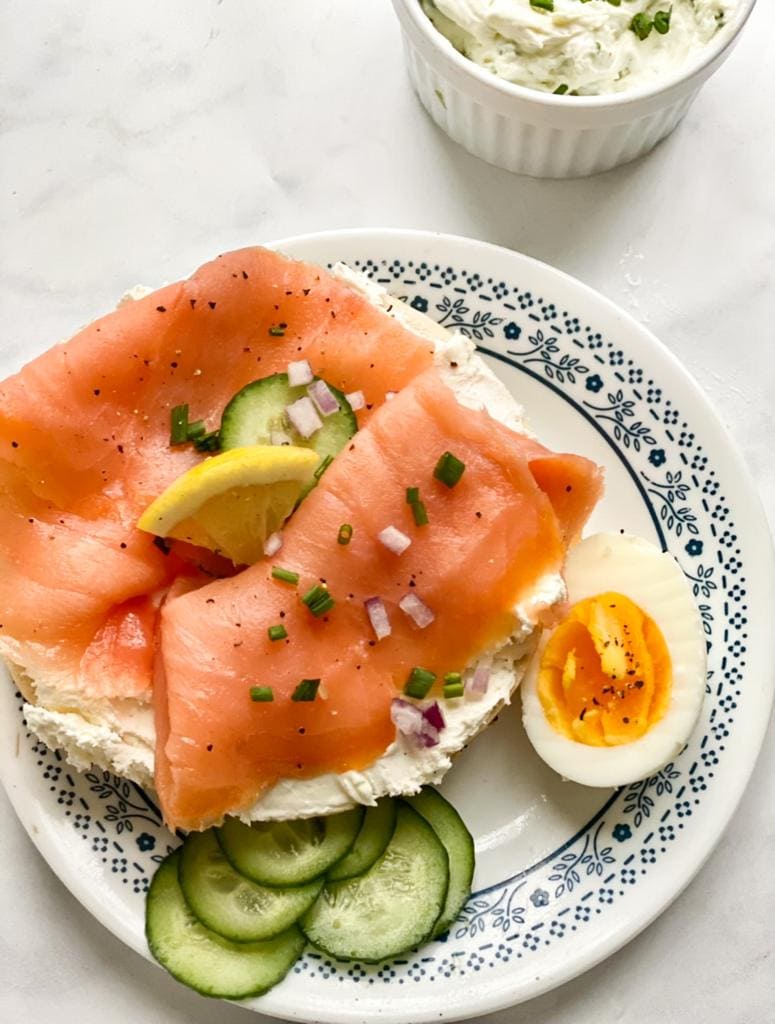 How far in advance can I make a bagel board?
One of the beauties of this Bagel Board is that you can get all the elements ready up to 2 hours in advance.
Just make sure to keep the cut side of the bagels sandwiched together for freshness.
Cover the whole platter with saran wrap (clingfilm) and store in the fridge until needed.
In addition, you can boil and peel the eggs up the 3 days in advance. Keep them in an airtight container in the fridge.
What to serve with a Brunch Bagel Board
Get the coffee pot on. And since this brunch definitely feels quite decadent, don't forget the mimosas, heavy on the fizz 😉
Pin This Bagel Board Recipe For Later
What Do You Think?!
Scroll to the comments section and let me know what you think about the recipe. Did you try it? Did you adapt it? Did you love it?
Don't forget to go over to Facebook and Instagram and make sure you're following me so you can join in the chat. And remember to save this recipe to your Pinterest too!
---
More Easy Recipe Ideas
---
Printable Recipe
Bagel Board
This homemade Brunch Bagel board is sure to become a new family favorite. Taking just 20 minutes to make, this pick and mix DIY Smoked Salmon and Cream Cheese Bagel Bar has something for everyone. And if you're looking for that rare unicorn - a brunch which is truly relaxing for the person hosting - read on.
Ingredients
4

Eggs

4

Bagels

-

assorted, of your choice

12

ounces

Smoked Salmon

6

oz

Cream Cheese

-

plain or a variety of your choice

2

Persian Cucumbers

-

thinly sliced

2

Vine Ripe Tomatoes

-

thinly Sliced

¼

Red Onion

-

finely chopped

2

tbsp

Capers

-

drained

8

Cornichons

-

drained

1

Lemon

-

sliced

Chives or Dill

-

Optional - for serving

Sea Salt and Black Pepper
Instructions
First of all make the eggs. Put the eggs in a saucepan and bring to the boil. Simmer for 6 minutes exactly (set a timer).

Plunge into iced cold water. Cool and peel. Slice in half and set aside.

Choose a large serving board or platter.

Slice the bagels in half and arrange on the platter.

Arrange the smoked salmon into slices.

Next add the cream cheese and eggs.

Then add the cucumber, tomatoes, lemons and other fixings. It's all about the presentation so arrange them nicely around the other ingredients. Aim to cover most of the board or platter you are working with.

Dig in!
Nutrition
Calories:
657
kcal
Carbohydrates:
65
g
Protein:
41
g
Fat:
26
g
Saturated Fat:
11
g
Trans Fat:
1
g
Cholesterol:
237
mg
Sodium:
1788
mg
Potassium:
660
mg
Fiber:
4
g
Sugar:
5
g
Vitamin A:
1464
IU
Vitamin C:
24
mg
Calcium:
119
mg
Iron:
4
mg
Nutritional information is provided as a courtesy only and should be taken as an estimate rather than a guarantee. Ingredients can vary and the Family Food Kitchen can't guarantee the accuracy of this information.