If you're looking for a fast and effortless mid-week dinner recipe this simple Creamy Mushroom Pasta could be just the ticket. Silky, cheesy and delicious but so quick to whip up at home, this spin on vegetarian carbonara is the perfect comfort food.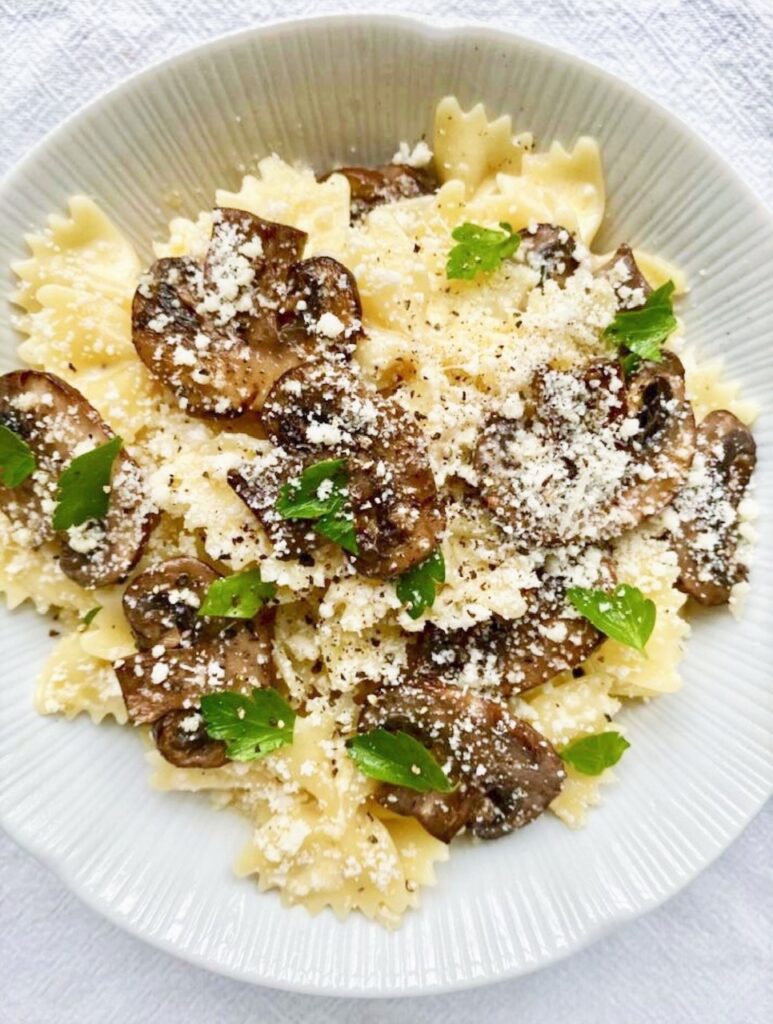 For pasta purists, this isn't a true traditional carbonara, which doesn't contain any cream at all. But this cheesy mushroom pasta is so easy to nail, it works every time.
Traditional Pasta carbonara contains bacon, but here the mushrooms provide all the umami flavor with none of the meat which makes it perfect for vegetarians.
Why You Should Try Creamy Mushroom Pasta
Everyone knows that mushrooms and cream are a match made in pasta heaven.
This simplified version of Mushroom Carbonara is impossible to mess up.
The dish can be on the table in 20 minutes or less.
How is Carbonara Different to Alfredo?
An alfredo sauce is simpler than Carbonara - containing just cream, parmesan and parsley. Carbonara also contains eggs and traditionally pancetta, although mushrooms are a substitute for bacon in this vegetarian carbonara with cream.
What You Will Need To Make this Creamy Mushroom Pasta
Mushrooms
I used cremini mushrooms here because I love their flavor and nuttiness. But you could definitely substitute button mushrooms or even portobello. Just cut them up into bite size pieces.
Butter
Not always a traditional Italian choice, but the flavor of mushrooms cooked in butter is pretty unbeatable.
Shallots
These are a great addition and add a soft sweet and mellow onion flavor to the dish.
Egg Yolks
Eggs add a luscious thickness to the cream sauce and help to thicken and emulsify the sauce.
Does Carbonara Taste Eggy?
Surprisingly since there are eggs in the sauce, carbonara does not taste 'eggy'. The sauce tastes rich and silky - but you wouldn't even necessarily know it contains egg!
How to Separate Eggs
Set out two bowls.
Crack the egg, let the yolk settle in one half of the shell and let the whites run off into the first bowl
Gently transfer the egg yolk back and forth from one shell to the other, letting as much egg white drip off as possible.
Then tip the yolk into the second bowl.
Repeat.
What Can You Do With Leftover Egg Whites?
One option is to label and freeze them, since they freeze perfectly, for use another day.
If you do want to use the egg whites up immediately you can add the egg whites to omelettes.
You can also use them to make a dessert such as pavlova or meringue.
Cream
You need heavy cream (or double cream for my UK, NZ and OZ friends) to make this Pasta Carbonara work.
Should Carbonara have Cream?
A traditional Carbonara doesn't contain any cream. And a traditional Italian chef would probably be horrified at the idea! But the addition of cream tastes great and it also crucially helps to avoid the the eggs scrambling in the hot pasta.
Parmesan Cheese
You really shouldn't be afraid of adding lots of cheese to this dish as it truly tips the flavor over the top. More is definitely more here when it comes to Parmesan.
Of course, if you are vegetarian you will want to pick an alternative hard cheese of your choice to use. Real deal parmesan is never vegetarian.
Tips for Making the Best Vegetarian Carbonara
Make sure you really cook the mushrooms down for the full ten minutes. This really helps to develop that savory umami taste which gives this Mushroom Carbonara it's flavor.
When making pasta, always reserve some of the cooking water.

The starch from the pasta is drawn out into the boiling water, so if you add a splash or two it helps to thicken the carbonara sauce and evenly coat the pasta pieces.
This is really one of those dishes that you have to serve immediately. Cheesy mushroom pasta sauce won't keep - but you won't be able to resist anyway!
Pin This Creamy Mushroom Pasta (Vegetarian Carbonara) Recipe For Later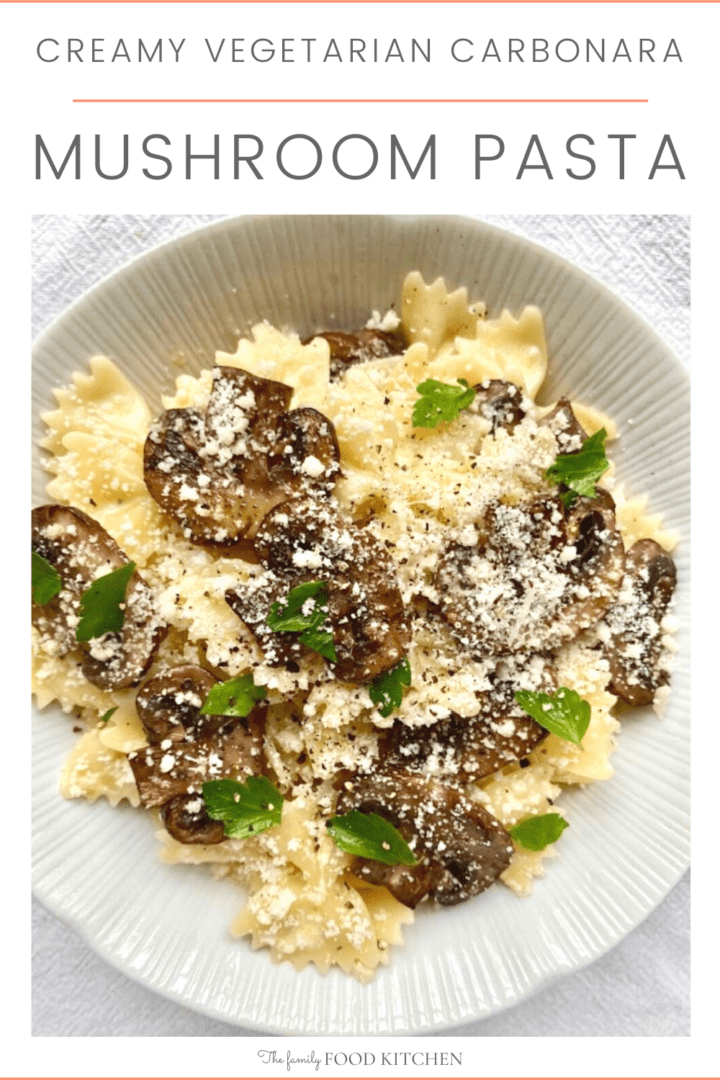 What Do You Think?!
I'd love to know what you think about this recipe! I'd be so grateful if you scroll down to the bottom of the page and leave a star rating and comment.
Don't forget to go over to Facebook and Instagram and make sure you're following me so you can join in the chat. And remember to save this recipe to your Pinterest too!
---
More Easy Recipes
---
Printable Recipe
Creamy Mushroom Pasta (Vegetarian Carbonara)
If you're looking for a fast and effortless mid-week dinner recipe this simple Creamy Mushroom Pasta could be just the ticket. Silky, cheesy and delicious but so quick to whip up at home, this spin on vegetarian carbonara is the perfect comfort food.
Ingredients
1

lb

Pasta

4

cups

Cremini Mushrooms

-

sliced

2

tbsp

Butter

2

Shallots

-

finely chopped

2

cloves

Garlic

-

peeled and minced

3

Egg Yolks

-

note you can freeze the egg whites for another day

1

cup

Heavy Cream (Double Cream)

-

aka double cream

1

cup

Grated Parmesan or Vegetarian Alternative

-

plus more for serving

Sea Salt and Black Pepper
Instructions
Add the butter and mushrooms to a hot pan.

Cook over a medium heat, stirring occasionally, until they are very dark - around 10 minutes.

Meanwhile cook the pasta according to packet instructions in boiling salty water.

Add the shallots to the mushroom pan and stir, making sure they don't catch.

Add the garlic and stir again for a minute.

In a separate bowl, add the egg yolk to the cream and whisk. Season well with salt and pepper.

Drain the pasta. Add it to the pan with the mushroom mixture and stir on a low heat until combined.

Slowly add the cream and egg mixture to the pan and stir until all the pasta is well coated. Season with salt and freshly grated black pepper.

Add the parmesan cheese and mix until melty

Serve hot and add extra grated parmesan cheese if you like.
Nutrition
Serving:
1
main portion
Calories:
854
kcal
Carbohydrates:
94
g
Protein:
30
g
Fat:
40
g
Saturated Fat:
23
g
Cholesterol:
265
mg
Sodium:
474
mg
Potassium:
708
mg
Fiber:
4
g
Sugar:
6
g
Vitamin A:
1461
IU
Vitamin C:
2
mg
Calcium:
377
mg
Iron:
3
mg
Nutritional information is provided as a courtesy only and should be taken as an estimate rather than a guarantee. Ingredients can vary and the Family Food Kitchen can't guarantee the accuracy of this information.