This dreamy Chocolate Orange Mousse is divine, decadent and super easy to make! No fancy techniques, baking or eggs needed. Ready in minutes, you simply melt chocolate, add light-as-air whipped cream, refrigerate and devour.
I have to confess I've been a chocolate mousse addict from a young age when my mum used to make it as part of her amazing 1980s dinner party repertoire. Chocoate mousse can be very fiddly but this is one of the most easy recipes out there.
This version is pared back and requires very little effort - but still feels such a treat and has an unbeatable rich chocolate flavor.
Why you Should Try This Chocolate Orange Mousse Recipe
This timeless decadent dessert contains just 4 simple ingredients and could not be simpler.
Despite the fact this is one of the richest and most satisfying desserts you can make, it contains no refined sugar. And it's sweetened with only dark chocolate and one tablespoon of maple syrup.
These chocolate cream mousses can be made in advance so are a great make-ahead dessert for entertaining.
They're also naturally free of egg so are great for anyone with an allergy or who is nervous/advised not to eat uncooked eggs.
What You Will Need To Make This Orange Chocolate Mousse Recipe
Find the full recipe in the Recipe Card below.
Chopped Bittersweet Chocolate
I like to buy the best quality chocolate I can find and usually go for 60% cocoa for this recipe, so it adds some sweetness.
Chop the chocolate fairly fine, with a large knife on a chopping board so it melts evenly. I don't like to use chocolate chips if I'm melting chocolate since they contain added stabilizers that can stop them from properly melting.
Fresh Orange Juice
This is purely optional but I love the zing and freshness the orange flavour brings. Lime would also work well as a substitute.
Can I Use Orange Flavored Chocolate?
Chocolate orange tends to be a bit sweeter than bitter sweet chocolate. But if you like desserts on the sweeter side you could definitely use orange flavored chocolate here. Terry's Chocolate Orange would be a great choice.
Can I Use Orange Extract or Essence?
You could absolutely use orange extract or essence too. Be careful to add it slowly and in small increments since these flavorings can be potent!
Heavy Cream
You can substitute whipping cream here but that's it. Nothing else will give you those nice peaks when whipped. And this is what holds together the chocolate mousse!
Maple Syrup
A tablespoon of this adds just the right amount of sweetness. Remember not to leave an open bottle of maple syrup on the shelf as it can go moldy. It should be stored in the fridge.
Tips for Making the Best Chocolate and Orange Mousse
How to Whip Heavy Cream
Don't over whip the cream! You can whip the cream by hand in a large bowl but it's much easier and faster to do it with an electric whisk or a stand mixer with the whisk attachment. Keep a close eye on it as you whisk, especially if you're using a stand mixer. It can over whip quickly!
Start on a low speed and never leave the mixer whilst you're whipping. First you look for soft peaks - this means the cream starts to form soft The perfect time to stop is when the cream thickens and starts to form what is known as stiff peaks (the cream holds it's shape in a point). You will know if it is over whipped as the texture turns very clumpy and almost curd like.
How to Rescue Overwhipped Cream?
If the worst happens all is not lost. Add a few tablespoons of fresh cream to the grainy whipped cream. Gently whisk it in by hand and it should smooth back out.
Tips for Melting Chocolate
1. Bowl and Hot Water Method
Make sure the chocolate is chopped into small similar sized pieces to ensure even melting.
Fill a medium sized saucepan with an inch of water, bring it to a boil and turn to a low simmer.
Place the chocolate into a medium size bowl heat-proof bowl and carefully set it over the saucepan (the top of a double boiler).
Don't allow the bowl to touch the water - the steam is enough to melt the chocolate.
Melt the chocolate slowly over low heat - the water should be barely bubbling.
Stir frequently with a rubber spatula until all the chocolate melts.
2. Microwave Method
Congratulations for trying this! It's easy and it works!
Make sure the chocolate is chopped into similar sized pieces to ensure even melting.
Place it in a medium sized microwave safe bowl.
Microwave on high for 30 seconds, stir and return to the microwave for another 30 seconds. Keep on stirring and microwaving until almost fully melted.
Let the bowl stand for the last couple of minutes, stirring occasionally, so the last of the chocolate can melt.
Variations of Chocolate Orange Mousse
Feel free to switch up the recipe for these Chocolate Orange Pots.
Chocolate purists: leave the orange flavor out! I've used bittersweet chocolate but if you like milk, feel free to use a combination of chocolate.
Add a pinch of salt if you like a sweet and savory vibe. Add vanilla extract if you're a fan.
Or alternatively, you can make this boozy by adding a splash of orange liqueur instead of the orange juice. Leftover orangey Cointreau from making margaritas works a treat here. So does Grand Marnier.
These little pots of delight (without the booze!) are also great for a kids tea party. You can even serve the mousse in doll's teacups, which is a perfect kid size portion.
How To Serve Chocolate Orange Pots
I make these in individual portions in small ramekins or wine glasses. They are great for entertaining if you serve them on a pretty tray.
If you like the orangy vibe, finely grate some orange peel over the top of the pots.
Its completely optional - but a dusting of cocoa powder also adds a pretty texture. The best way to do this is to add a tablespoon of cocoa powder to a sieve and lightly sprinkle it through with the back of a spoon.
Pin this Chocolate Orange Mousse (No Egg) Recipe For Later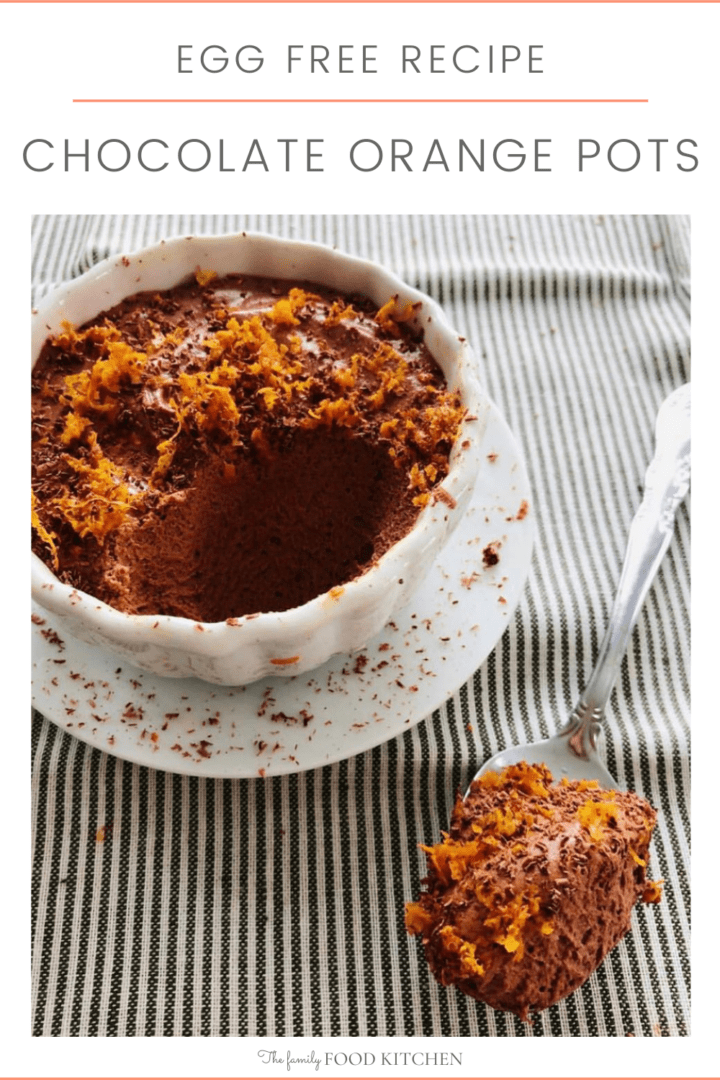 What Do You Think?!
I'd love to know what you think about this recipe! I'd be so grateful if you scroll down to the bottom of the page and leave a star rating and comment.
Don't forget to go over to Facebook and Instagram and make sure you're following me so you can join in the chat. And remember to save this recipe to your Pinterest too!
---
More Easy Recipe Ideas
Enter category or post id numbers in below block setting. Delete this para!
---
Printable Recipe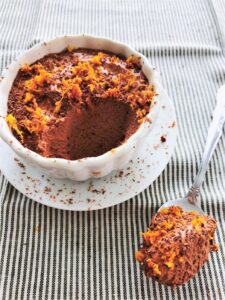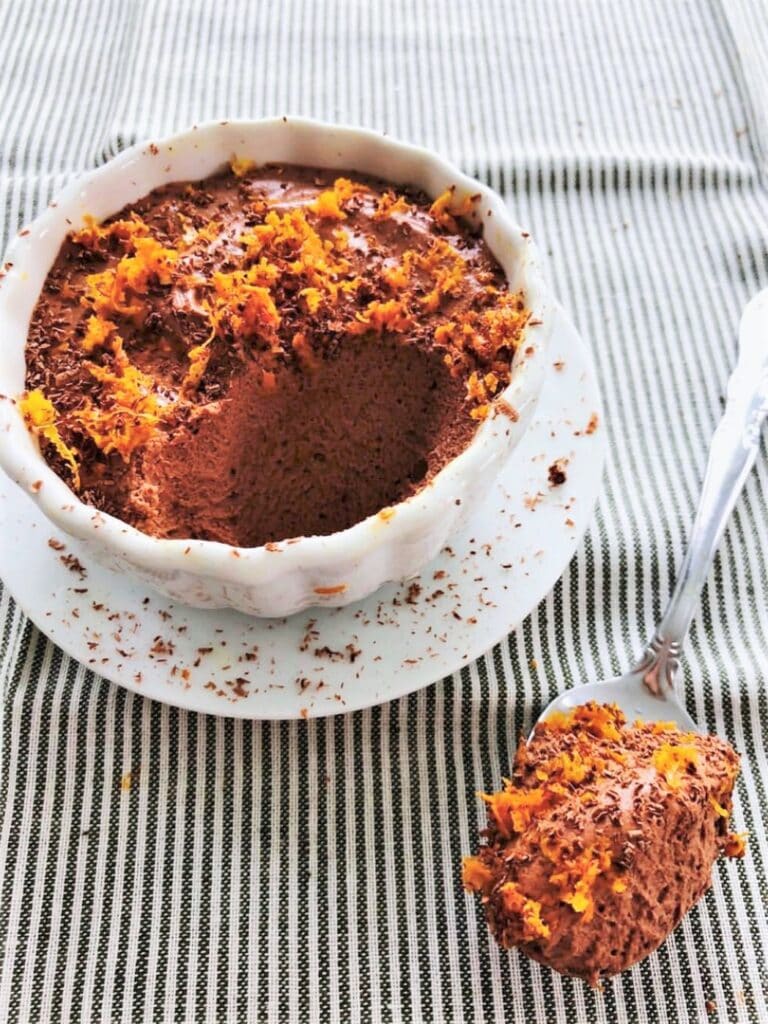 Chocolate Orange Mousse (No Egg)
This dreamy Chocolate Orange Mousse is divine, decadent and super easy to make! No fancy techniques, baking or eggs needed. Ready in minutes, you simply melt chocolate, add light-as-air whipped cream, refrigerate and devour.
Ingredients
6

oz

Bittersweet (Very Dark) Chocolate

-

chopped

2

cups

Heavy Cream (Double Cream)

½

Orange

-

juice and zest

1

tbsp

Maple Syrup or Honey
Instructions
Heat half of the heavy cream in a small pan until it reaches boiling point. But do not let it boil. Take the pan off the heat straight away.

Add the chocolate to the hot cream and stir gently to melt. Set aside to cool slightly.

Mix the remaining cup of cream with the orange juice, zest and maple syrup or honey in a mixing bowl or stand mixer bowl.

Whip the orange cream in a stand mixer or with an electric whisk until you get soft peaks. Be careful not to overwhip the cream or it will go grainy. This can happen very fast so take it slowly.

Add the cooled chocolate mixture to the whipped cream and fold in by hand using a spoon or spatula.

Pour the mix into ramekins or glasses and chill for a minimum of two hours or ideally, overnight.

Garnish with finely grated orange zest and/or chocolate and serve!
Nutrition
Serving:
1
pot
Calories:
686
kcal
Carbohydrates:
33
g
Protein:
5
g
Fat:
60
g
Saturated Fat:
37
g
Cholesterol:
166
mg
Sodium:
50
mg
Potassium:
401
mg
Fiber:
4
g
Sugar:
22
g
Vitamin A:
1844
IU
Vitamin C:
18
mg
Calcium:
122
mg
Iron:
3
mg
Nutritional information is provided as a courtesy only and should be taken as an estimate rather than a guarantee. Ingredients can vary and the Family Food Kitchen can't guarantee the accuracy of this information.
This recipe has been shared with the #CookBlogShare community hosted this week by Beth at Effortless Foodie.