This warm Delicata Squash Salad is the perfect hearty salad for colder months. It's loaded with sweet roasted onions, white beans, kale and pomegranate seeds and topped with a tangy tahini dressing. It's also vegan, gluten free and dairy free.
Salad isn't just for summer!! This squash sheet pan salad is packed full of veggies and a great way of making sure you're still getting a range of plant based goodness as the nights get colder.
And the best thing about delicata squash is the skin is so thin it's edible - so you don't even need to peel it!
This vegan sheet pan dinner works with whatever greens you have, so is easily adapted. It also goes with everything and anything and is a healthy and colorful addition to any Thanksgiving table too.
Why You Should Make This Vegan Delicata Squash Salad
This filling and nutritious salad can be made in 30 minutes, making it a great midweek vegan salad dinner option.
If you're entertaining, this salad is a real show stopper. You'll get so many requests for the recipe when you make this, I promise!
It's also perfect for Thanksgiving since it balances out heavy or rich meals.
It's made in one sheet pan, which means less dishes and clean up
My squash and kale salad is also dairy free and naturally gluten free so is perfect for those with dietary restrictions.
Squash & Bean Salad Ingredients
Find the full list and quantities in the recipe below.
Delicata Squash - is a firm favorite with me. Not only does it taste great with a delicate flavor, but its thinner skin is completely edible. Which means no peeling and less prep. However, if you can't find delicata squash that's not a problem either, replace with any variety of squash or pumpkin. Butternut squash is a great alternative and you could also substitute with sweet potato.
Beans -cannellini beans taste great and are packed full of protein. They're also known as white kidney beans. You can replace cannellini beans with any other variety of canned beans, or even canned chickpeas which are also packed full of goodness.
Kale - kale is a great tasting leafy green vegetable that's packed full of nutrients. I've used Tuscan Kale as I love the color and texture - but any kale will work. If you buy baby kale it's even easier as it doesn't require any cutting and is sweeter than regular kale. You can also substitute the kale with another leafy green vegetable, for example spinach or chard.
Pomegranate seeds - add a lovely sweetness to the salad, along with great color and crunch.
Tahini - you can buy either dark or light tahini paste, use whichever you prefer. The difference between dark and light tahini all comes down to taste. Dark tahini is made from unhulled sesame so has a stronger, slightly more bitter flavor. Whereas light tahini is made from hulled sesame seeds so is lighter in flavor.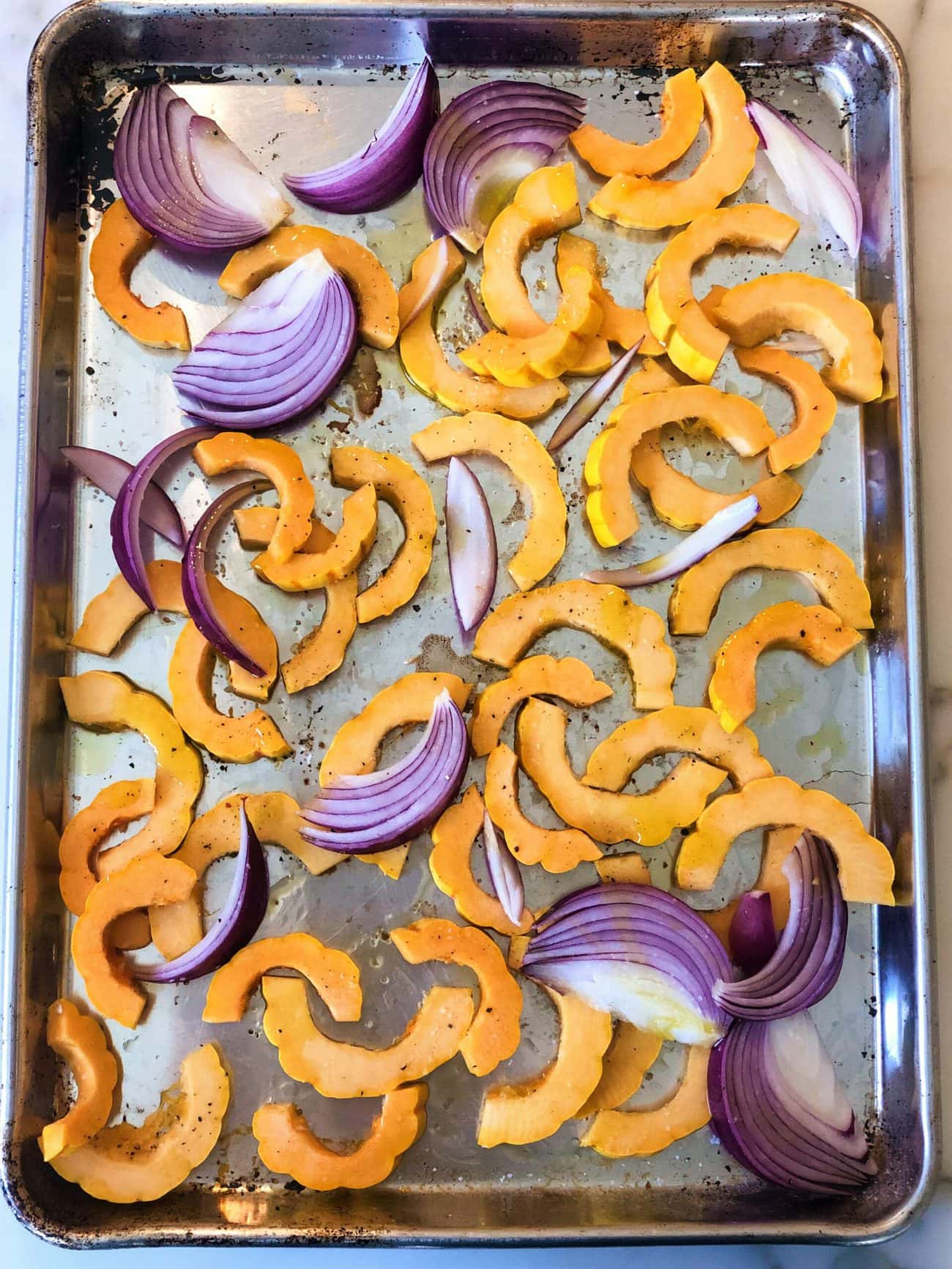 How to Make this Warm Sheet Pan Salad
Find the full printable recipe below.
Start by preparing the squash and cutting it into ¼ inch slices.
Spread the squash out on sheet pan, add sliced red onion and toss with seasoning and olive oil. Roast for 15 minutes.
Add a can of drained cannellini beans, toss everything around on the pan and roast for a further 10 minutes.
Toss in shredded kale and pomegranate seeds. Check the seasoning again.
Make the dressing by blending tahini paste, lemon juice, olive oil, salt and black pepper. Add a little water if needed.
Serve the salad warm with lots of dressing.
Can You Eat The Skin of Delicata Squash?
Delicata squash is a real favorite with me as the skin is thin and edible. This means there's no need to peel the squash first. As anyone who has ever peeled a squash will tell you, this is a huge bonus - no unnecessary cuts and injuries.
With a delicata squash you can just cut, cook and eat.
How to Roast Delicata Squash
Preheat the oven to a fairly high temperature, 420ºF/210ºC
First scrub the squash very clean. there is no need to peel Delicata Squash. Once roasted, the skin is delicious to eat too.
First trim off both the ends of the squash.
Next cut the squash longways down the center.
Scoop out the seeds with a spoon and discard
Cut the squash into ½ half inch slices (half moons). Try to make them as even as possible so they cook roughly at the same time.
Place on a parchment lined baking sheet, ready to roast in a hot oven.
Toss in olive oil and season with salt and pepper.
Make sure they are well spaced out to make sure they roast. If the pieces are too close together they will steam and go soggy.
What Can I Use Instead of Delicata Squash?
If you can't find delicata squash in the supermarket, then a good substitute would be an acorn squash, butternut squash or even sweet potato. You can use any variety of squash or pumpkin, you will just have to peel the skin off first before you roast it.
Can I Use A Store-Bought Dressing?
It like to make my own salad dressing as they're quick to prepare and I can balance the flavors exactly how I want them. But if you're pushed for time simply substitute with a store-bought salad dressing of your choice.
Is Tahini Vegan?
Tahini is a great source of nutrition for those eating a plant based diet. And the good new is that tahini is almost always vegan. Real tahini should only contain sesame seeds and possibly some salt and vegetable oil in addition.
Variations of Vegan Squash & Kale Salad
This winter salad is super versatile, you really can substitute whatever veggies you and your family enjoy eating. Here are some other variations which would work with my simple tahini salad dressing:
Sweet potato, chickpeas and kale
Butternut squash, fava beans (broad beans) and spinach
Onion or acorn squash, butter beans and chard
You can also add some other veggies into the mix, eg: carrots; bell peppers; zucchini; eggplant. So make the dish your own.
Tips For Making Delicata Squash Salad
If you don't already 'massage' your kale, now is honestly the time to start! Kale leaves are so much better and easier to digest if you really mix the dressing really well into the leaves with clean washed hands (or hands with gloves on). Unlike ordinary salads - kale is better if you toss it a few minutes before eating, to give the leaves time to tenderize and take on the flavor of the dressing.
Don't under-dress this salad but don't overdress either. Add dressing gradually as you toss and remember you can always add more but you can't remove dressing if you drown it.
Always taste the salad and dressing before you serve it to check the seasoning. A little salt makes a huge difference when it comes to salad.
How To Serve Warm Delicata Squash Salad
This vegan kale and squash salad can be enjoyed warm or at room temperature. It's perfect served alone or as a hearty side salad alongside veggie or meat mains.
This fall salad is perfect for balancing out richer meat based dishes. It's my go-to Thanksgiving salad.
You can also serve this as a great tasting appetizer. Another crowd pleasing winter salad to try is this red cabbage Winter Coleslaw.
Can I make Roasted Delicata Squash Salad ahead of time?
Absolutely! The squash can be roasted up to 2 days in advance. The dressing can also be made up to 2 days in advance.
Make sure you keep everything separately in the fridge in air tight containers. The salad can be tossed together, covered and kept at room temperature up to an hour in advance. I always advise a quick re-toss just before serving, to freshen the salad up.
Pin This Roasted Delicata Squash Salad with Tahini Dressing Recipe For Later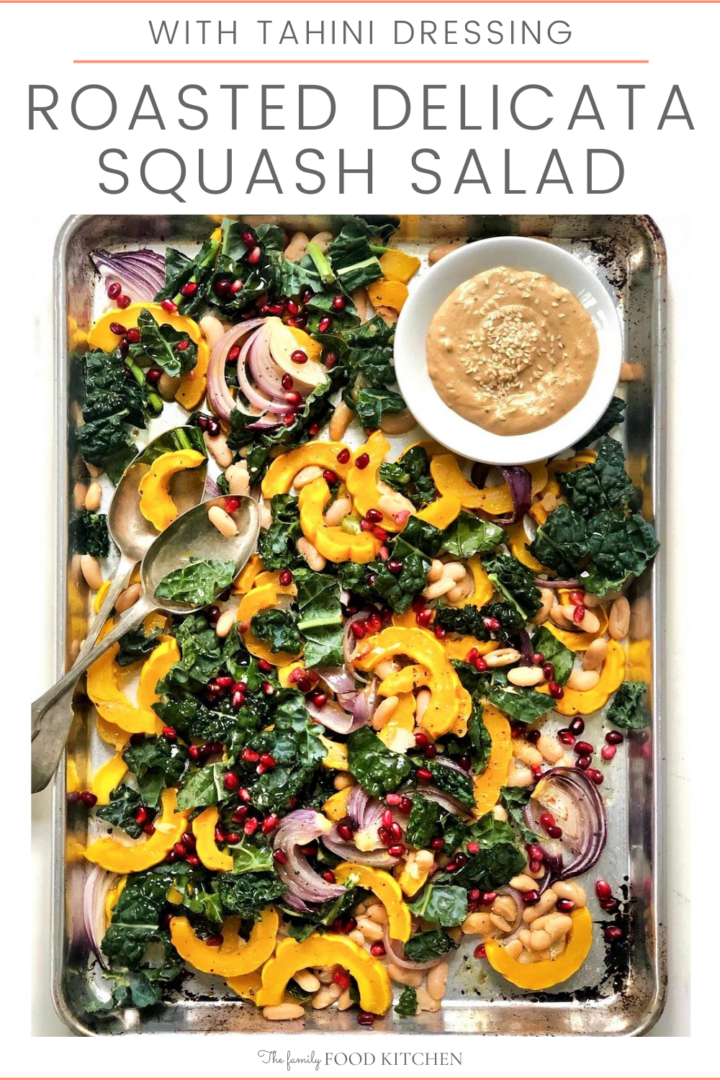 What Do You Think?!
I'd love to know what you think about this recipe! I'd be so grateful if you scroll down to the bottom of the page and leave a star rating and comment.
Don't forget to go over to Facebook and Instagram and make sure you're following me so you can join in the chat. And remember to save this recipe to your Pinterest too!
---
More Easy Salad Recipe Ideas
---
Printable Recipe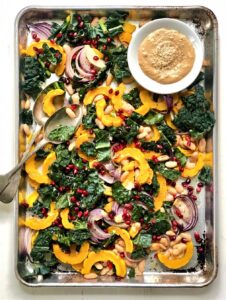 Roasted Delicata Squash Salad with Tahini Dressing
This warm Delicata Squash Salad is the perfect hearty salad for colder months. It's loaded with sweet roasted onions, white beans, kale and pomegranate seeds and topped with a tangy tahini dressing. It's also vegan, gluten free and dairy free.
Ingredients
2

small

Delicata Squash

½

Red onion

-

large, peeled & sliced

2

tbsp

Olive Oil

15.5

oz

Cannellini Beans

-

canned, drained

2

cups

Tuscan Kale

-

taken off the stalk and shredded

¼

cup

Pomegranate Seeds

Sea Salt and Black Pepper
Dressing
2

tbsp

Tahini

1

tbsp

Lemon Juice

1

tbsp

Olive Oil

1-2

tbsp

Water

-

if needed to thin the sauce

Sea Salt and Black Pepper
To Serve
½

tsp

Sesame Seeds

-

optional
Instructions
Preheat oven to 420°F/210°C

Prepare the squash by washing it thoroughly, cutting it in half with a sharp knife, scooping out the seeds and slicing each half into ½ inch slices.

2 tbsp Olive Oil |

Sea Salt and Black Pepper |

½ Red onion

Place the squash slices and sliced onion on a large baking sheet. Season with salt and pepper and mix with a generous glug of olive oil.

Spread out so as not to overcrowd the pan and roast for 15 minutes.

Add the cannellini beans and move the veggie pieces around gently. Roast for a further 10 minutes.

2 tbsp Tahini |

1 tbsp Lemon Juice |

1 tbsp Olive Oil |

Sea Salt and Black Pepper |

1-2 tbsp Water

White the squash is roasting, make the dressing by whisking the dressing ingredients together until smooth. Add the water a little at a time until the dressing is a pouring consistency.

¼ cup Pomegranate Seeds |

2 cups Tuscan Kale

Remove the veggies and beans from oven and toss the squash etc with kale and pomegranate seeds. The warmth of the vegetables and the tray will soften the kale slightly.

Check the seasoning and adjust if needed.

Serve the salad warm with lots of dressing. Garnish the dressing with sesame seeds if you wish.
Notes
This recipe will serve 4 people as a generous lunch. It will serve more people as a side dish, especially on the Thanksgiving table.
Nutrition
Calories:
325
kcal
Carbohydrates:
44
g
Protein:
11
g
Fat:
15
g
Saturated Fat:
2
g
Polyunsaturated Fat:
3
g
Monounsaturated Fat:
9
g
Sodium:
262
mg
Potassium:
1040
mg
Fiber:
10
g
Sugar:
7
g
Vitamin A:
6448
IU
Vitamin C:
72
mg
Calcium:
195
mg
Iron:
5
mg
Nutritional information is provided as a courtesy only and should be taken as an estimate rather than a guarantee. Ingredients can vary and the Family Food Kitchen can't guarantee the accuracy of this information.
This post was shared with the #cookblogshare community, which this week was hosted by Cat from Curly's Cooking