This mayonnaise free easy Vegan Potato Salad is packed with fresh herbs and dressed with a simple vinaigrette. I love mayo as much as (or probably more than) the next person. But if you crave something lighter, this is the potato salad recipe is for you. It's gluten free, egg free and dairy free too.
A summer must, this fresh and versatile herby vegan potato salad goes with everything from grilled meat to poached salmon.
It also holds up better on those hot summer days (congealed mayo salad is not a great look for any backyard BBQ 😉
And there's no need to get the peeler out. This recipe uses baby potatoes so is super quick to prepare.
The freshness of an olive oil based potato salad works with pretty much any dinner main. If you're anything like us, you'll come back to this recipe again and again.
Why You Should Make This Vegan Potato Salad
This oil based potato salad is simple cooking at it's best - just 6 ingredients and very little work required.
Cooked and on the table in 20 minutes, this side dish is a go-to any night of the week.
It's not only perfect in the summer months to enjoy eating outdoors. It's just as good in the colder months, when you can serve it as a warm potato salad.
If you're planning a party, it's very easy to double or treble this no mayo potato salad recipe.
Vegan Potato Salad Ingredients
Find the full list and quantities in the recipe below.
Baby Potatoes - use any waxy variety of baby potato for this salad. They're more likely to keep their shape when cooked and have a lovely earthy flavor.

It's fine to keep the skin on, just give them a scrub first. Fingerling or new potatoes are a perfect choice. If you don't have baby potatoes you can use all purpose white or Yukon Gold potatoes and cut them into even pieces.
Olive Oil - is blended with seasoning and vinegar to form the base of the salad dressing. I always like to use the best quality extra-virgin olive oil I can find, it makes all the difference with a simple recipe like this.
Vinegar - I have used white wine vinegar here for a zingy taste. The clear color also lets the flavor and color of the herbs shine.
Herbs - the combination of fresh dill, parsley and chives work really well together in the salad dressing. Fresh herbs really do pack a flavor punch and work far better than dried herbs in this dish. They also look so pretty, which is an added bonus.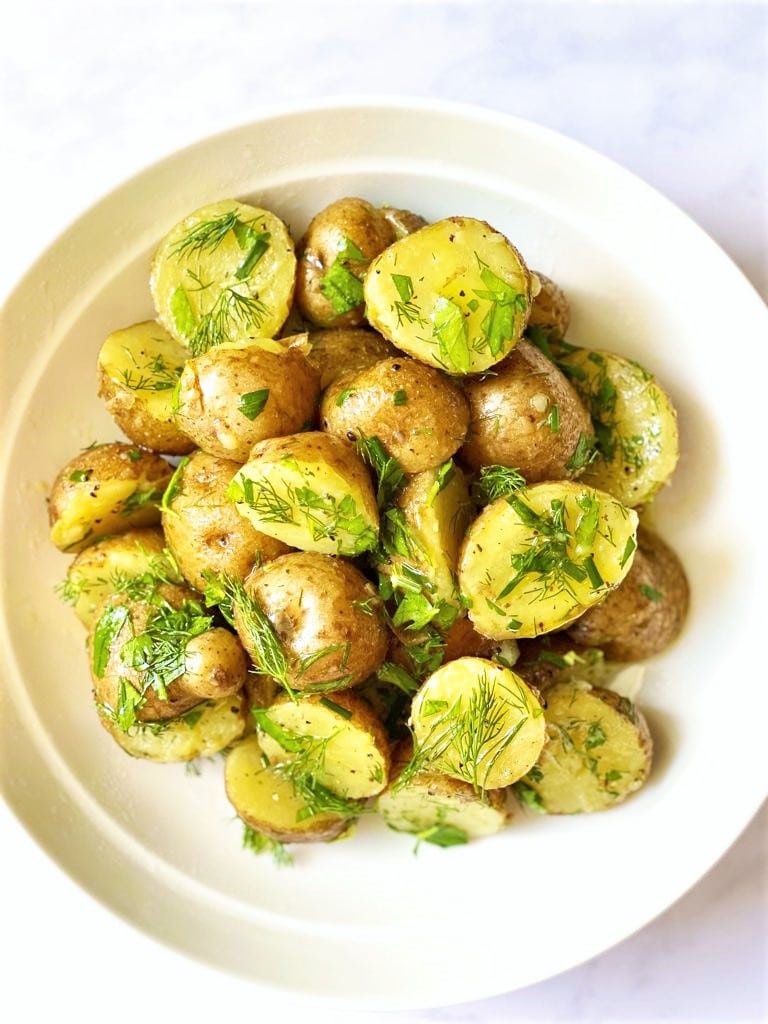 How to Make Vegan Potato Salad
Find the full printable recipe below.
Scrub the baby potatoes - no need to peel them.
Cut into even bite size pieces so they'll cook in a similar time.
Boil the baby potatoes in salted water until tender, then drain.
Make the dressing by whisking olive oil and vinegar with chopped herbs and seasoning.
Toss the warm potatoes in the dressing.
Serve either warm or at room temperature.
How to avoid mushy potato salad?
There are some key tips to avoid mushy potato salad.
Make sure you start the potatoes in cold water. If you start them in boiling water the outside can go mushy before the center of the potato is cooked properly.
Make sure you cut the pieces of potato into an even size. They should then all boil in the same time - avoiding some hard pieces of potato and some soft.
Don't overcook the potatoes!
How long should I boil potatoes for Potato Salad?
Depending on the size of the pieces they should take between 10 and 15 minutes to cook. Check them for doneness by carefully trying a piece. They should be soft but still have a little bite.
Tips For Making Vegan Potato Salad
Make sure you cook the potatoes in salted water, this really improves their flavor. Also check the seasoning of the potato salad just before serving and adjust if necessary.
Always toss the potatoes in the vinaigrette while they're still warm. This helps them to absorb all the flavor from the dressing.
Try to serve potato salad at room temperature. No one likes a fridge-cold potato!
Variations of Vegan Potato Salad
The white wine vinegar can be substituted with red wine or sherry vinegar. Each will add a slightly different flavor to the salad dressing.
I have used dill, parsley and chives to flavor this salad, but you can use any combination of fresh soft herbs with these herby baby potatoes. Fresh basil, tarragon, thyme, or mint would all work in this dish too.
If you like onion, it's always a great addition to potato salad. Finely chopped red onion, or scallion (green/spring onion) are particularly nice.
If you love crunch, try adding some finely chopped celery into the mix.
To add some protein to this dish, crumble over some hard boiled eggs or some feta cheese.
How To Serve Vegan Potato Salad
This potato salad is equally delicious served warm or at room temperature.
Try serving alongside my 15 Minute Lemon Caper Chicken Breasts for a great tasting dinner in under 30 minutes.
Got the BBQ on? Try making my Honey Lime Grilled Chicken Thighs with this great tasting oil based potato salad. It tastes amazing with any grilled veggies, meat, burgers or hot dogs. For vegan diners this salad works with veggie kebabs.
Feeding a crowd? Make ahead salads are the way to go. My herby Vegan Potato Salad works great with my Fall Salad with Delicata Squash, Kale and Apple and Winter Coleslaw
Can you make potato salad the day before?
Potato salad can definitely be made the day before. Cook the potatoes and dress with the vinaigrette. Store in the fridge, but pull the salad out a couple of hours before you serve, so it can come to room temperature.
I like to add the chopped herbs at the last minute by stirring them in gently just before serving. This means the salad tastes as fresh as possible.
How long does Vegan potato salad keep?
Store any leftover potato salad in a covered dish in the fridge for 2-3 days.
Pin This Herby Vegan Potato Salad (No Mayo) Recipe For Later
What Do You Think?!
I'd love to know what you think about this recipe! I'd be so grateful if you scroll down to the bottom of the page and leave a star rating and comment.
Don't forget to go over to Facebook and Instagram and make sure you're following me so you can join in the chat. And remember to save this recipe to your Pinterest too!
---
More Easy Side Dish Recipe Ideas
---
Printable Recipe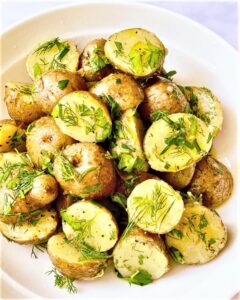 Herby Vegan Potato Salad (No Mayo)
This mayonnaise free easy Vegan Potato Salad is packed with fresh herbs and dressed with a simple vinaigrette. I love mayo as much as (or probably more than) the next person. But if you crave something lighter, this is the potato salad recipe is for you. It's gluten free, egg free and dairy free too.
Ingredients
1

lb

Baby Potatoes

-

scrubbed

⅓

cup

Olive Oil

2

tbsp

White Wine Vinegar

2

tbsp

Dill

-

chopped

2

tbsp

Parsley

-

chopped

2

tbsp

Chives

-

chopped

Sea Salt and Black Pepper
Instructions
Lightly scrub the potatoes.

Cut any larger potatoes so that the pieces are mostly even and bitesize.

Cover the potatoes with cold salted water and bring to a boil. Boil until tender - around 12-15 minutes, depending on the size of the potatoes.

Meanwhile whisk the olive oil and white wine vinegar with plenty of sea salt and pepper. Add the chopped herbs but reserve some for garnish.

Drain the cooked potatoes and whilst still warm, gently toss them in the dressing and herbs.

Serve warm, or cool to room temperature.

Garnish with the reserved chopped herbs and serve!
Nutrition
Calories:
217
kcal
Carbohydrates:
13
g
Protein:
2
g
Fat:
18
g
Saturated Fat:
3
g
Polyunsaturated Fat:
2
g
Monounsaturated Fat:
13
g
Sodium:
7
mg
Potassium:
326
mg
Fiber:
2
g
Sugar:
1
g
Vitamin A:
327
IU
Vitamin C:
18
mg
Calcium:
16
mg
Iron:
1
mg
Nutritional information is provided as a courtesy only and should be taken as an estimate rather than a guarantee. Ingredients can vary and the Family Food Kitchen can't guarantee the accuracy of this information.
This recipe was shared with the #cookblogshare community, which this week was kindly hosted by Sisley at www.sewwhite.com