Looking to switch up your salad routine? This hearty Fall Kale Salad with Delicata Squash and Apple is your answer. Topped with a tangy mustard vinaigrette, it's sweet, salty and crunchy. The perfect crowd pleasing salad that couldn't be easier to make!
If you haven't tried a sheet pan salad yet what are you waiting for?
With this perfect autumn salad everything can be made and dressed right there on the pan. This majorly saves on dishes (hallelujah). And as one kind reader pointed out, with a sheet pan salad nothing gets lost in the bottom of the bowl! Double win.
Perfect for entertaining, this kale and squash salad is great for balancing out a heavy or rich meal. Which is my book also makes it perfect for a holiday meal!
It can also be made and even dressed in advance. This is key when entertaining, since you have so much last minute prep to take care of.
One more big advantage of this dish is the use of Delicata Squash, which doesn't require peeling! That's right folks. Let's face it, peeling squash is not easy.
But use Delicata and there's no need to fear that unexpected trip to ER because the knife slipped when you were trimming a 5 pound butternut squash. Delicata has a thinner skin which is delicious roasted, so you can just cut and cook.
If you do choose to put this in your Thanksgiving mix, delicata squash is slightly fancier and a more interesting choice than it's more popular cousin butternut squash. Which just adds to the sense of occasion.
How to make Fall Kale salad
Roast the delicata squash
Make the dressing
Core and slice the apples, sprinkle them with vinegar to prevent browning.
Add the kale to the sheet pan, dress generously and mix well.
Top the salad with apple, cheddar, pomegranate seeds and pumpkin seeds.
Full recipe with measurements is below
What you need to make this Delicata Squash and Kale Salad
Delicata Squash
A long time favorite squash of mine for both its delicate flavour and the fact that the skin is edible - which means no peeling (a huge bonus!)
How to roast Delicata Squash?
Preheat the oven to a fairly high temperature, 420ºF/210ºC
First scrub the squash very clean. there is no need to peel Delicata Squash. Once roasted, the skin is delicious to eat too.
First trim off both the ends of the squash.
Next cut the squash longways down the center.
Scoop out the seeds with a spoon and discard
Cut the squash into ½ half inch slices (half moons). Try to make them as even as possible so they cook roughly at the same time.
Place on a parchment lined baking sheet, ready to roast in a hot oven.
Toss in olive oil and season with salt and pepper.
Make sure they are well spaced out to make sure they roast. If the pieces are too close together they will steam and go soggy.
Baby Kale
Baby kale is perfect for this low maintenance salad since it doesn't require any cutting and is sweeter and less bitter than regular kale. You could also use curly kale or lacinato kale.
Cheddar Cheese
A robust mature cheddar works wonders here, adding a salty sharpness which contrasts nicely with the sweet cranberries and squash. I like to grate the cheese finely on microplane so it doesn't overpower the other flavors.
Pomegranate Seeds
They add a lovely sweetness here as well as color.
Pumpkin Seeds
These are here to give some crunch and texture. You don't have to toast them but if you do it brings out their flavor.
Apples
Crunchy apple is the ultimate seasonal ingredient and it adds a lovely freshness and flavor. The other bonus of apple slices is visual - they're just so pretty on top of a salad, especially if sliced thin with their skin still on. I have used honeycrisp apples here- but feel free to use your favorite (pink lady work brilliantly here too.)
Tips for making this autumn kale salad recipe
If you don't already massage kale, now is honestly the time to start! Kale leaves are so much better and easier to digest if you really mix the dressing really well into the leaves.

Unlike ordinary salads - kale leaves do better if you toss them a few minutes before eating to give the leaves time to tenderize and take on the flavor of the dressing.
Don't underdress this salad but don't overdress either. Add dressing gradually as you toss and remember you can always add more but you can't remove dressing if you drown it.
Make sure you squeeze some lemon juice over the apples so they keep their gorgeous bright color right up until you serve the salad.
Can I make this Fall Salad ahead of time?
Absolutely! The squash can be roasted up to 2 days in advance. The homemade dressing can also be made up to 2 days in advance and the cheese can be grated up to 2 days in advance.
Make sure you keep everything separately in the fridge in air tight containers. The salad can be tossed together, covered and kept at room temperature up to an hour in advance. I always advise a quick re-toss just before serving, to freshen the salad up.
Variations of this Kale Apple Salad
This salad is already hearty and filling! But if you'd like to increase the protein you could easily add grilled chicken breast.
Not a fan of kale? You can switch it out for salad greens or shredded Brussels Sprouts.
To add even more flavor you could add in some finely chopped red onion.
For extra crunch try some sunflower seeds.
Have fun with it and create your own perfect fall harvest salad.
How to serve Fall Kale Salad
This salad is great as a stand alone dinner. Equally it's ideal as part of a larger holiday meal and I think it makes the perfect Thanksgiving salad.
Pin This Fall Salad with Delicata Squash, Kale & Apple Recipe For Later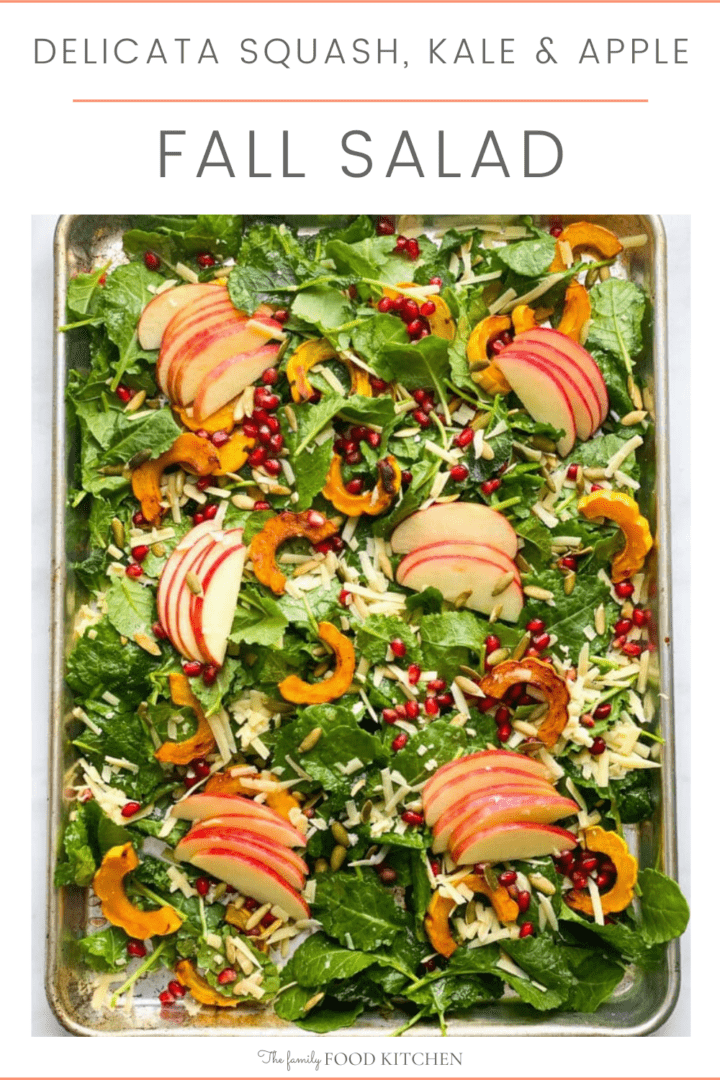 What Do You Think?!
I'd love to know what you think about this recipe! I'd be so grateful if you scroll down to the bottom of the page and leave a star rating and comment.
Don't forget to go over to Facebook and Instagram and make sure you're following me so you can join in the chat. And remember to save this recipe to your Pinterest too!
---
More Easy Recipe Ideas
---
Printable Recipe
Fall Kale Salad
Looking to switch up your salad routine? This hearty Fall Kale Salad with Delicata Squash and Apple is your answer. Topped with a tangy mustard dressing, it's sweet, salty and crunchy. The perfect crowd pleasing salad that couldn't be easier to make!
Ingredients
2

Delicata Squash

5

oz

Baby Kale

2

Red Apples

-

cored and cut into thin slices

1

tsp

Lemon Juice

¾

cup

Pomegranate Seeds

1

cup

Cheddar Cheese

-

grated/shredded

½

cup

Pumpkin Seeds

Sea Salt and Black Pepper
For the Dressing
1

tbsp

Dijon Mustard

¼

cup

Apple Cider Vinegar

⅓

cup

Extra Virgin Olive Oil

1

teaspoon

Maple Syrup

Sea Salt and Black Pepper
Instructions
Preheat the oven to 420ºF/210ºC

Scrub the squash and cut straight through the middle. Scoop out the seeds and slice each half into thin half moons.

Toss the squash slices in olive oil and season generously. Arrange in a single layer on a parchment paper lined large baking sheet.

Roast for around 20-30 minutes until the squash is soft and starting to go golden brown.

Remove it from oven and let cool slightly.

Meanwhile make the dressing by whisking the mustard, vinegar, olive oil and maple syrup together and season well. Set aside.

Core the apples and cut into thin slices. Sprinkle with the lemon juice to stop the slices browning.

Add the kale to the sheet pan with the squash and dress generously, mixing the dressing well into the leaves.

Top with apple, cheddar, pomegranate seeds and pumpkin seeds.
Nutrition
Serving:
1
main
Calories:
491
kcal
Carbohydrates:
42
g
Protein:
14
g
Fat:
33
g
Saturated Fat:
9
g
Cholesterol:
30
mg
Sodium:
244
mg
Potassium:
1229
mg
Fiber:
7
g
Sugar:
19
g
Vitamin A:
6969
IU
Vitamin C:
78
mg
Calcium:
332
mg
Iron:
3
mg
Nutritional information is provided as a courtesy only and should be taken as an estimate rather than a guarantee. Ingredients can vary and the Family Food Kitchen can't guarantee the accuracy of this information.