This easy Arugula Burrata Salad with Balsamic Vinaigrette is next level. Simply top peppery arugula with cherry tomatoes, basil and a ball of soft and creamy burrata cheese. Perfect as a quick dinner or a side dish, it's ready in under 10 minutes too.
I love to cook with simple ingredients and for me this is the best way to enjoy fresh burrata cheese.
And this summer salad can honestly be on the table in 5 minutes flat, making it a perfect midweek meal.
All you need to let this salad shine is balsamic vinegar and a drizzle of deliciously fruity, extra-virgin olive oil.
Burrata is one of those trendy ingredients which seems to be everywhere. If you haven't tried it before, this is a great place to start.
It's a fresh Italian cheese with a creamy buttery flavor which pairs well with other Mediterranean flavors.
Just remember it's essential to take the cheese out of the refrigerator to let it come to room temperature before serving. Or you won't get that beautiful oozy gooey center that people love!
Jump to:
Why You'll Love This Arugula Salad
This burrata salad with balsamic glaze looks as pretty. It's the perfect way to get more veggies into your life.
So quick to prepare, it can be on the table in 5 minutes, making this a perfect salad for a busy night midweek.
This dish is suitable for both gluten free and low-carb diets.
Moreover, it makes a nice change from classic caprese salad, which is served with fresh mozzarella.
This rocket salad with burrata is also a hit with kids as they love the soft and creamy cheese.
What is Burrata and What Does It Taste Like?
Burrata is a semi-soft Italian cheese made with mozzarella and cream. The outer shell of the burrata is made from fresh mozzarella which is filled with soft curd cheese and cream.
Burrata does not have a strong flavor of cheese, instead it has a milky, almost buttery flavor.
What Is the Difference between Burrata and Mozzarella?
Mozzarella is a soft cheese with a sutble flavor and an elastic texture. Whereas burrata is a softer cheese with more flavor due to the addition of cream to this cheese.
Is burrata served hot or cold?
Like most cheeses, burrata is best served at room temperature, so I suggest removing it from the refrigerator 30 minutes before serving.
I prefer to serve burrata cold. However, you can bake burrata but only to warm it slightly. So keep the cooking time short as you don't want the burrata to burst and melt everywhere.
What is inside burrata?
The inside of burrata is filled with soft curds and fresh cream.
What is the liquid burrata comes in?
The liquid that burrata comes in is usually whey, which is a by-product of the cheese making process. It doesn't have much flavor so doesn't affect the subtle flavor of the cheese.
It is important to keep burrata stored in the liquid or it will dry out and spoil mush more quickly than it should.
What can I use as a burrata substitute?
The closest substitute for burrata would be fresh mozzarella. You could also use feta cheese which also has a mild flavor and soft texture.
How else can I use burrata?
Burrata is a good substitute for mozzarella, in recipes where you don't need to cook the cheese. For example substitute the mozzarella for burrata in my Easy Quinoa Caprese Salad to make Creamy Burrata Caprese.
Where can I buy burrata?
You will find burrata in most good cheese shops, large grocery stores and at the farmers market. Trader Joes burrata has a bit of a cult following and is really good and fairly inexpensive too!
How big is a ball of burrata?
Burrata is sold in 8oz containers with 2 x 4oz burattas in each pot in the US. In the UK they are sold in 4oz (155g) containers with only one burrata.
Arugula Burrata Salad Ingredients
Find the full list and quantities in the recipe below.
Arugula - I use a bag of baby or regular arugula, both will work in this salad. Arugula is known as rocket in the UK. Both names come from the Italian rucola.
Burrata - For a salad main, I allow half a whole burrata per person. This could serve 4 as a side salad.
Olive oil - I use a good quality extra virgin olive oil which has a great fruity flavor. This is a simple salad and using a quality oil will make all the difference to the finished salad dressing.
Balsamic - You can drizzle over either balsamic vinegar or a balsamic glaze. Good quality balsamic vinegar has a lovely thick texture which works perfectly in this salad. However, if you prefer to use a balsamic glaze, that is fine too.
You can buy balsamic glaze ready made, or make it yourself by heating balsamic vinegar until it reduces to the desired consistency. Make sure to cool it thoroughly before using.
How to Make Arugula Burrata Salad - Step-By-Step
Find the full printable recipe card and ingredients below.
This big salad is incredibly simple to put together. It can be served in individual portions or on a large platter or large bowl for everyone to serve themselves. Simply split the ingredients between plates if serving individually.
Frist scatter the arugula over the serving plate. Next scatter over a mixture of whole and halved cherry tomatoes.
Place the whole burrata on top of the arugula and season well with sea salt and black pepper.
Finally drizzle with extra virgin olive oil and balsamic vinegar or glaze then serve.
Variations & Substitutions for Arugula Burrata Salad
This salad is simple to prepare and easily adapted to include other flavors and ingredients. Here are some suggestions:
swap balsamic vinegar for a balsamic glaze
dress the salad with a drizzle of fresh basil pesto
add thinly sliced prosciutto
add some finely sliced red onion
delicious with fruit, why not try adding some sweet peaches, fresh melon or summer berries
swap the cherry tomatoes for heirloom tomatoes if you can get your hands on them
If you enjoy creamy vinaigrettes, be sure to try my creamy balsamic dressing with this salad too!
Pro Tips & Tricks For Making Arugula Burrata Salad
To ensure the best creamy texture, make sure you take the cheese out of the refrigerator in time for it to come to room temperature before serving.
This is a salad best served fresh so that the arugula doesn't start to wilt. Prepare the salad just before you are ready to serve.
For the best flavor use ripe tomatoes.
Be sure to season this cheese well. I like to use Malden salt as it really brings out the flavor of the cheese and tomatoes.
How To Serve Arugula Burrata Salad
This recipe serves 2 as a salad main, allowing half a ball of burrata per person. However, you can split the cheese further to make smaller appetizer sized portions.
Can you freeze Burrata?
Burrata does not freeze well so it's definitely best eaten when served! Once the cheese is frozen it loses it soft and creamy texture. The flavor is also affected once it thaws. You can keep burrata in the fridge in an air tight container for a day or two.
Pin This Arugula Burrata Salad with Balsamic Recipe For Later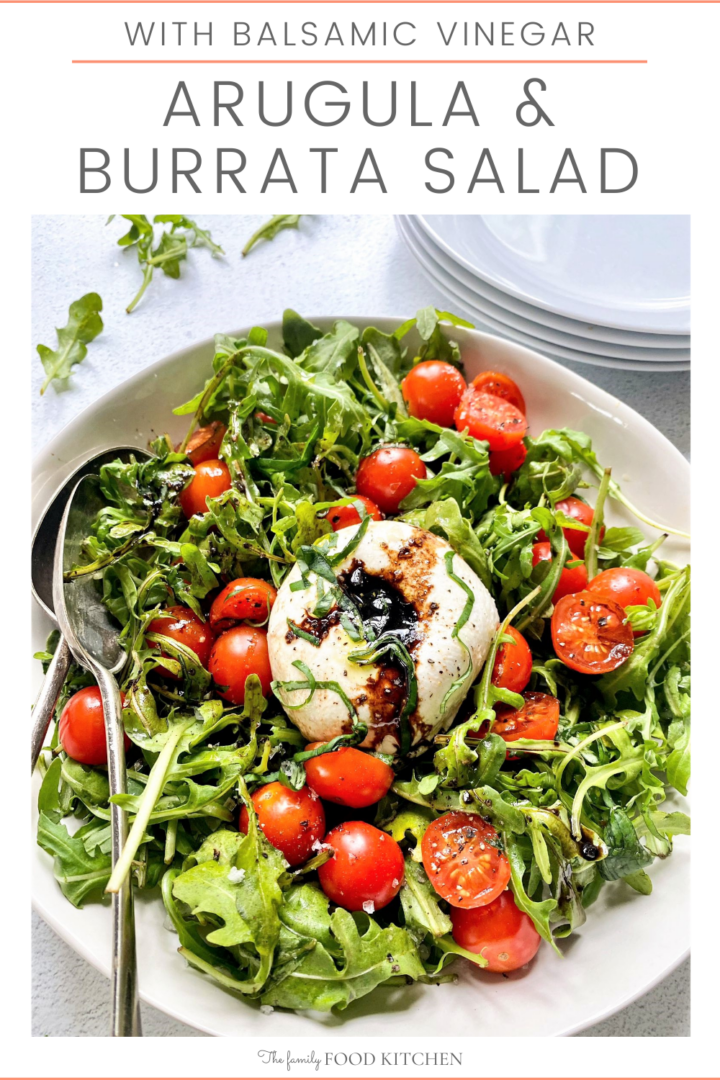 What Do You Think?!
I'd love to know what you think about this recipe! I'd be so grateful if you scroll down to the bottom of the page and leave a star rating and comment.
Don't forget to go over to Facebook and Instagram and make sure you're following me so you can join in the chat. And remember to save this recipe to your Pinterest too!
---
More Easy Salad Recipe Ideas
---
Printable Recipe
Arugula Burrata Salad with Balsamic
This easy Arugula Burrata Salad with Balsamic Vinaigrette is next level. Simply top peppery arugula with cherry tomatoes, basil and a ball of soft and creamy burrata cheese. Perfect as a quick dinner or a side dish, it's ready in under 10 minutes too
Ingredients
4

packed cups

Arugula (Rocket)

10

oz

Cherry Tomatoes

-

some kept whole, some halved

1

Burrata

-

roughly 4oz/125g each

Sea Salt and Black Pepper

2

tbsp

Balsamic Vinegar

-

or glaze

3

tbsp

Extra Virgin Olive Oil

Fresh Basil Leaves
Instructions
Split the rocket and whole/halved cherry tomatoes across

4

wide, shallow bowls or onto one large serving platter.

Sit a ball of burrata on top of the arugula.

Season well with flaky sea salt and fresh cracked black pepper.

Evenly drizzle over the olive oil and balsamic vinegar or glaze.

Garnish with fresh basil leaves and serve.
Nutrition
Calories:
227
kcal
Carbohydrates:
8
g
Protein:
2
g
Fat:
21
g
Saturated Fat:
3
g
Polyunsaturated Fat:
2
g
Monounsaturated Fat:
15
g
Cholesterol:
1
mg
Sodium:
20
mg
Potassium:
335
mg
Fiber:
1
g
Sugar:
6
g
Vitamin A:
744
IU
Vitamin C:
33
mg
Calcium:
26
mg
Iron:
1
mg
Nutritional information is provided as a courtesy only and should be taken as an estimate rather than a guarantee. Ingredients can vary and the Family Food Kitchen can't guarantee the accuracy of this information.