This Creamy Balsamic Dressing contains just 4 ingredients and comes together in minutes. It's a mid-week staple in my kitchen and turns any salad into something really special.
What is salad anyway other than a vehicle for good dressing? A homemade dressing has the power to really lift a salad, transforming crisp and crunchy veggies into something truly wonderful.
I always like to make my own homemade vinaigrette and dressings. They're so easy, plus they're healthier and tastier than anything you find in a store.
My creamy balsamic mayonnaise is vegetarian, naturally gluten free and dairy free. There are no hidden nasties either. Just oil, balsamic vinegar, mayo and a touch of salt.
Why You Should Make This Creamy Balsamic Dressing
Creamy balsamic dressing is so easy to make at home, using ingredients most of us have in our kitchen already. It's also tastier and less expensive than store bought dressings.
My creamy balsamic mayo is versatile and can be used in a variety of ways: with salads, sandwiches and burgers or a delicious dip with fries or fried chicken.
Most store bought mayonnaise is gluten free, making this balsamic vinaigrette ideal for Coeliacs or anyone following a gluten free diet.
If you want to liven up salads with something a little spicier, try my Gochujang Mayonnaise, another fast and simple homemade dressing.
Creamy Balsamic Dressing Ingredients
Find the full list and quantities in the recipe below.
Mayonnaise - for convenience I like to use a good quality shop bought mayonnaise which is naturally gluten free (but it's always worth checking the packaging). That said, making your own mayonnaise from scratch is a lot easier and quicker than you might think. If you want to give it a go, here's a recipe to help you Make Homemade Mayonnaise.
Balsamic - Balsamic vinegar flavors this dressing and adds a sweet/sour vibe to the balsamic mayonnaise. You can buy regular Balsamic vinegar in most stores or aged Balsamic.

Aged balsamic is vinegar that has been aged in barrels and had a deeper, more intense flavor than regular balsamic vinegar. Not to be confused with balsamic glaze which is a reduction of balsamic vinegar that is often sweetened with honey, maple syrup or brown sugar.
Olive Oil - I use extra virgin olive oil as it has a lovely, nutty flavor which adds real depth to this creamy balsamic dressing. You can substitute extra virgin olive oil with regular olive oil or any other flavor oil that you like using, for example sunflower; avocado or extra virgin rapeseed oils.
How to Make Easy Balsamic Mayo
Find the full printable recipe below.
Simply add all the ingredients to a bowl and whisk together until completely emulsified.
Alternatively add all the ingredients into a jar with a tight fitting lid and shake.
Check and adjust the seasoning if needed and serve!
How can I make my vinaigrette thicker?
For a thicker vinaigrette that looks more like a dip than a dressing, whisk through some extra mayonnaise.
How can I make my dressing thinner?
If you want to make the dressing thinner, whisk through a little more Balsamic vinegar to loosen it.
How to make Egg-Free Creamy Balsamic Dressing?
It's really simple to adapt this recipe for anyone with an egg allergy and you have a couple of simple options. Firstly you can substitute the regular mayonnaise for an egg free alternative mayo. You should be able to find in your local health food store if your regular store doesn't stock it.
Alternatively, substitute the mayo with some natural Greek yogurt, sour cream or creme fraiche which will add the creamy element to the dressing without the egg.
Variations of Creamy Balsamic Dressing
If you love the flavor of garlic, crush a clove with the salt and whisk through the remaining ingredients.
A spoon of Dijon mustard adds a nice depth of flavor to the dressing.
Tips For Making Balsamic Mayo
You should ideally test salad dressing by dipping some of the leaves you're preparing in the mixture. Dressing often tastes different with the veggies it's going to be served with!
This vinaigrette won't taste right if it's not seasoned properly. Add sea salt according to your preference and taste to ensure its right for you.
You should also taste to check the balance of oil and vinegar in the dressing, adding more if you think you need it.
This dressing can be made in advance and stored in the refrigerator for up to 5 days.
How To Serve Creamy Balsamic Dressing
As well as being super simple to whip together, this creamy Balsamic sauce is super versatile. It can be served simply with a platter of veggie crudities or drizzled over pretty much any salad. I like to serve this dressing over my Easy Quinoa Caprese Salad.
I also like to use it on sandwiches - think slices of fresh mozzarella, tomato and basil. Or spread on your burger bun before being topped with your favorite beef or chicken burgers. My Honey Lime Grilled Chicken Thighs make an excellent burger substitute.
Add a little more mayo and turn this great tasting dressing into a simple dip for fries or oven baked chicken wings.
Pin This Creamy Balsamic Dressing Recipe For Later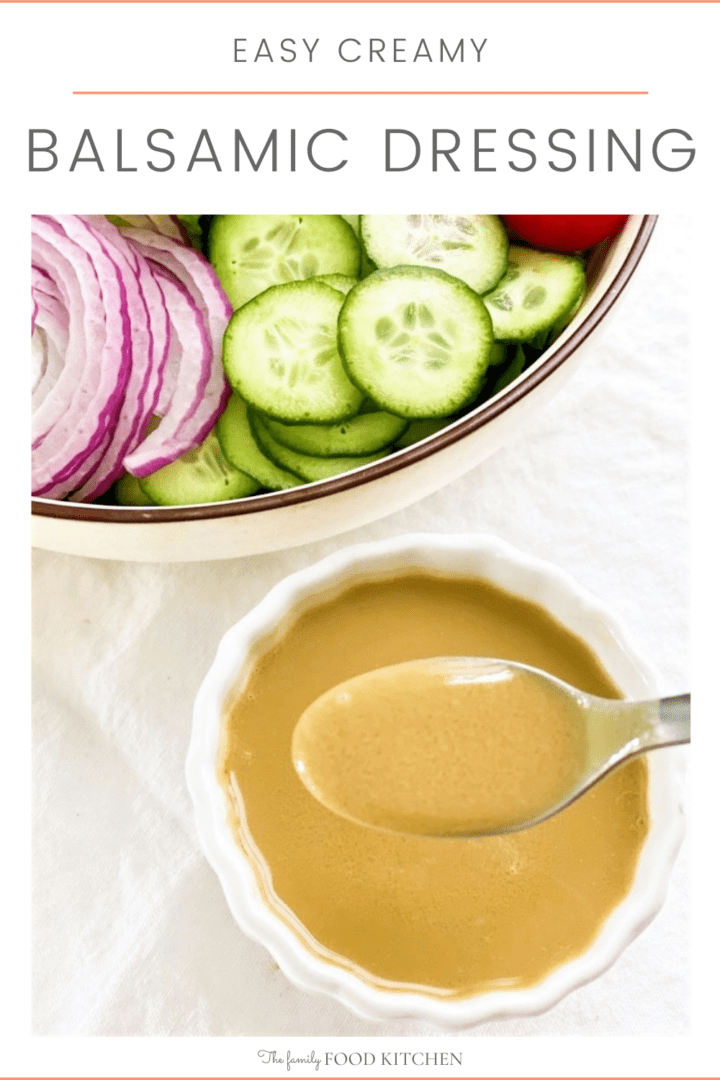 What Do You Think?!
I'd love to know what you think about this recipe! I'd be so grateful if you scroll down to the bottom of the page and leave a star rating and comment.
Don't forget to go over to Facebook and Instagram and make sure you're following me so you can join in the chat. And remember to save this recipe to your Pinterest too!
---
More Easy Recipe Ideas
---
Printable Recipe
Creamy Balsamic Dressing
This Creamy Balsamic Dressing contains just 4 ingredients and comes together in minutes. It's a mid-week staple in my kitchen and turns any salad into something really special.
Ingredients
½

cup

Mayonnaise

½

cup

Extra Virgin Olive Oil

¼

cup

Balsamic Vinegar

Sea Salt

-

to taste
Instructions
Bowl Method
Place all the ingredients in a small bowl and whisk until they are completely mixed together.

Taste and adjust the seasoning if necessary.
Jar Method
Alternatively put all the ingredients in a jam jar with a tight fitting lid and shake until thoroughly mixed.

Taste and adjust the seasoning if necessary.
Nutrition
Serving:
1
tbsp
Calories:
89
kcal
Carbohydrates:
1
g
Protein:
1
g
Fat:
10
g
Saturated Fat:
1
g
Polyunsaturated Fat:
3
g
Monounsaturated Fat:
5
g
Trans Fat:
1
g
Cholesterol:
2
mg
Sodium:
36
mg
Potassium:
5
mg
Sugar:
1
g
Vitamin A:
4
IU
Calcium:
1
mg
Iron:
1
mg
Nutritional information is provided as a courtesy only and should be taken as an estimate rather than a guarantee. Ingredients can vary and the Family Food Kitchen can't guarantee the accuracy of this information.
This post was shared with the #cookblogshare community, which this week was kindly hosted by LavenderandLovage.com