These loaded baked potato toasts are perfect when you want to get something quick, healthy and convenient on the table but don't want to eat bread! Lower in carbs than a baked potato too, I've topped these potato toasts with hummus, chickpeas and salad for a fresh combination of flavors everyone will love.
You might have seen sweet potato toast recipes all over the internet but you can slice and bake the humble spud just as easily.
We all seem to be trying to eat less gluten these days. The trouble is, we still need a home for all our favorite toast toppings!
That's where the idea of Potato Toasts comes in. Simply slice, bake and then finish with anything you'd normally put on toast.
Why You Should Try Potato Toasts
When it comes to versatility you really can't beat baked potato toasts. These simple potato slices taste great with any topping you choose.
With very little preparation required, the oven does all the hard work. Once you've baked the 'toast' slices you can re-heat them in the toaster too.
Baked potato slices make a great lunch or light dinner option, but also work as a fun appetizer.
Not only are these loaded potatoes vegan, but they're also dairy free, sugar free and gluten free.
Baked Potato Slices Ingredients
Find the full list and quantities in the recipe below.
Potatoes - high starch potatoes are the best for baking, I like to use an Idaho, russet, red or Yukon Gold potato. (If in the UK use a King Edward or desiree potato). You can also substitute regular potatoes with sweet potatoes - just reduce the cooking time.
Hummus - use any variety of store bought hummus that you enjoy eating. Or if you want to make your own hummus why not give Homemade Hummus a go.
Toppings - what I love most about these baked potato slices are that they can be topped with pretty much anything. Vary the toppings in a way that works for you, and use whatever you happen to have in the refrigerator. Here are some quick and easy suggestions to get you started:
hummus
chickpeas
avocado
chopped fresh veggies - tomatoes, cucumber, carrot, red onion
kale or almond pesto
roasted veggies
pomegranate seeds
grated cheese
salsas
sliced jalapenos
fresh herbs
How to Make Baked Potato Toasts
Find the full printable recipe below.
Clean and then slice baking potatoes into half inch slices.
Drizzle with olive oil, season and bake.
Top the cooked potato slices with hummus and any other toppings of your choice.
Can I make potato toasts in the toaster?
Baked potato toasts can't be made in a regular toaster as you need the heat of a conventional oven to fully cook the potato. Baking in the oven also stops the potatoes from drying out.
I don't recommending using a toaster oven either, as the heat doesn't go high enough. After all - the joy of eating any baked potato is that soft and fluffy centre.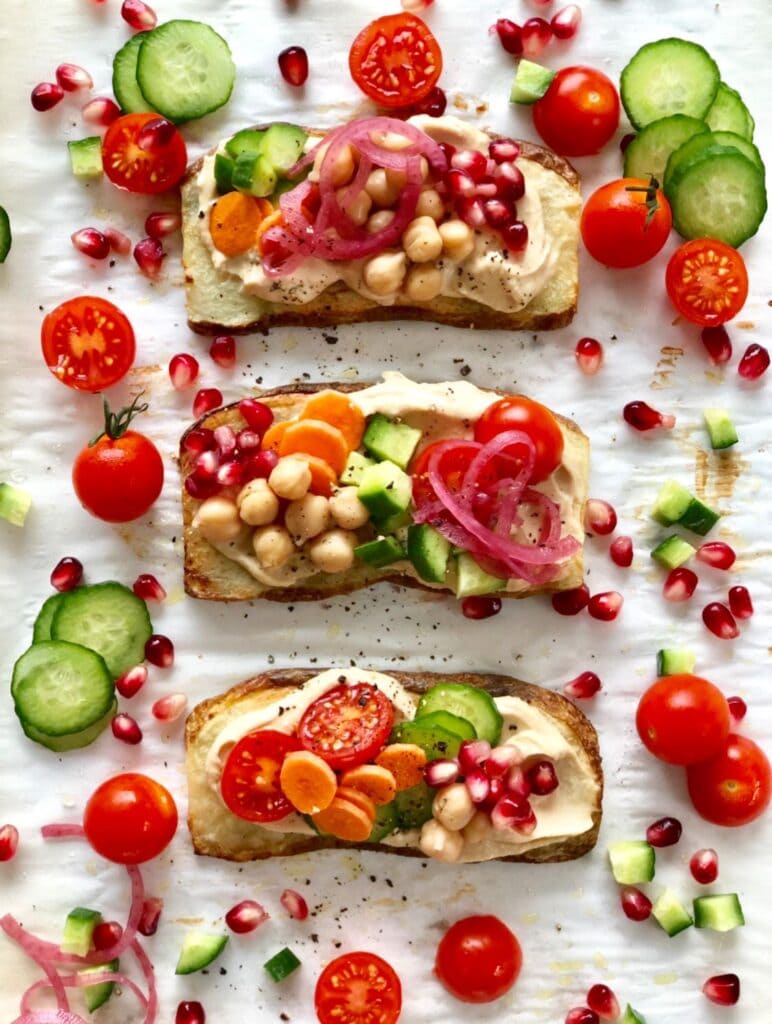 Variations of Baked Potato Slices
For a baked potato alternative, swap regular potatoes for sweet potato. Or for a low carb alternative replace the potato slices with cauliflower, which also tastes great when roasted. Just adapt the cooking times to suit.
Regular hummus makes a delicious topping, but you can also use other toppings to spread over the baked potato slices. Guacamole and fresh tasting salsas are delicious and my 4 Ingredient Sour Cream Dip would work a treat.
For a more substantial meal, you could top with Easy Red Lentil Dahl or Creamy Skillet Tomato Spinach Chicken Breasts. Or for an omega-3 packed options, my Salmon With Spinach Cream Sauce would be amazing.
Tips For Making Topped Baked Potatoes
Take your time when cutting up the potato slices to ensure they are all a similar size and thickness. This will help them to cook evenly in the oven at the same time.
Make sure you season the potato well! This really can be the difference between a good baked potato and a GREAT baked potato.
Drizzle generously with olive oil to avoid the potato drying out.
Make sure to turn the potato once during cooking so it cooks evenly.
Feeding a crowd? No problem, this recipe can be easily doubled or even tripled up. For serving, place all the toppings into bowls and everyone can help themselves.
How To Serve Baked Potato Toasts
My baked potato toasts make a great fun appetizer to start off any meal. You can also serve them on platters if you are having a few friends around for food.
These loaded potatoes make a quick and simple lunch as the hands-on prep time is minimal. They also make a welcome change from another sandwich (yawn).
I fall back on this dish on those days when I want to put something delicious and nutritious on the table, but don't have too much time to prep. Just slice, bake and top the potatoes using any toppings you have to hand.
How To Reheat Baked Potato Toasts?
Once you've baked your potato 'toasts' you can keep them wrapped in the fridge for up to two days and reheat them in the toaster or in a warm oven.
How to Freeze Baked Potato Toasts?
You can freeze baked potato slices, once cooked cool and store in an airtight container in the freezer for up to 3 months. When ready to enjoy, defrost the potato slices and heat them up in a warm oven.
Pin This Baked Potato Toasts with Hummus Recipe For Later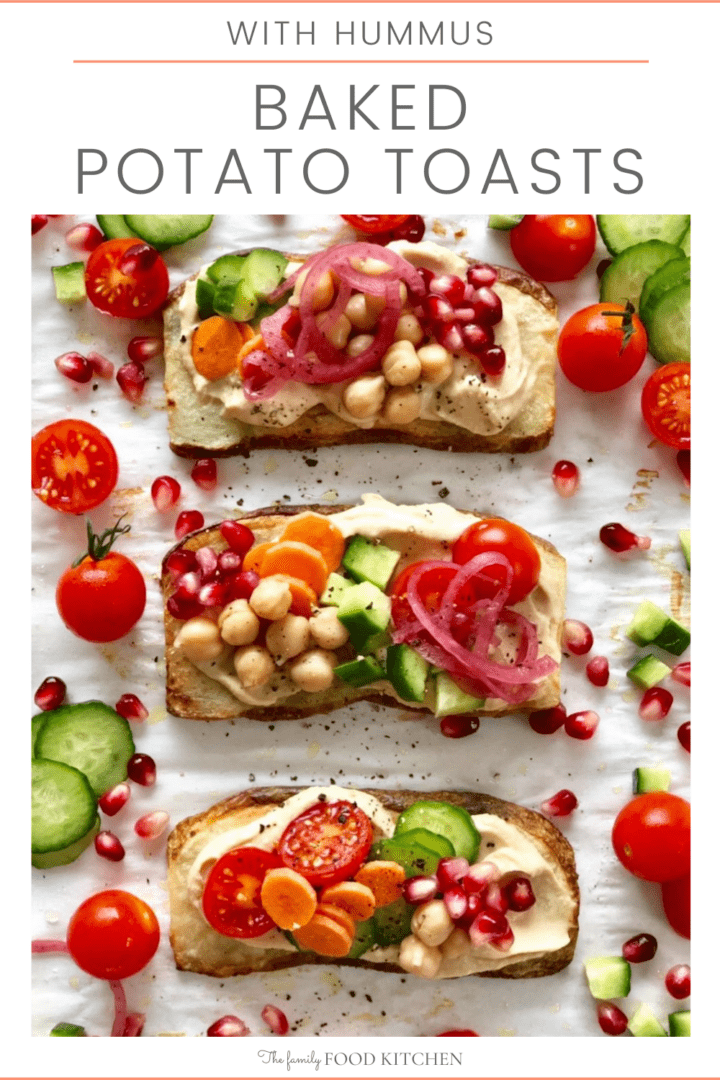 What Do You Think?!
I'd love to know what you think about this recipe! I'd be so grateful if you scroll down to the bottom of the page and leave a star rating and comment.
Don't forget to go over to Facebook and Instagram and make sure you're following me so you can join in the chat. And remember to save this recipe to your Pinterest too!
---
More Under 30 Minute Recipe Ideas
---
Printable Recipe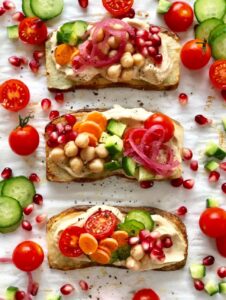 Baked Potato Toasts with Hummus
These loaded baked potato toasts are perfect when you want to get something quick, healthy and convenient on the table but don't want to eat bread. Lower in carbs than a baked potato too, I've topped these potato toasts with hummus, chickpeas and salad for a fresh combination of flavors everyone will love.
Ingredients
2

Baking Potatoes

-

scrubbed clean

2

tbsp

Olive Oil

Sea Salt and Black Pepper

1

cup

Hummus
Optional Toppings
8

oz

Canned Chickpeas/Garbanzo Beans

-

drained

4

Tomatoes

¼

cup

Cucumber

-

sliced

¼

cup

Carrot

-

peeled and sliced

¼

cup

Red Onion

-

sliced

⅛

cup

Pomegranate Seeds
Instructions
Pre-heat oven to 400°C/200°F.

Slice the ends of the scrubbed baking potatoes.

Slice off one side of potato skin and then cut the potato into half inch slices (I usually get four per potato). Discard the last thin slice with lots of skin.

Drizzle the potato slices generously with olive oil and sprinkle with sea salt and black pepper.

Bake for 30-40 minutes on a parchment lined baking sheet, turning once.

Top the baked potato slices with the hummus.

Add any other toppings you choose - chickpeas, chopped tomato, carrots, cucumbers, red onions and pomegranate seeds are my favorites.
Nutrition
Calories:
376
kcal
Carbohydrates:
51
g
Protein:
14
g
Fat:
15
g
Saturated Fat:
2
g
Polyunsaturated Fat:
4
g
Monounsaturated Fat:
8
g
Sodium:
255
mg
Potassium:
1105
mg
Fiber:
12
g
Sugar:
8
g
Vitamin A:
2402
IU
Vitamin C:
26
mg
Calcium:
84
mg
Iron:
5
mg
Nutritional information is provided as a courtesy only and should be taken as an estimate rather than a guarantee. Ingredients can vary and the Family Food Kitchen can't guarantee the accuracy of this information.
This recipe has been shared with the #cookblogshare community, which this week was kindly hosted by Effortless Foodie