My 5 ingredient Gochujang Mayonnaise takes just 3 minutes to make and will transform your food, if not your life. Dippable, spreadable and highly addictive, this spicy mayo is a must if you like heat. If you're already a sriracha mayo fan, you have to try this, you might never look back!
I have to admit I'm a condiment queen and my fridge is bursting to the brim with jars of relishes, pickles, hot sauces and dips.
I love Korean food in general and have so many happy food memories from a wedding I went to in Seoul years ago.
Ever since I tried Gochujang Mayo on Shake Shack's Korean-style Gochujang Fries I've been obsessed with making my own version.
Gochugang is a fermented chili paste popular in Korean cooking. It has a wonderful depth of flavor and adds an unbeatable umami heat to anything it touches.
With a hint of lime and some sweetness from the maple syrup, this Gochujang Sauce is so much more than the sum of its parts.
This gochujang dipping sauce is a must with fries or chips. Spread it over a burger or drizzle over fried chicken and you'll transform it.
Why You Should Make This Spicy Korean Mayo?
Containing just 5 simple ingredients this gochujang dipping sauce can be made in under 5 minutes.
A great make ahead dip, it can be mixed a few days in advance and stored in the fridge.
The heat from the chilli paste mellows when combined with the creamy mayonnaise so you can make this as mild or fiery as you like.
What is Gochujang?
Gochujang is a fermented Korean chili paste, popular in Korean cooking. The paste is made from glutinous rice, fermented soybeans, red chili pepper flakes, and salt.
It has a really distinctive taste and there is a real complexity of flavor to this paste. There is heat from the chili, but this is balanced with saltiness and a little sweetness too.
How to pronounce Gochujang?
Gochujang chili paste is pronounced koh-choo-jan. Gochu means "chili pepper" and jang means "paste" in Korean.
Where can you buy Gochujang?
Sold in jars or large tubs, you can pick up gochujang paste in the international food section of larger stores or at your local Asian market.
If you have access to neither then you can always buy online and have it delivered straight to your door.
Gochujang paste has a long shelf life and once opened can be stored in the refrigerator for up to a year.
What is a good Gochujang substitute?
If you can't get your hands on gochujang paste then a good grocery store substitute would be Sriracha chili sauce. It has a milder heat and not quite the same depth of flavor. In a pinch you could also use a Thai chili paste.
What can you make with Gochujang?
This versatile paste can be used in a variety of different ways, so once you've bought a tub it can really go to work for you.
Add it to soups and stews for an unbeatable umami savory flavor. Spoon some into your favorite stir fry to add a nice punch of chili heat.
It can be used in marinades and sauces.
This spicy chili paste tastes great with fried chicken or stirred through your favorite fried noodles.
It is also good when served alongside my Korean style beef bowl.
Is Gochujang vegan?
Generally speaking, most gochujang pastes are suitable for a vegan diet. However, I always recommend checking the ingredients on the packaging to make sure, as you may find some brands contain fish sauce.
Is Gochujang Gluten Free?
Gochujang is traditionally Gluten Free. But do check the ingredients on the jar, since some commercial preparations have gluten added in the form of wheat or barley.
How to Make Korean Spicy Mayo?
The full list of ingredients and instructions are in the Recipe Card below.
This gochujang mayo sauce is super quick to make, so start by gathering all your ingredients.
Add the mayonnaise, lime juice, maple syrup and gochujang into a medium sized bowl and whisk with a fork to combine. Season with sea salt to taste and chill until ready to serve.
Variations of Spicy Mayo:
Korean Gochujang paste adds a lovely balance of chili heat to this mayonnaise. If you like your dips a little spicier then add a little more, or pare it back if you prefer it a little milder.
Maple syrup adds the sweetness to the gochujang majo, but you could add some runny honey instead if you prefer.
Lime juice adds a zesty freshness to the dip, but you could add lemon juice instead if that's what you have available. Alternatively you could add a splash of rice wine vinegar.
Tips For Making this Gochujang Mayo Recipe:
This is a great make ahead easy recipe. Planning a party? Make this spicy mayonnaise a few days ahead of time.
When ready to serve, remove the dip from the fridge, give it a quick stir and pop it on the table. If you want a dip and love chili this is definitely the dip for you.
How To Serve Gochujang Mayonnaise:
My gochujang dipping sauce is the perfect condiment. Serve it with potato fries or a big bowl of chips. Its the perfect dip for my Sweet Potato Fries.
Or serve it with toasted pitta bread, vegetable crudities or chicken wings. Spoon it over a baked potato or baked sweet potato.
It's more than just a dip - get creative and spread it on a cheese or chicken sandwich, or a burger. Enjoy it alongside some fried chicken for an added kick of spice.
Pin This Gochujang Mayonnaise Recipe For Later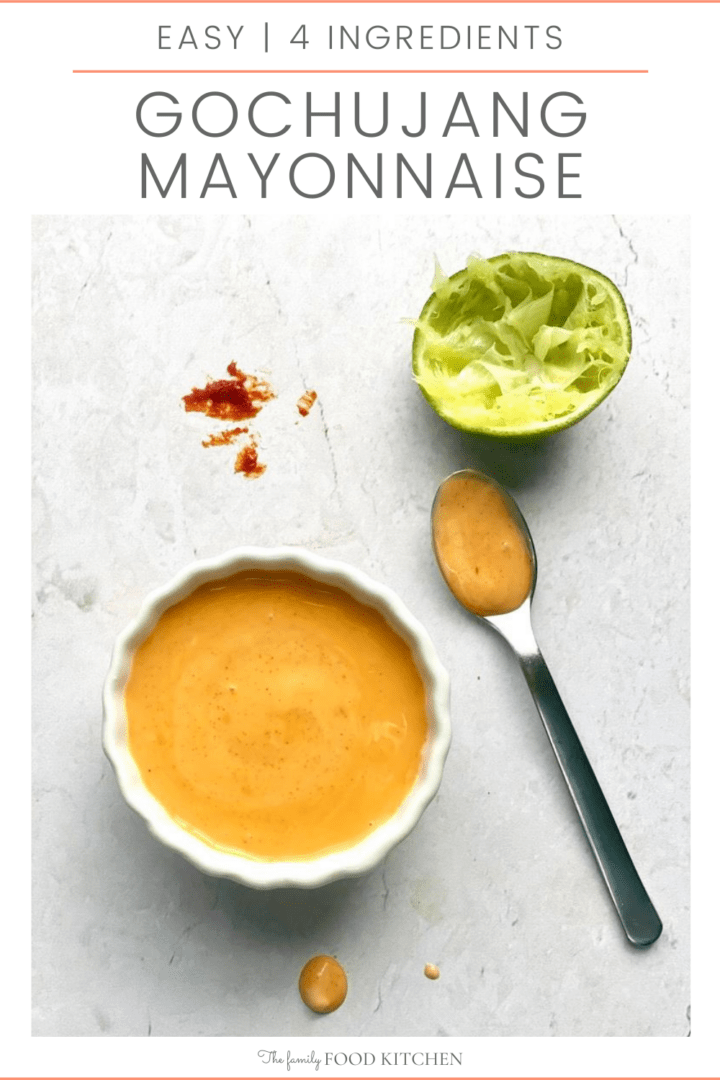 What Do You Think?!
I'd love to know what you think about this recipe! I'd be so grateful if you scroll down to the bottom of the page and leave a star rating and comment.
Don't forget to go over to Facebook and Instagram and make sure you're following me so you can join in the chat. And remember to save this recipe to your Pinterest too!
---
More Easy Side Dish Recipe Ideas
---
Printable Recipe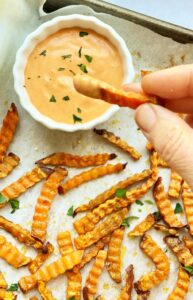 Gochujang Mayonnaise
My 5 ingredient Gochujang Mayonnaise takes just 3 minutes to make and will transform your food, if not your life. Dippable, spreadable and highly addictive, this spicy mayo is a must if you like heat. If you're already a Sriracha Mayonnaise fan, you have to try this, you might never look back!
Ingredients
½

cup

Mayonnaise

1

tbsp

Gochujang

1

tbsp

Fresh Lime Juice

1

tsp

Maple Syrup

Sea Salt

-

to taste
Instructions
Add the mayonnaise, gochujan, lime juice and maple syrup into a medium sized bowl.

Whisk well with a fork to ensure all the ingredients are incorporated.

Season with sea salt and taste. Season again if necessary.

Serve.
Nutrition
Calories:
200
kcal
Carbohydrates:
3
g
Protein:
1
g
Fat:
21
g
Saturated Fat:
3
g
Trans Fat:
1
g
Cholesterol:
12
mg
Sodium:
179
mg
Potassium:
29
mg
Fiber:
1
g
Sugar:
2
g
Vitamin A:
28
IU
Vitamin C:
2
mg
Calcium:
5
mg
Iron:
1
mg
Nutritional information is provided as a courtesy only and should be taken as an estimate rather than a guarantee. Ingredients can vary and the Family Food Kitchen can't guarantee the accuracy of this information.
This recipe has been shared with the #CookBlogShare community hosted this week by Sisley at www.sewwhite.com.