Bursting with flavor, my Easiest Ever Chia Seed Raspberry Jam can be made in just 10 minutes on your stovetop. Thickened with chia seeds instead of sugar, this recipe has all of the flavor but none of the guilt of store bought jam.
Every time I make this homemade chia seed raspberry jam I wonder why I don't have it more often.
If the idea of making your own jam seems intimidating - chia jam really isn't! You don't need any fancy equipment like a jam pot or a thermometer. Plus the chia seeds thicken the mixture without the need for temperature checks.
It tastes delicious spread really thick on toast. Or even better yet - peanut butter toast. Alternatively serve it alongside a stack of your favorite pancakes.
It's usually so hard to limit refined sugar, especially at breakfast time. This no sugar raspberry jam is a great easy option because it's just sweetened with a little honey or maple syrup.
Why You Should Make This Chia Seed Raspberry Jam
It's made in just 10 minutes plus cooling time.
This no sugar added jam actually tastes like fruit!
This is a great way of getting more chia seeds in your diet. They're a heart-healthy superfood that are packed full of protein and fiber.
Since it has a softer set, this jam is perfect for making in smaller quantities.
Once cooked and cooled, this super quick no boil jam will keep in the fridge for up to 2 weeks.
If you happen to have very young kids this is a perfect jam for babies.
How to Make Refined Sugar Free Raspberry Jam
Find the full printable recipe below.
Cook down the raspberries with a splash of water and a little honey or maple syrup over a low heat for a couple of minutes.
Stir in the chia seeds and allow the jam to sit and cool.
It's really that simple!
What are Chia Seeds?
Chia seeds are edible seeds that come from a variety of flowering mint. Despite their small size, these superfood seeds contain large amounts of fiber, heart-healthy omega-3 fatty acids, high amounts of protein and several essential minerals and antioxidants.
Why add Chia Seeds to Raspberry Jam?
Most jars of raspberry jam require the jam to be boiled to a very high temperature so that it sets. There's no need with my raspberry jam. Instead, I just soften the raspberries and add chia seeds to thicken the mixture.
How do Chia Seeds thicken jam?
Chia seeds have very little flavor. But if you add them to any liquid, they become gelatinous and thicken the liquid they're soaked in. They therefore thicken low sugar jam without the need to boil the jam or add lots of sugar.
Can you use frozen fruit for Chia Jam?
Yes you can absolutely use frozen fruit for Chia Jam. In fact it's a great way to use up older fruit from your fridge. Or you can mix fresh and frozen fruit too.
How long will Chia Jam keep for?
Once cooled, put the chia jam into a dish and cover with a lid or some cling film. You can store it in the refrigerator and use within 7 days.
Can I can or preserve Raspberry Chia Jam?
My raspberry chia jam cannot be canned and stored for months in the way you would with a traditional raspberry jam.
The jam hasn't been cooked on a rolling boil at such a high temperature and contains significantly less sugar than regular jam. This makes it unsuitable for storing any longer than 1 week.
Chia Seed Raspberry Jam Ingredients
Find the full list and quantities in the recipe below.
Raspberries - I use fresh berries, but you could also make this chia seed raspberry jam with frozen berries.
Chia Seeds - A flavorless seed that thicken this no pectin raspberry jam. You should be able to pick up chia seeds in your local store or health food store.
Honey or Maple Syrup - Adds natural sweetness to the jam. Both are great flavored, refined sugar free options, so use whichever works best for you.
Variations of Chia Seed Raspberry Jam
I have used fresh raspberries to make my low sugar jam. You could also use strawberries; blackberries; peaches; apricots; rhubarb or any other soft fruits that you enjoy eating as a jam.
Don't be limited to one fruit either. Why not try a combination of fruits - like strawberry and peach or raspberry and blackberry.
If you don't have chia seeds you could substitute ground flax seeds which are also great at thickening any foods they are added to.
Tips For Making Chia Seed Raspberry Jam
This is a quick recipe, but do pay attention while it's cooking! Otherwise you risk the mixture burning and you don't want that to ruin the fresh fruit flavor.
As with all jams, allow it to cool before serving.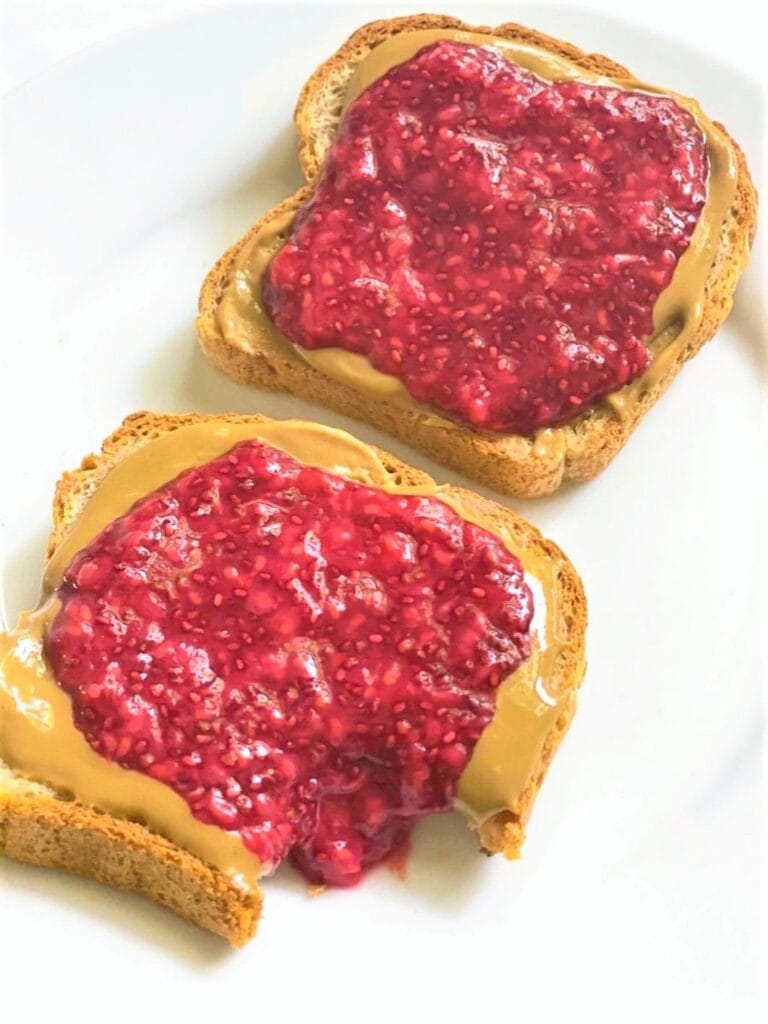 How To Serve Chia Jam?
Refined sugar free (raspberry) jam is great spread on anything from toast to warm crumpets or scones.
For a great make ahead breakfast, try some spooned over my Peanut Butter & Jelly Overnight Oats.
You could also spoon it over my easy granola with yoghurt.
Enjoy it served alongside a stack of light and fluffy pancakes, with some extra fresh raspberries for an added burst of freshness.
Swirl a spoon through the cream cheese topping of your favorite no-bake cheesecake.
Add to smoothies or smoothie bowls for added fruit flavor.
How to Freeze Chia Seed Raspberry Jam?
It's really easy to freeze chia seed raspberry jam. Make a double batch, enjoy some now and freeze the rest for later.
Place the jam into an airtight container and store it in the freezer for up to 3 months. When ready to use, remove from the freezer and defrost overnight in the fridge, ready to top your toast in the morning.
Pin This Easiest Ever Chia Seed Raspberry Jam Recipe For Later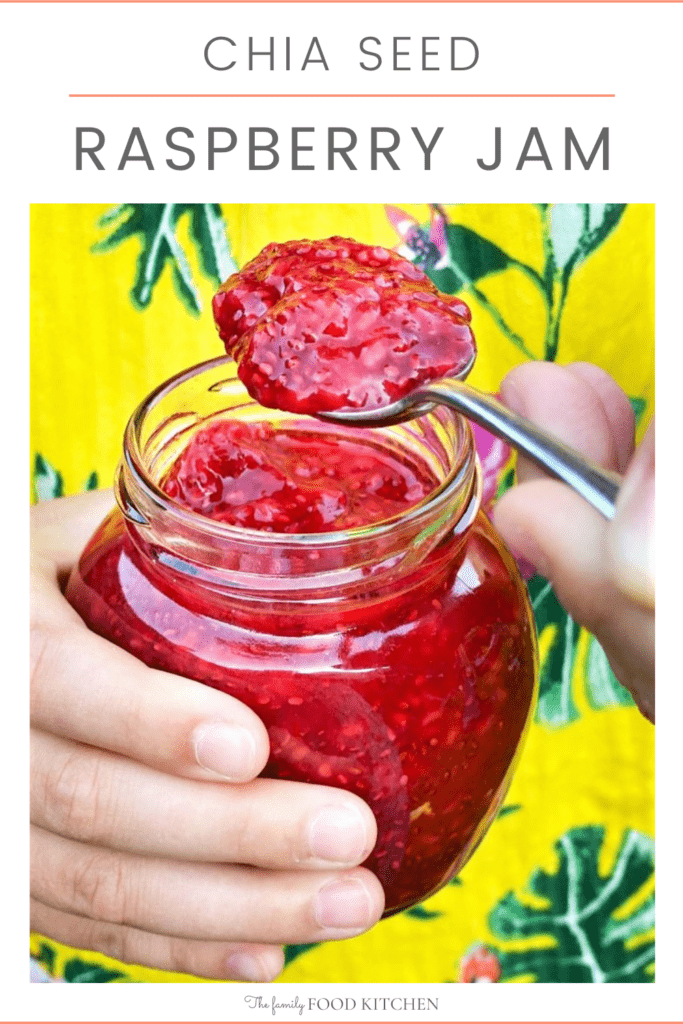 What Do You Think?!
I'd love to know what you think about this recipe! I'd be so grateful if you scroll down to the bottom of the page and leave a star rating and comment.
Don't forget to go over to Facebook and Instagram and make sure you're following me so you can join in the chat. And remember to save this recipe to your Pinterest too!
---
More Easy Breakfast Recipe Ideas
---
Printable Recipe
Easiest Ever Chia Seed Raspberry Jam
Bursting with flavor, my Easiest Ever Chia Seed Raspberry Jam can be made in just 10 minutes on your stovetop. Thickened with chia seeds instead of sugar, this recipe has all of the flavor but none of the guilt of store bought jam.
Ingredients
2

cups

Raspberries

2

tbsp

Water

2

tbsp

Pure Maple Syrup or Honey

-

use Maple to keep the jam vegan

2

tbsp

Chia Seeds
Instructions
Add the raspberries to a small saucepan with a splash of water and the maple syrup or honey.

Cook on a medium heat, stirring, until the fruit starts to break down a bit. Mash it with the back of a spoon if you like a smoother jam - or leave it chunkier with larger pieces of fruit if you prefer.

Take the fruit off the stove and stir in the chia seeds.

Transfer to a bowl or jar and let the jam cool and thicken for about 10 minutes.

If you are making the jam for later cover and keep in the fridge for up to 1 week.
Nutrition
Serving:
1
tbsp
Calories:
26
kcal
Carbohydrates:
4.5
g
Protein:
0.5
g
Fat:
1
g
Polyunsaturated Fat:
0.5
g
Sodium:
1
mg
Potassium:
38
mg
Fiber:
2
g
Sugar:
3
g
Vitamin A:
6
IU
Vitamin C:
4
mg
Calcium:
20
mg
Iron:
0.25
mg
Nutritional information is provided as a courtesy only and should be taken as an estimate rather than a guarantee. Ingredients can vary and the Family Food Kitchen can't guarantee the accuracy of this information.
This recipe was shared with the #cookblogshare community, which this week was kindly hosted by Sisley at www.sewwhite.com