This addictive Chocolate Porridge is made with 4 simple wholesome ingredients. It's deliciously chocolatey - yet contains no refined sugar. The perfect kids breakfast, you can have this on the table in minutes. You can also make this Chocolate Porridge gluten and dairy free so everyone can enjoy it!
When it comes to fast and yummy breakfasts this Chocolate Porridge is unbeatable. It's ideal on cold mornings and really does heat you from the inside out.
Porridge is also great for gut health. Plus it's full of fiber and protein so keeps you fuller for longer.
Yes it may be chocolate flavored - but this homemade porridge still contains a lot less sugar and salt than lots of ready mixed porridge you can buy in the store.
This warm and comforting Chocolate Oatmeal recipe is also so kid friendly. Even more so if you stir through some Nutella, turning it into a Nutella Porridge.
Why You Should Make This Chocolate Porridge
This feels like a treat - but is a relatively healthy breakfast, combining oats, milk, cocoa powder and maple syrup. It can be enjoyed by adults and kids alike.
Oats have proven healthy benefits - like supporting gut health, lowering inflammation and keeping you fuller for longer
This breakfast can be prepared and on the table in 15 minutes.
You can make these cocoa oats your own by adding the toppings that you and your family like to eat.
What is the difference between Porridge and Oatmeal?
This depends on where you are in the world. In the UK, oatmeal is a type of oat that can be used in a variety of both sweet and savory dishes. Whereas porridge is a hot dish that can be made from a variety of different grains - most commonly oats.
In many places across the globe, the term oatmeal is used to describe a porridge made with oats. Therefore the terms are interchangeable, depending on where you live.
What Oats Are Best for Porridge?
Stand at the oat shelf in a store and you will see many varieties of oats on offer. These will likely include steel cut, Scottish oats, oatmeal and rolled oats.
Quick oats are fine if you're in a real hurry - but they lack some of the nutritional value of other varieties. Steel cut oats are higher in fiber but take longer to cook.
A good compromise are rolled oats. They have a softer texture and therefore cook more quickly.
Rolled oats are what I have used in this recipe as they give you a wonderfully thick and creamy textured porridge.
Chocolate Porridge Ingredients
Find the full list and quantities in the recipe below.
Oats - I have used rolled oats to make my porridge as they have a great creamy texture.
If you are follow a gluten free diet please look for gluten free oats. However, bear in mind that some Celiac sufferers can't even eat gluten free oats so it is always worth checking first.
Milk - use any variety of milk in this recipe. For a vegan and dairy free porridge use a dairy free milk. For anyone with a nut allergy use either dairy milk or a nut free dairy milk like oat milk or soy.
It's also fine to make this porridge with water - still delicious but it won't be as creamy.
Cocoa- you can use regular/natural cocoa powder or "Dutch processed". Either will work in this porridge.
Maple Syrup- I like to use maple syrup as it is an unrefined sugar. You could also use agave syrup or honey if you prefer. Just note that if serving this porridge to vegan diners, honey is not vegan.
How to Make Chocolate Porridge
Find the full printable recipe below.
First bring oats, the milk of your choice and maple syrup to a boil in a medium saucepan.
Next sift in cocoa power into the pan, stir and simmer for 3 to 4 minutes - until the oats are cooked and the porridge is thickened.
Finally serve in bowls and add your favorite toppings.
How many oats per serving of porridge?
½ a cup of rolled oats is the recommended amount for a portion serving. So for a family of 4, add 2 cups of rolled oats to the pot.
What is the Perfect Ratio of water/milk to oats for porridge?
The quantities for making porridge are very simple to remember, the ratio is double the amount of liquid to oats. You may find you need to add a splash or 2 of additional liquid depending on how runny or thick you like your porridge.
Do I have to use milk to make Porridge?
You can make porridge with water, milk or a blend of the two. Any variety of milk will work in this porridge, dairy free nut or grain milks are ideal if you're trying to cut back on dairy.
Variations of Chocolate Oatmeal
For a deliciously creamy, simple oatmeal, you can leave the cocoa powder out altogether. Or how about swapping the cocoa for a teaspoon or two of ground spices, eg ground cinnamon to make a great tasting cinnamon porridge.
Using the creamy porridge as a base you can add any flavors to this simple oatmeal, stir through some fresh fruit, berries or even some fruit jam.
For an additional nutritional punch - stir through a teaspoon or two or chia seeds.
Tips For Making Chocolate Porridge
Use a good non-stick pot, this stops the porridge from sticking to the bottom.
For the same reason, don't walk away from the stove while cooking your porridge. Keep an eye on the pan and stir the porridge to stop it sticking.
Use a sifter to add the cocoa powder. Don't be tempted not to - the cocoa powder might go lumpy.
How To Serve Chocolate Porridge
Chocolate Oatmeal tastes great so you can serve it just as it is. But I also like to add toppings to my porridge.
Stir through some Nutella to make a Nutella Oatmeal - once you've added Nutella I promise you'll never look back!
Other great flavor toppings include:
Fresh fruit - strawberries; raspberries; blueberries; banana; mango; peaches
Crushed nuts - hazelnuts; almonds; pecans; macadamias
Seeds - chia; pumpkin; flaxseed and sunflower
Sweeteners - maple syrup; honey
Spreads - Peanut butter or fruit jams or jellies
How To Reheat Chocolate Porridge?
Porridge is a dish best served hot, straight from the pot. Once porridge has been allowed to sit for any length of time it tends to become stodgy.
Pin This Chocolate Porridge Recipe For Later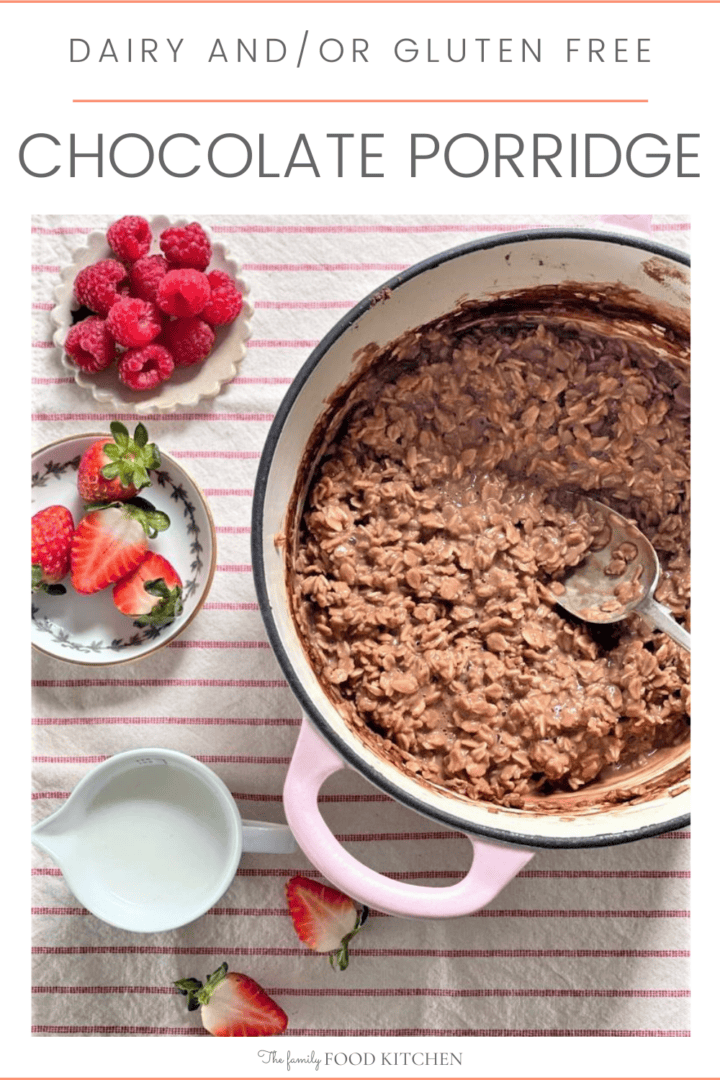 What Do You Think?!
I'd love to know what you think about this recipe! I'd be so grateful if you scroll down to the bottom of the page and leave a star rating and comment.
Don't forget to go over to Facebook and Instagram and make sure you're following me so you can join in the chat. And remember to save this recipe to your Pinterest too!
---
More Easy Breakfast Ideas
---
Printable Recipe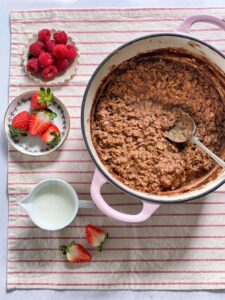 Chocolate Porridge
This addictive Chocolate Porridge is made with 4 simple wholesome ingredients. It's deliciously chocolatey - yet contains no refined sugar. The perfect kids breakfast, you can have this on the table in minutes. Chocolate porridge can also be made gluten and dairy free so everyone can enjoy it.
Ingredients
2

cups

Rolled Oats

-

gluten free if required

4

cups

Milk

-

regular or plant milk as required.

3

tbsp

Maple Syrup

3

tbsp

Cocoa Powder
Optional Topping Suggestions
Maple Syrup

Fresh Fruit

Nutella

Peanut Butter
Instructions
Add the rolled oats, milk and maple syrup in a medium saucepan.

Bring to the boil over a medium heat whilst stirring. Turn the heat to low.

Using a fine mesh strainer, sift in the cocoa power into the pan.

Stir in well to avoid lumps.

Simmer for 3 – 4 minutes until the oats are thickened and look rich and chocolatey.

Serve in bowls with your favorite toppings.
Notes
Please note the estimated nutrition values do not include any additional toppings.
Nutrition
Calories:
351
kcal
Carbohydrates:
51
g
Protein:
14
g
Fat:
11
g
Saturated Fat:
5
g
Polyunsaturated Fat:
1
g
Monounsaturated Fat:
3
g
Cholesterol:
24
mg
Sodium:
109
mg
Potassium:
560
mg
Fiber:
5
g
Sugar:
22
g
Vitamin A:
395
IU
Calcium:
318
mg
Iron:
2
mg
Nutritional information is provided as a courtesy only and should be taken as an estimate rather than a guarantee. Ingredients can vary and the Family Food Kitchen can't guarantee the accuracy of this information.
This recipe was shared with the #cookblogshare community, which this week was kindly hosted by Sisley at sewwhite.com