Quick Pickled Shallots can be made in minutes but will transform whatever dish you serve them with. Tangy, sweet and crunchy, they're the perfect topping for salads, tacos, chilis, curry, sandwiches - you name it. Made with store cupboard staples, they keep perfectly in the fridge too.
My Quick Pickled Sliced Shallots elevate any dish, adding a quick hit of flavor and color. Slightly sweeter than pickled red onions, they're also great to liven up leftovers.
Pickling might seem like a lot of effort, but that's honestly not the case! In this recipe post I show you just how easy it is and you won't look back.
I use pickled shallots all the time - for curries, chilis, tacos and a whole range of other Mexican inspired dishes, from fajitas to quesadillas.
The perfect way to use up any leftover shallots lurking in the fridge, preparation is minimal. You can have a jar of pickled shallots made and ready to set aside in 5 minutes.
Why You Should Make Easy Pickled Shallots
Pickled shallots elevate the flavors on any dish that you add them too.
They look and taste impressive - but with minimal effort.
Unlike store bought pickles, these contain no artificial colors or preservatives.
If you are new to pickling and haven't tried it before, making these quick pickled shallots is a great place to start.
What is quick pickling?
Quick pickling is a simple, straightforward process and the ideal place to start if you are new to pickling.
Water, vinegar, sugar and salt are gently heated before being poured over the veggies that you want to pickle.
It is called quick pickling as the pickles can be prepared in 5 minutes and ready to eat an hour later. Unlike traditional pickling there is no need to set the pickles aside for a month before you can enjoy them.
What is the best vinegar to use for pickling?
You can use most vinegar for pickling. Most of the pickled onions that you find in stores are made with distilled white vinegar. However, this can be a sharp and sometimes sour vinegar.
Instead I prefer to use white wine vinegar, which just balances out the other flavors in the pickling liquor. You could also use red wine, sherry or apple cider vinegar too.
Pickled Shallot Ingredients
Find the full list and quantities in the recipe below.
Shallots - you can buy round pink shallots or banana shallots in most stores and both varieties will work in this recipe. If you don't have shallots you could also use red onions or small yellow onions, although they won't be quite so sweet.
Vinegar - I have used white wine vinegar for pickling the shallots. But you could swap for other vinegar like red Wine, sherry or apple cider vinegar. I would not use brown malt vinegar as it is too strong and would overpower the sweetness of the shallot.
Sugar - A tablespoon of sugar is added to the pickling liquor. Don't be tempted to leave the sugar out. It's an important part of the pickling process and helps to balance out the sharpness of the shallot and sourness from the vinegar.
Sea Salt - I like to use a good quality sea salt as it adds a salty balance to season the pickles.
What is the best way to peel shallots?
If I am just making a quick jar, I just peel the shallots in the same way as you would an onion. However, if you have a lot it might be worth blanching the shallots first then peeling them.
Start by covering the shallots with boiling water and set aside for 3 minutes. Then drain and cover with cold water to stop the shallots from cooking.
Make a slit in the first layer of skin and they will peel much more easily.
What is the best way to slice shallots?
When it comes to slicing the shallots you should aim to cut them pretty thin. The best way to do this is to use a mandolin, which has a cutting blade which allows you to slice quickly and precisely.
They are inexpensive and a good tool to have in the kitchen. However, if you don't have a mandolin, no problem. A very sharp knife will do the same job. Just take your time to slice them as thinly as possible.
How to Pickle Shallots
Find the full printable recipe below.
Make the pickling liquid by heating water and white wine vinegar in a pan then stirring in the salt and sugar until dissolved.
Slice the shallots and pack them into one 16oz jar with lid or two 8oz jars with lids.
Pour over the hot pickling liquid, seal the jars and allow to sit in the refrigerator for an hour.
They are then ready to store or use.
Why use pickled shallots (instead of onions)?
Shallots are from the same family as onions, however they are sweeter and have less bite than an onion so soften beautifully when pickled.
They are a great addition to many dishes and chefs love them. Not only do they look pretty on the dish, they pack a real flavor punch too.
How long do Pickled Shallots last?
Place these quick pickled shallots in a jar with a tight fitting lid and store in the refrigerator for up to 2 weeks. Although they never last that long in my kitchen!
Variations of Quick Pickle
You can use this same process to pickle other fruits and veggies too. This pickle would work with red onions; chili; zucchini; bell peppers; radish; carrot - the list is endless.
If you want to experiment with flavors you can add fresh herbs, pickling spices or ground spices to the pickling liquor while you warm it up.
Tips For Making Quick Pickled Shallots
It's best to carefully slice the onions as thin as you can. Use a very sharp knife or even better, a mandolin for this job.
Since they can be fiddly to peel, try to pick the largest shallots you can find.
How To Serve Pickled Sliced Shallots
These quick pickled shallots are really versatile and add flavor to a whole host of dishes. Add them to salads and sandwiches for added zing.
I always have a jar in the fridge and add them Mexican inspired dishes like my Black Bean & Sweet Potato Quesadillas, Sheet Pan Fajitas, my Grilled Corn & Black Bean Tacos or my Fish Stick Tacos.
Add some to the top of my Smoky Eggplant Vegan Chili for a sweet and sour savory bite.
You could even use them on my Spicy Chickpea Buddha Bowl. They go with so many savory dishes, so get creative.
Pin This Quick Pickled Shallots Recipe For Later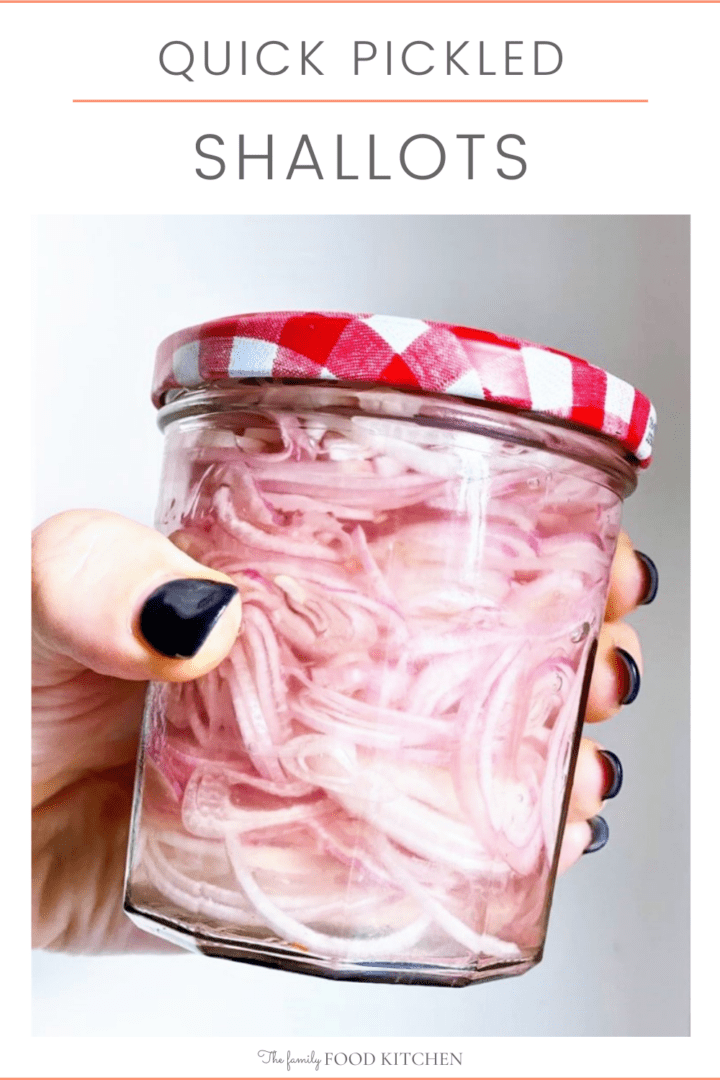 What Do You Think?!
I'd love to know what you think about this recipe! I'd be so grateful if you scroll down to the bottom of the page and leave a star rating and comment.
Don't forget to go over to Facebook and Instagram and make sure you're following me so you can join in the chat. And remember to save this recipe to your Pinterest too!
---
More Easy Side Dish & Condiment Recipe Ideas
---
Printable Recipe
Quick Pickled Shallots
Quick Pickled Shallots can be made in minutes but will transform whatever dish you serve them with. Tangy, sweet and crunchy, they're the perfect topping for salads, tacos, chilis, curry, sandwiches - you name it. Made with store cupboard staples, they keep perfectly in the fridge.
Equipment
2 x 8 oz glass jars with lid OR

1 x 16 oz glass jar with lid
Ingredients
1

lb

Shallots

-

peeled

1

cup

White Wine Vinegar

1

cup

Water

1

tbsp

Sea Salt

1

tbsp

Sugar
Instructions
In a small saucepan heat the water and vinegar.

Add the sea salt and sugar and stir until dissolved.

Carefully slice the shallots as thinly as you can.

Pack the shallots in the glass jar (or jars).

Carefully pour the pickle solution over until the shallots are covered.

Add the lid, cool and refrigerate.

The pickles will be ready to eat in around an hour.
Nutrition
Serving:
1
tbsp
Calories:
13
kcal
Carbohydrates:
3
g
Protein:
1
g
Fat:
1
g
Saturated Fat:
1
g
Polyunsaturated Fat:
1
g
Monounsaturated Fat:
1
g
Sodium:
221
mg
Potassium:
50
mg
Fiber:
1
g
Sugar:
1
g
Vitamin A:
1
IU
Vitamin C:
1
mg
Calcium:
6
mg
Iron:
1
mg
Nutritional information is provided as a courtesy only and should be taken as an estimate rather than a guarantee. Ingredients can vary and the Family Food Kitchen can't guarantee the accuracy of this information.
This post was shared as part of the #cookblogshare community, which this week was kindly hosted by Chloe at Feast Glorious Feast