When it comes to easy weeknight dinners, this Sheet Pan Caprese Chicken is hard to beat. Packed full of flavor, this colorful Italian Chicken dish is simple cooking at it's vibrant best. Plus it's all made on one pan - meaning minimal clean up.
Tender chicken breast roasted in the oven along with juicy vine tomatoes, then topped with creamy mozzarella cheese and drizzled with balsamic vinegar.
This Tomato & Basil Sheet Pan Chicken recipe has all the best flavors of summer packed into one dish.
We all know chicken breasts can be hard to cook well. The best thing about this recipe is that the chicken stays perfectly moist.
Plus the colors ensure this simple dish looks like a really spectacular one-pan meal.
How to make sure chicken breasts don't dry out in the oven?
These two cooking hacks are key.
Firstly chicken breasts roast better in a hotter oven - around 450ºF/225ºC - for a shorter period of time.
Plus if you cover them with foil for part of the cooking time this helps to ensure they stay juicy and tender.
Why You Should Make This Caprese Baked Chicken:
Baked Chicken Caprese is a healthy dish, using lean chicken breast and packed with vine fresh tomatoes.
The whole dish can be prepared, cooked and on the table in 45 minutes, making this perfect dinner for busy weeknights. There are minimal dishes too.
Sheet Pan Caprese Chicken is full of the flavors that kids love to eat. But this dish is also pretty enough for a weekend date night for two.
This is a great low carb sheet pan chicken dinner. It's also a popular keto sheetpan chicken.
What is Caprese?
Caprese is a simple Italian salad combining the stunning fresh flavors of tomato and basil with fresh mozzarella cheese. The salad is usually drizzled with some extra virgin olive oil and balsamic vinegar.
The salad is named after the Italian island of Capri, where the salad is thought to have originated. The colors of the salad represent the colors of the Italian flag.
If you love this flavor combination as much as I do then try my Easy Quinoa Caprese Salad, a great tasting main or side salad.
How to Make Sheet Caprese Sheet Pan chicken?
Find the full printable recipe below.
Lay skinless chicken breasts on a parchment lined large sheet pan, drizzle with olive oil and season well. Cover with foil and bake for 15 minutes.
Remove the foil, turn the chicken and add the tomatoes. Bake for another 15 minutes or until the chicken is cooked through.
Place mozzarella slices onto each chicken breast and broil/grill until the cheese is golden.
Scatter the rested chicken with basil leaves and drizzle over balsamic glaze/vinegar and a little olive oil before serving.
Can I use Chicken Thighs or Legs?
I have used boneless skinless chicken breast in this recipe, however you can substitute with chicken thighs or legs. Just ensure that you adapt the cooking time depending on the cut of meat you use.
How to make a Balsamic Glaze?
Once the chicken has cooked you can either drizzle over some balsamic vinegar or a balsamic reduction.
A balsamic glaze is simply a reduction of balsamic vinegar, but with a sweet intensity of flavor.
Balsamic glaze can obviously be bought in most supermarkets if you're short of time. But it is really easy to prepare and can be made while the chicken is in the oven.
Pour some balsamic vinegar into a small pot and place it over a medium heat.
Gently bring the vinegar to a boil then reduce the heat and simmer the vinegar until it has reduced to a consistency thick enough to coat the back of a spoon.
Remove from the heat and drizzle over the chicken.
Variations of Caprese Chicken Traybake:
Chicken breast can be substituted with chicken thighs or legs in this perfect weeknight dinner.
Cherry tomatoes are roasted along with the chicken. You can use any variety of ripe tomatoes, however smaller tomatoes do hold their shape when roasted whole.
You could also do a mini version of this delicious dinner with chicken tenders and mozzarella pearls.
Want to pack in more veggies? No problem! Add other cut up vegetables to the pan that your family enjoy eating. Zucchini, eggplant, bell peppers and red onion would all work in the dish. Just make sure to check their cooking times.
Once the dish comes out of the oven, you could also stir through some spinach or cut up kale and allow the leaves to wilt in the pan juices.
Tips For Making Caprese Baked Chicken:
This is a dish best served fresh from the pan when it is at its most vibrant. The tomatoes do not reheat well and you also risk the chicken overcooking.
To really intensify the basil flavor, try spreading a spoon of my Basil and Almond Pesto over the chicken breasts once they have roasted, just before topping with mozzarella cheese and popping under the broiler.
If you like to use a meat thermometer to check the chicken is cooked, it should read 165°F (75°C) when placed in the thickest part of the breast.
How To Serve Sheet Pan Caprese Chicken:
This dish is packed full of flavor so keep the sides simple. I like to serve with a dressed green salad, or some steamed green beans or broccoli.
Some garlic bread, focaccia or crusty bread are great served alongside for mopping up the balsamic and tomato juices.
Pin This Sheet Pan Caprese Chicken Recipe For Later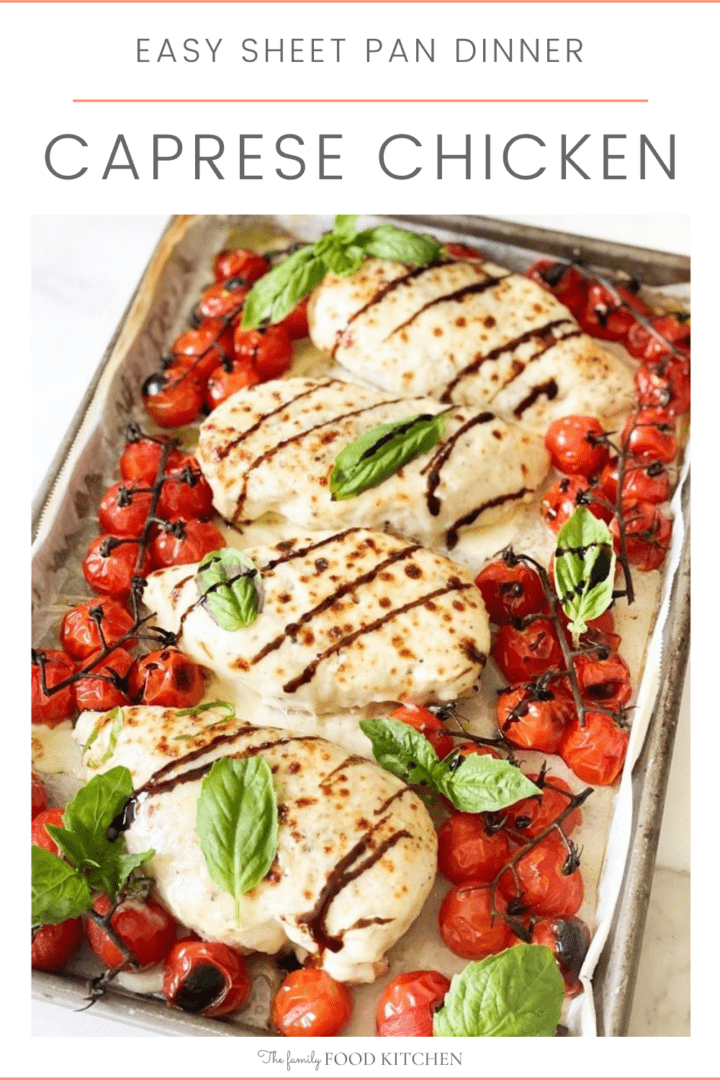 What Do You Think?!
I'd love to know what you think about this recipe! I'd be so grateful if you scroll down to the bottom of the page and leave a star rating and comment.
Don't forget to go over to Facebook and Instagram and make sure you're following me so you can join in the chat. And remember to save this recipe to your Pinterest too!
---
More Easy Sheet Pan Dinners
---
Printable Recipe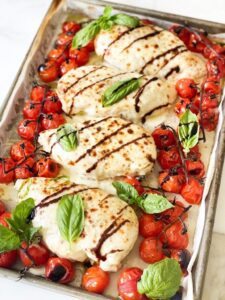 Sheet Pan Caprese Chicken
When it comes to quick midweek dinners, this Sheet Pan Caprese Chicken is hard to beat. Packed full of flavor, this colorful Italian Chicken dish is simple cooking at it's vibrant best. Plus it's all made on one pan - meaning minimal clean up.
Ingredients
4

Chicken Breasts

-

skin off

1

tbsp

Olive Oil

18

oz

Cherry Tomatoes

8

oz

Fresh Mozzarella

-

cut into 8 slices

Sea Salt and Black Pepper
To Garnish
Fresh Basil

Balsamic Vinegar

-

or Balsamic Glaze - optional

Olive Oil
Instructions
Preheat the oven to 450ºF/225ºC

Line a sheet pan with parchment paper for even easier clean up.

Lay the chicken breasts on the tray, drizzle with olive oil and season well with salt and pepper.

Cover the chicken with a tightfitting piece of aluminum foil to help keep them moist. Bake in the oven for 15 minutes.

Take the chicken out and flip it over. Add the tomatoes to the pan and place it back in the oven without the foil for a further 15 minutes.

Check that the chicken is cooked - the meat should no longer be pink and the juices should run clear.

Turn the oven off and heat the broiler/(grill in UK) to medium high.

Place 2 slices of mozzarella on each chicken breast and broil until cheese is melted and going golden.

Allow the chicken to rest for a few minutes then scatter basil leaves to garnish.

Optional: Drizzle with balsamic glaze or vinegar and/or olive oil.

Serve.
Notes
Please note that the nutrition estimate does not include the optional garnishes.
Nutrition
Calories:
482
kcal
Carbohydrates:
6
g
Protein:
62
g
Fat:
22
g
Saturated Fat:
9
g
Trans Fat:
1
g
Cholesterol:
189
mg
Sodium:
632
mg
Potassium:
1157
mg
Fiber:
1
g
Sugar:
4
g
Vitamin A:
1075
IU
Vitamin C:
32
mg
Calcium:
312
mg
Iron:
2
mg
Nutritional information is provided as a courtesy only and should be taken as an estimate rather than a guarantee. Ingredients can vary and the Family Food Kitchen can't guarantee the accuracy of this information.
This recipe has been shared with the #cookblogshare community, kindly hosted this week by Melissa Straub