With just 3 simple ingredients and some seasoning, Roasted Asparagus & Carrots are the perfect quick vegetable side dish. With minimal prep work, this carrot and asparagus recipe can be cooked and on the table in less than 30 minutes. This recipe is vegan, gluten free and dairy free, so everyone can enjoy.
With the spring flavors of fresh asparagus combined with sweet carrot, this easy healthy side dish is the perfect addition to any weeknight meal.
Roasting is my favorite cooking method when it comes to veg as it really brings out the sweet flavor in any vegetable.
Asparagus take less time to cook than carrots so with this easy 2 step sheet pan cooking method both spring veggies will be cooked perfectly.
Why You Should Make Roasted Asparagus & Carrots
This easy recipe requires little hands on prep, the oven does most of the hard work.
Roasting improves the flavor and brings out the sweetness of any veg.
These roasted vegetables are a great way of adding to your 5-a-day.
I find kids are far happier eating roasted veg than plain boiled or steamed veggies.
This makes a great easy Easter side dish for spring celebrations.
Roasted Asparagus & Carrots Ingredients
Find the full list and quantities in the recipe below.
Asparagus - look for asparagus with a vibrant green color and nice upright spears, as you want them fresh and crisp. Look for spears that are neither too thick or too thin.
To prepare the asparagus remove the woody part at the base of the stem. You can do this by cutting off the bottom of the spear. Alternatively hold the asparagus spear in both hands and gently bend the spear, the asparagus will naturally break at the fresh point of the stem.
Carrots - you can either use whole baby carrots or longer carrots cut into batons of a similar size to the asparagus.
Do Carrots and Asparagus cook in the same time?
No, the asparagus will cook quicker than the carrots. For that reason I like to use a sheet pan, cooking the carrots for an extra 5 minutes before adding the asparagus spears.
How do you stop asparagus going soggy?
If you want to avoid soggy asparagus the best method of cooking is roasting, rather than boiling the spears.
Should you soak asparagus?
I give my asparagus a quick rinse under cold water, as I would any veg, to remove any grit. However, you do not then need to soak the asparagus.
Do Baby Carrots need to be peeled?
There is no need to peel a carrot before adding them to the roasting tray. A quick wash to remove any grit is fine. There is a lot of nutrient just under the skin of a carrot that I don't remove unless absolutely necessary.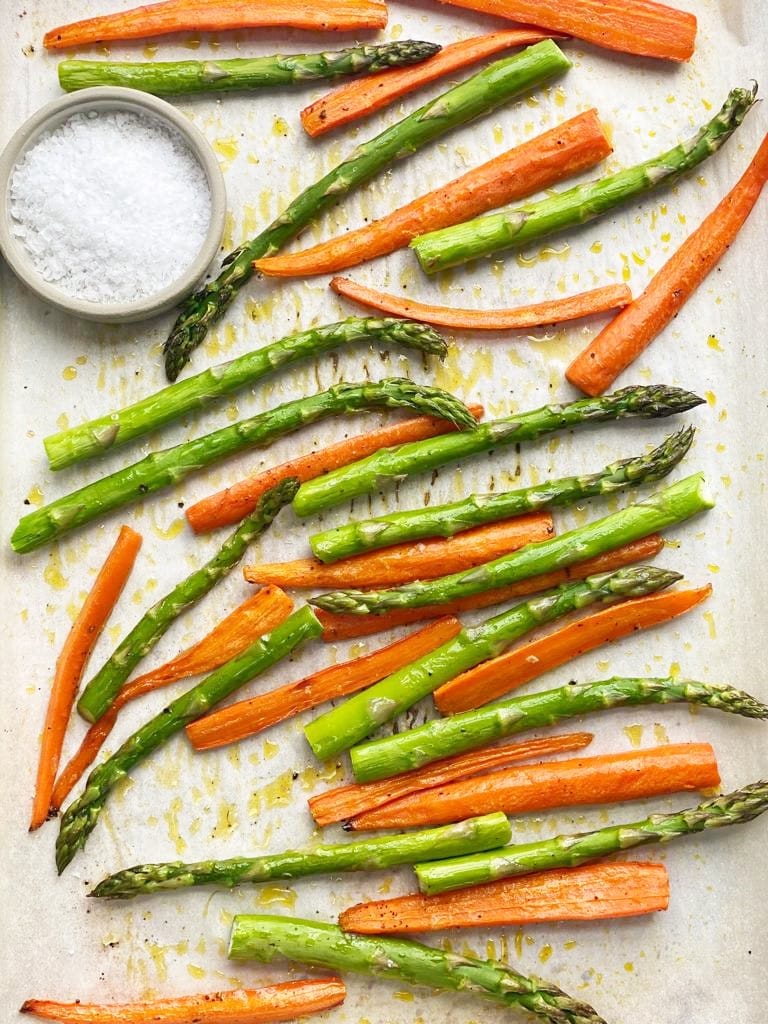 How to Make Roasted Asparagus & Carrots
Find the full printable recipe below.
Prepare the asparagus by snapping off the woody ends and cutting the carrots into a similar size.
Toss the carrots in olive oil and season well on a lined large rimmed baking sheet. Roast the carrots in a single layer in a preheated oven for 5 minutes.
Add the asparagus to the tray, toss everything together and then spread out into a single layer again.
Roast for a further 10 to 15 minutes before serving.
Variations of Roasted Asparagus & Carrots
I love the simplicity of this dish since it allows the delicate flavor of the vegetables to shine through.
However you could add some red pepper flakes after roasting for heat. Or maybe some sesame seeds for texture.
Sprinkle over some chopped fresh herbs, like parsley, thyme or tarragon, just before serving.
Get creative! You could add some lemon zest or lemon juice for a citrus option.
A drizzle of Balsamic vinegar would also work beautifully as well as a dash of honey.
Tips For Making Oven Roasted Asparagus & Carrots
For best results be sure to season your veggies generously with salt and pepper, it will make all the difference to the finished dish.
Spread the veggies out in a single layer to give them space to roast.
Line your sheet pan with parchment or aluminum foil for faster clean up.
Did you know one of the easiest ways to trim the asparagus stalk is to bend and snap it exactly where the woody end starts (usually about an inch or so up the stem)?
How To Serve Roasted Asparagus & Carrots
This is a great tasting and versatile side dish. The spring fresh flavors work with a variety of main dishes.
I also like to serve these roasted veggies in place of regular fries for a great tasting low carb alternative.
Try this easy vegetable side with my Lemon Caper Chicken Breasts, my Sheet Pan Caprese Chicken my Creamy Garlic Chicken Thighs or my Pork Tenderloin with Mushroom Cream Sauce.
How To Reheat Roasted Asparagus & Carrots?
Store any leftovers in an airtight container. Leftover asparagus and carrots can be easily reheated by placing them back in the oven to warm through. You may need to add a little extra olive oil to stop them drying out. You can also eat leftovers cold, chopped up in a salad or grain bowl.
Pin This Roasted Asparagus & Carrots Recipe For Later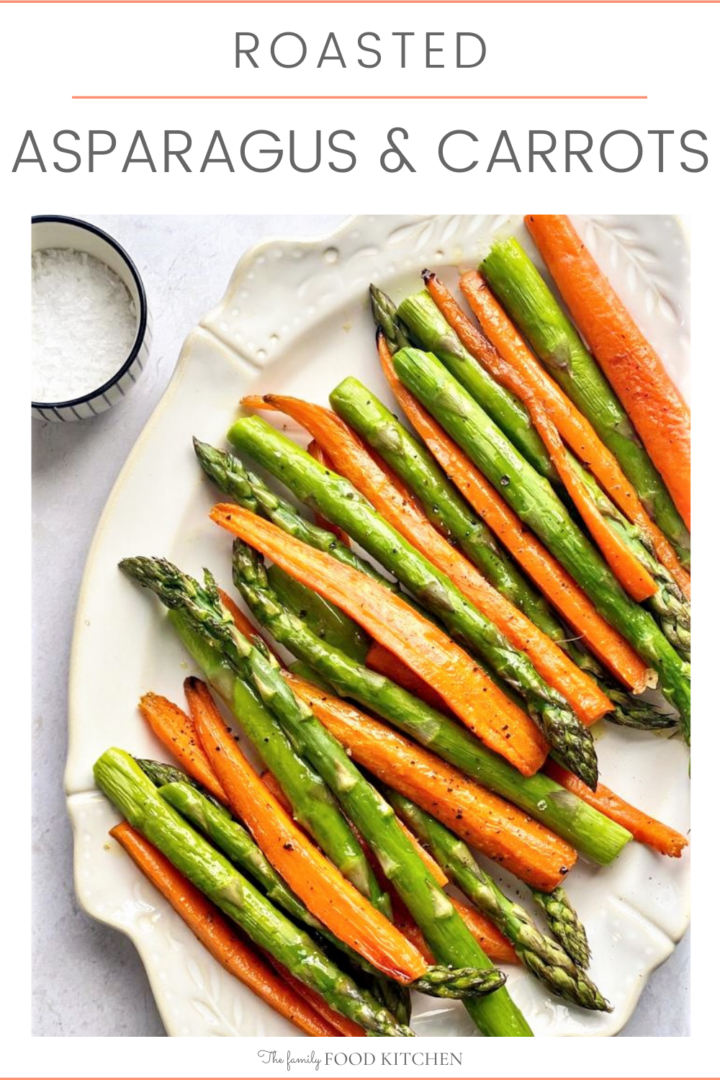 What Do You Think?!
I'd love to know what you think about this recipe! I'd be so grateful if you scroll down to the bottom of the page and leave a star rating and comment.
Don't forget to go over to Facebook and Instagram and make sure you're following me so you can join in the chat. And remember to save this recipe to your Pinterest too!
---
More Easy Side Dish Recipe Ideas
---
Printable Recipe
Roasted Asparagus & Carrots
With just 3 simple ingredients and some seasoning, Roasted Asparagus & Carrots are the perfect quick vegetable side dish. With minimal prep work, this carrot and asparagus recipe can be cooked and on the table in less than 30 minutes.
Ingredients
1

bunch

Asparagus

1

bunch

Baby Carrots

-

or 3 large carrots

2

tbsp

Extra Virgin Olive Oil

Sea Salt and Black Pepper
Instructions
Preheat the oven to 425ºF/210ºC

Halve the baby carrots or cut the large carrots into long thin pieces a similar size to the asparagus.

Trim the woody ends of the asparagus.

Line a large sheet pan with parchment paper or aluminum foil for easier clean up.

Toss the carrots with the olive oil and seasoning on the large sheet pan. Spread the pieces out and roast for 5 minutes.

Take the carrots out and add the asparagus to the pan. Gently toss everything together then spread out in a single layer.

Roast for a further 10-15 minutes, until the carrots and asparagus are tender.

Serve.
Nutrition
Calories:
124
kcal
Carbohydrates:
14
g
Protein:
3
g
Fat:
7
g
Saturated Fat:
1
g
Polyunsaturated Fat:
1
g
Monounsaturated Fat:
5
g
Sodium:
90
mg
Potassium:
494
mg
Fiber:
6
g
Sugar:
7
g
Vitamin A:
16364
IU
Vitamin C:
9
mg
Calcium:
63
mg
Iron:
3
mg
Nutritional information is provided as a courtesy only and should be taken as an estimate rather than a guarantee. Ingredients can vary and the Family Food Kitchen can't guarantee the accuracy of this information.
This recipe was shared with the #cookblogshare community, which this week was kindly hosted by Melissa Traub.