In this round-up you'll find delicious Recipes for Easy Entertaining! With more of us now able to catch up with friends, here is some inspiration for what to cook without spending hours in the kitchen. Read on for moreish appetizers, wonderful entrées and simple but stunning desserts.
As we're beginning to finally have friends over again many of us are hoping for a more sociable summer. Last week's #cookblogshare contained so many wonderful yet easily do-able recipes it gave me the theme for this weeks round up.
The last thing you want when you have people over is to be stuck in the kitchen! But with these recipes the prep time is minimal - leaving you with less stress and more time to actually enjoy hosting.
But first...
WHAT IS #COOKBLOGSHARE?
CookBlogShare is a community for food bloggers to share recipes and foodie posts and generally support the food blogging community. The community is centred around the #CookBlogShare linky.
It is a wonderful way for a wide range of food writers, recipe creators and bloggers to come to-gether and share each other's recipes.
The linky is now hosted regularly by Sisley from Sew White & Chloe from Feast Glorious Feast. New members are always welcome to join so make sure you invite your other food blogger friends!
The last linky was hosted by Nancy at Nomss.com who put together a collec-tion of amazing Tofu Recipes.
Each week the host chooses a selection of recipes which have been submitted during the previous week to showcase.
Recipes for Easy Entertaining
Appetizers
Perfect for vegan friends, this simple Baba Ganoush is fast to make and addictive to eat! This dip is made with roast aubergine plus traditional seasonings and has a delicious creamy texture which is perfect with toasted pita. Great to make ahead too.
These addictive steak crostini are one of my favorite appetizers and once you've tried them you'll know why. Toasted baguettes are topped with juicy slices of beef tenderloin and horseradish cream. Make the toasts ahead of time and you can just slice the steak and assemble!
There's nothing like homemade bread to welcome guests. This beautiful loaf is so simple to make - you mix, leave the dough to work it's magic, then bake. Perfect to serve alongside any meal or delicious just served with some butter and sea salt.
Easy Entrées for Entertaining
There's nothing like the flavor of Tandoori Chicken and this delicious recipe gives you all the short cut tips and tricks. It really is as easy as marinating cubes of chicken and roasting them. And you can be assured of juicy and perfectly charred pieces of tikka tandoori chicken every single time you make it!
Fork tender beef, mushrooms and veggies are all served in a delicious gravy in this yummy pie, which is surprisingly easy to make! Get ahead and make the filling first and simply top with ready bought puff pastry for a fantastic finish.
If you're looking for something which is a little lighter - and still super simple - this shrimp and courgetti dish is the answer. Packed full of flavour, shrimp is sautéed with butter, lemon and garlic and the dish is finished with fresh zucchini noodles. Plus it's all made in one pan for less clean up.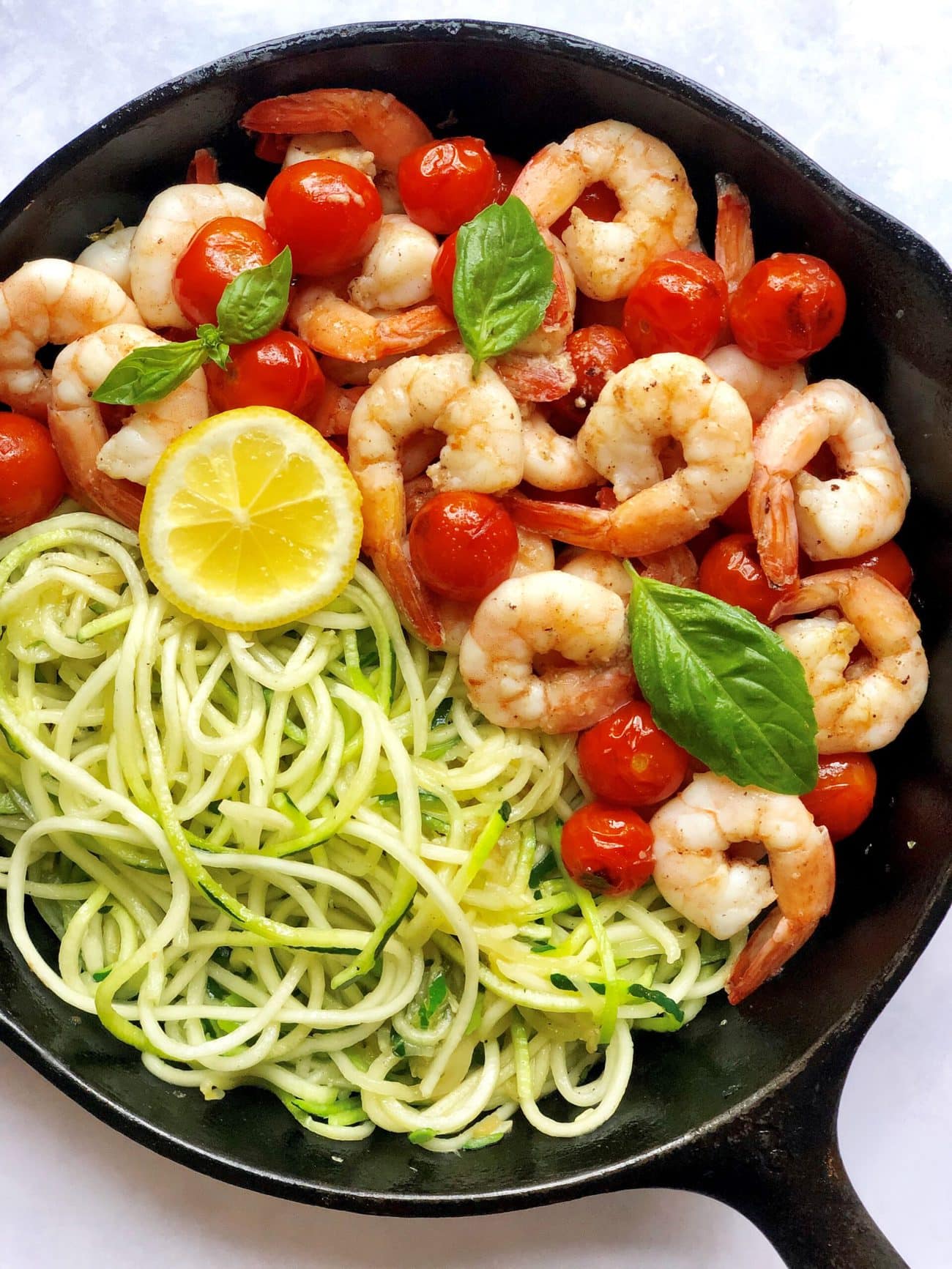 Delicious Desserts Perfect for Entertaining
Delight your chocolate loving guests with these amazing but oh so easy Nutella Donuts. Simply mix, bake in the oven and glaze with warm Nutella. And try not to eat them all before everyone arrives!
Is there a more loved dessert than the humble crumble? This recipe couldn't be more straightforward. Simply mix the crumble topping and sprinkle over the fruit! Then let it bubble away in the oven. Plus you can use fresh or frozen strawberries too.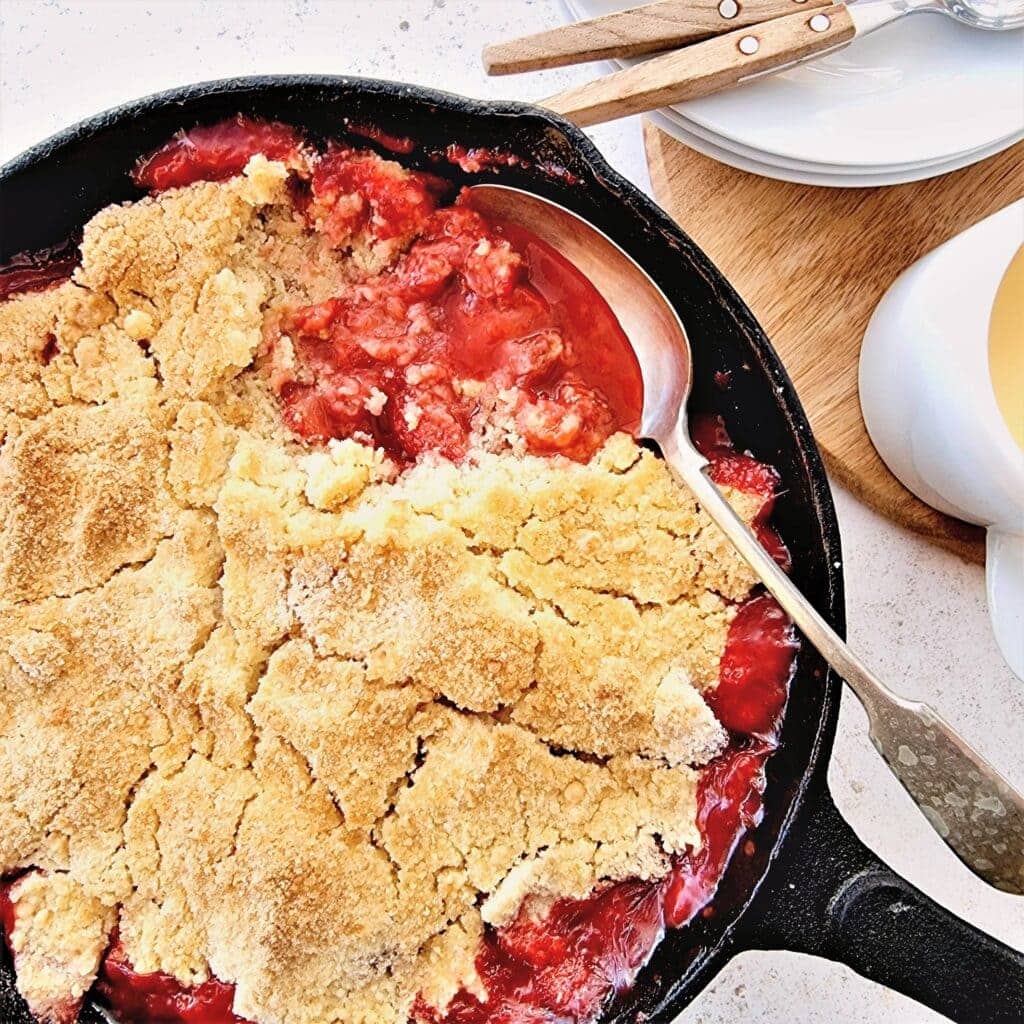 If you need a fast dessert for unexpected company, this lemon syllabub comes together in just 10 minutes plus chilling time. This elegant and light-as-air pot has just 4 ingredients! Cream, lemon and booze form the perfect combination in this classic British recipe. It's naturally gluten free too.
HOW TO TAKE PART IN THIS WEEK'S #COOKBLOGSHARE
BLOGGERS
Scroll down to the linky widget and add your links. Make sure to read the rules so we can all share the love!
I'll be commenting and sharing as many of the links as possible. They'll also be pinned to the #CookBlogShare group Pinterest board.
Use the same hashtag #CookBlogShare on Instagram and social media and you can post your recipes in the CookBlogShare Facebook Page.
READERS
Scroll down to see what recipes have been linked up so far this week. Have a read and let us know what you think. Feel free to help share the love by sharing the recipes far and wide! You can also follow the #CookBlogShare hashtags on Twitter and Instagram to discover new and wonderful recipes.
THE RULES!
You can link up any recipe or foodie posts you have. Both old and new posts are welcome as long as they have not been linked to #CookBlogShare before. There is no set theme but it is always sensible to think about upcoming seasons and holidays.
It is usually beneficial to link up towards the beginning of the week for maximum benefit to you.
You can link up to a maximum of 4 posts per linky.
Required – Add a link from your post(s) back to the host's post. E.g. "I have linked this recipe to #CookBlogShare run by Sisley & Chloe which was which was hosted by Jo at The Family Food Kitchen
Required – For each recipe that you link up, choose at least 2 of the other recipes which have been linked that week, go to the blog post and leave a 5* rating & lovely positive comment. You might want to come back later in the week when more posts have been linked up – but don't forget!
Required – Please also comment on at least one post from that week's host. Their linked posts will be marked "HOST" in the title. Please note that a host might request that comments are not left on the linky post as this isn't always the most beneficial place for a host to feel the love!
Bonus – There is no set requirement but there are several other ways that you can help share the love with the other members linking up. These can include:
Pinning the recipe
Sharing or scheduling a share to your Facebook page
Sharing or scheduling a share to your Twitter Feed
Saving the post to other sites like Yummly
Hitting the heart icon in the bottom left corner if the blogger is using Grow.Me or Slicksteam
Please note that by joining in, you are giving the #CookBlogShare hosts permission to use your pictures in a roundup and on social media if your recipe is selected as one of our favourites!
HOSTING
All CookBlogShare participants are asked to host the linky at least once a year. More details about hosting can be found in our Facebook Group.
OTHER WAYS TO HELP THE COMMUNITY
Follow #CookBlogShare on Instagram and like/comment on linked up posts.
Follow #CookBlogShare on Twitter and like/retweet linked up tweets.
Keep up with the Facebook Group for roundup recipe requests and other shouts for help.
And do all these things yourself too!
Get involved with the Facebook Group. Ask questions, answer questions, share successes and generally be part of the awesome community!
LAST WEEK'S #COOKBLOGSHARE LINKY - WEEK 16
Thank you to everyone that took part, this linky is now closed.
THIS WEEK'S #COOKBLOGSHARE LINKY - WEEK 17
Please note that comments are turned off on this post - it could be great if you could comment on my linked posts which this week are Leftover Lamb Ragu and Tahini & Lime Sweet Potato Fries. Thank you!
---