This Halloween Candy Bark is the perfect spooky holiday treat. It's also a great way to use up leftover Halloween candy. Simply melt chocolate, top with your favorite candies, refrigerate, cut and devour this boo bark.
This easy Halloween bark recipe is super-fun and the perfect Halloween treat to make with kids.
It's the one time of the year where you simply cannot say no to candy. Resistance is futile.
I can't refuse anything involving KitKats so I'm a lost cause even before I start melting the chocolate.
The best thing about this recipe is you can use whatever sweet treats you have.
Plus if after trick or treating, you're left wondering what can I make with leftover candy? Boo bark is your answer.
Why You Should Make This Candy Corn Halloween Bark
This is a great fun activity with the kids. Only 10 minutes to prepare, then hope they can wait 1 hour for the chocolate to set before diving in.
This is a super versatile recipe, you can use any flavor of chocolate and top it with pretty much any sweets and candies you have.
My Easy Halloween Chocolate Bark is a winner with any age of trick or treater.
Halloween Chocolate Bark Ingredients
Find the full list and quantities in the recipe below.
Chocolate - I have used bittersweet chocolate chips for the boo bark base. I like that the dark chocolate balances out the sweeter candies on the top.
However, melt down any variety or flavor of chocolate that works for you. It's fine to use chocolate chips for convenience, or a bar of chocolate chopped up.
Candy - this is a super versatile recipe and you can top my Halloween candy bark with any variety of chocolate, sweet or candy - so get creative.
I have used a mix of Kit Kats, candy eyes, gummy worms, peanut butter pieces, M&Ms and candy corn. I've noted some other scary suggestions to get you started later in the post.
How to Make Halloween Bark
Find the full printable recipe below.
It is very simple! All you need to do is melt some chocolate and spread it onto a lined sheet pan.
Press in your favourite candies and allow it to chill in the fridge for an hour.
Carefully cut and serve.
And thats it!
WHAT IS THE BEST WAY TO MELT CHOCOLATE?
There are two methods which work equally well. Microwaving the chocolate is unsurprisingly faster.
Whichever method you use, keep an eye on the chocolate so that it melts but does not become overheated. When overheated, chocolate loses the glossy shine and looks dull and sludgy.
1. MICROWAVE METHOD
Congratulations for trying this! It's easy and it works!
Make sure the chocolate is chopped into similar sized pieces to ensure even melting.
Place it in a medium sized microwave safe bowl.
Microwave on high for 30 seconds, stir and return to the microwave for another 30 seconds. Keep on stirring and microwaving in 30 second bursts until almost fully melted.
Let the bowl stand for the last couple of minutes, stirring occasionally, so the last of the chocolate can melt.
2. BOWL AND HOT WATER METHOD
Make sure the chocolate is chopped into small similar sized pieces to ensure even melting.
Fill a medium sized saucepan with an inch of water, bring it to a boil and turn to a low simmer.
Place the chocolate into a medium size bowl and carefully set it over the saucepan.
Don't allow the bowl to touch the water - the steam is enough to melt the chocolate.
Melt the chocolate slowly over low heat - the water should be barely bubbling.
Stir the chocolate frequently with a rubber spatula as soon as the outer edges start to melt.
Keep stirring until the chocolate is fully melted.
How Do I Make Halloween Bark Spooky?
When it comes to making your Halloween Bark spooky, I recommend getting creative with the candy toppings.
Candy eyes are a great place to start. If you can't find them in store, try looking for them online.
Gummy sweets come in all shapes and sizes from eyeballs, snakes and worms to fingers, spiders and mice.
Chocolate or jelly filled skulls are also a great idea as are chocolate spiders or mini pumpkins.
Can I make Candy Bark for other Holidays?
This recipe is easily adapted to suit any holiday. At Easter I top the chocolate with mini eggs, creme eggs and any leftover chocolate.
For Christmas I like to top the chocolate bark with candy canes. Or how about making a reindeer topping using candy eyes; pretzels for antlers and a round red candy for the nose.
Variations of Halloween Candy Bark
My Halloween candy bark is topped with the sweets that we all associate with Halloween. However, you can adapt all those sweet toppings and replace them with a whole host of variations, some of them more adult.
Here are some alternative ideas to candy:
Bittersweet chocolate with nuts, dried fruits and marshmallow pieces for a rocky road inspired chocolate bark.
Bittersweet chocolate with stem ginger, dried apricot and almond.
Milk chocolate with salted caramel pieces and hazelnuts.
White chocolate bark with freeze-dried raspberries and almond slivers.
Swirl together bittersweet, milk and white chocolate and top with after dinner chocolate mints.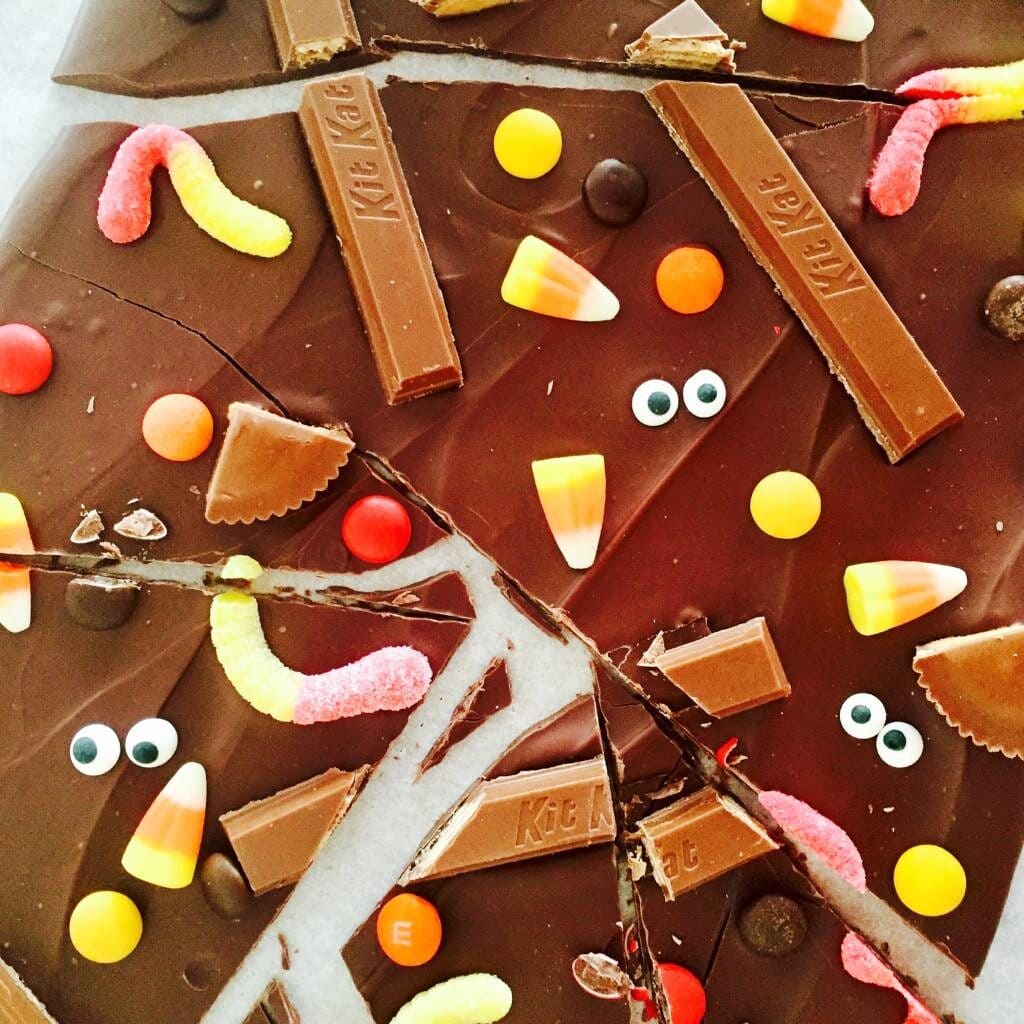 Tips For Making Halloween Bark
If the kids are helping out, take care when pouring the molten chocolate as it will be hot.
This recipe is easily adapted to suit coeliacs and those following a gluten free diet. Firstly, ensure that the chocolate you are using for the bark base is gluten free. Then top with gluten free sweets, candies and chocolate bars.
If adapting this recipe for a vegetarian diet, take care when topping the chocolate and always check the ingredient label. Many gummy sweets contain gelatin which is an animal protein and therefore unsuitable for a veggie diet.
Should you refrigerate Chocolate bark?
Don't put chocolate bark in the fridge as condensation can collect on it's surface. Any moisture in the fridge can cause 'sugar bloom' which can discolor the chocolate.
There is also a danger the chocolate might pick up odors from other things being stored in the fridge.
How should you store Chocolate bark?
Once the chocolate bark has been made and set, place it into an airtight container with a lid and store it on the counter top. It is helpful to separate layers of chocolate pieces with wax or parchment paper. It will keep for around 5 days.
Pin This Halloween Candy Bark Recipe For Later
What Do You Think?!
I'd love to know what you think about this recipe! I'd be so grateful if you scroll down to the bottom of the page and leave a star rating and comment.
Don't forget to go over to Facebook and Instagram and make sure you're following me so you can join in the chat. And remember to save this recipe to your Pinterest too!
---
More Easy Holiday Recipe Ideas
---
Printable Recipe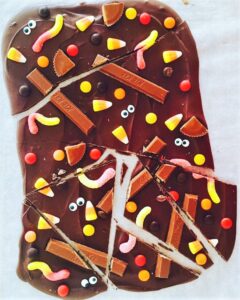 Halloween Candy Bark
This Halloween Candy Bark is the perfect spooky holiday treat. It's also a great way to use up leftover Halloween candy. Simply melt chocolate, top with your favorite candies, refrigerate, cut and devour this boo bark.
Ingredients
2

cups

Semisweet (Dark) Chocolate

-

chopped or chips

1

cup

Candy

-

eg. Kit Kats, candy eyes, gummy worms, peanut butter pieces, candy corn and M&Ms
Instructions
Line a 13 x 9 inch baking sheet (tray) with parchment paper.

Melt the chocolate chips either in the microwave on high stirring every 30 seconds until melted or in a bowl over a barely simmering saucepan with an inch of water in it.

Use an offset spatula or butter knife to spread a thin layer of the chocolate into the baking tray.

Decorate with your chosen candy - press it down lightly into the melted chocolate so that they stick.

Refrigerate for at least an hour.

Lift the bark out of the pan on the parchment paper.

Carefully cut on a flat surface or break into pieces and serve!
Notes
Please note that the nutrition estimate relates to the chocolate only as your choice of candy will wildy affect the nutrition.
Nutrition
Calories:
243
kcal
Carbohydrates:
25
g
Protein:
4
g
Fat:
14
g
Saturated Fat:
13
g
Polyunsaturated Fat:
1
g
Monounsaturated Fat:
1
g
Cholesterol:
1
mg
Sodium:
48
mg
Potassium:
285
mg
Fiber:
2
g
Sugar:
15
g
Vitamin A:
5
IU
Vitamin C:
1
mg
Calcium:
136
mg
Iron:
1
mg
Nutritional information is provided as a courtesy only and should be taken as an estimate rather than a guarantee. Ingredients can vary and the Family Food Kitchen can't guarantee the accuracy of this information.