This quick and easy Creamy Mustard Dill Sauce for Meatballs is delicious. The perfect accompaniment to either store bought or homemade meatballs, it will tip the flavor of your midweek meal over the edge!
I use IKEA ready made meatballs in my Swedish style meatball dinner so that I can get it prepared and on the table in less than 30 minutes.
Any ready made meatballs will work - and kudos to anyone with time to make delicious homemade meatballs! But with 3 kids and a busy after school schedule it's not usually happening for me.
By the way, this creamy mustard and fresh dill sauce elevates anything it touches. So no one will even notice if the meatballs are store bought 😉
Serve with mash or rice and some buttered veggies for one of those wonderful everyday meals.
Why You Should Make This Dill Mustard Sauce Recipe
Using precooked meatballs this recipe can be prepared and ready to eat in under 30 minutes. Fast enough for even the busiest of weeknights and a great way to get dinner on the table.
Don't let the speed of this sauce for Swedish meatballs fool you! It tastes amazing and is so flavorful even though it's made from very simple ingredients.
How to serve Meatballs
Swedish meatballs are often served with mashed potato. I also like to serve these meatballs with my No Mayo Herby Vegan Potato Salad.
But don't be limited to serving potatoes, this great tasting sauce for meatballs would also work with sides of steamed rice or buttery veggies like my Honey Butter Roasted Carrots. Egg noodles also work to mop up that sauce.
In Sweden the traditional pairing is to serve meatballs with lingonberry jam. If you make your own that's great, I pick mine up at my local IKEA store where they sell it in jars.
Difference between Swedish & Italian Meatballs
Swedish meatballs differ from Italian meatballs, they are smaller with a more compact texture and tend to be flavored with spices like allspice and nutmeg. Whereas Italian meatballs are generally larger, have a more open texture and are flavored with herbs rather than spices.
Creamy Mustard Dill Sauce for Meatballs Ingredients
Find the full list and quantities in the recipe below.
Meatballs - you can use any variety of meatballs and even make your own if you have time. However, for ease I have used store-bought Swedish meatballs. My particular favorite are IKEA's Swedish meatballs. These meatballs come ready cooked so they only need to be reheated in the meatball sauce.
It's also worth mentioning that IKEA meatballs can be cooked from frozen. Just remember they might just take a little longer to defrost and warm through in the sauce (usually around 15 minutes extra.)
Dijon Mustard - is a mild mustard and adds great flavor to the meatball sauce.
If you don't have Dijon mustard you can substitute with wholegrain mustard. However, I'd avoid English or yellow mustard as they are too strong and would overpower the fresh dill in the creamy meatball sauce.
Fresh Dill - is the herb most associated with Scandinavian cookery and works really well with fish and meat dishes and also in creamy sauces. It's a great tasting herb with a real fresh, almost grassy flavor. A great substitute for dill would be fresh parsley.
How to Make Meatballs in Mustard Cream Sauce
Find the full printable recipe card below.
Sauté chopped onion in olive oil until soft then add minced garlic.
Add chicken broth and the other remaining ingredients, then bring to a boil.
Season then add the meatballs.
Simmer for 15 minutes or until the meatballs are piping hot.
Check the seasoning, then serve with fresh chopped dill.
Variations of Creamy Mustard Dill Sauce Meatballs
IKEA in the US sells plant based, veggie and chicken meatballs as well as the regular pork/beef based meatballs.
To make this delicious sauce for vegetarian diners, look for a veggie based meatballs and swap the chicken stock in the sauce for vegetable stock instead.
This sauce is not just for meatballs - serving it with chicken or fish also makes a delicious combination.
If you like your sauce a little sweeter but you want to avoid added sugar, try a splash of maple syrup. You could also use sweet mustard or honey mustard for a touch of sweetness.
This recipe can be easily adapted for dairy-free or vegan diners. Firstly opt for a plant based vegan "meatball". Then replace the chicken stock with vegetable stock and the heavy cream for a plant based vegan cream.
Fresh dill is used to flavor the creamy mustard meatball sauce, however you can use other fresh herbs like thyme or parsley. I would avoid dried dill since it won't give the same flavor.
Tips For Making Sauce for Meatballs
Ready cooked Swedish meatballs not only taste great, but save real time when it comes to preparing this dish. They only need to be heated up in the meatball sauce.
If making your own meatballs, take the time to brown them first in a separate pan before adding them to the meatball sauce. This will really add to the flavor of the finished dish.
Also if making homemade meatballs ensure they are small and fairly even in size, otherwise they may take longer to cook through.
How To Reheat Sauce for Meatballs?
Once cooked and cooled, any leftovers can be stored in the refrigerator for up to 3 days.
Next time simply heat the meatballs up gently in the sauce over a medium heat until warmed through. If the sauce is a little thick you can add a splash of stock or water to loosen it.
How to Freeze Sauce for Meatballs?
This sauce for meatballs can be made in advance, cooled and stored in a suitable container in the freezer for up to 3 months. When ready to enjoy, defrost the sauce and warm it up in a pan over a medium heat. Add the meatballs to the sauce to warm through.
If you make your own meatballs from scratch, you can freeze them once they are cooked along with the meatball sauce. Simply allow the dish to cool completely then place in an airtight container suitable for the freezer. You can store the sauce and homemade meatballs for up to 3 months.
However, if you are using ready made meatballs that have already been frozen they cannot be refrozen!
Pin This Creamy Mustard Dill Sauce for Meatballs Recipe For Later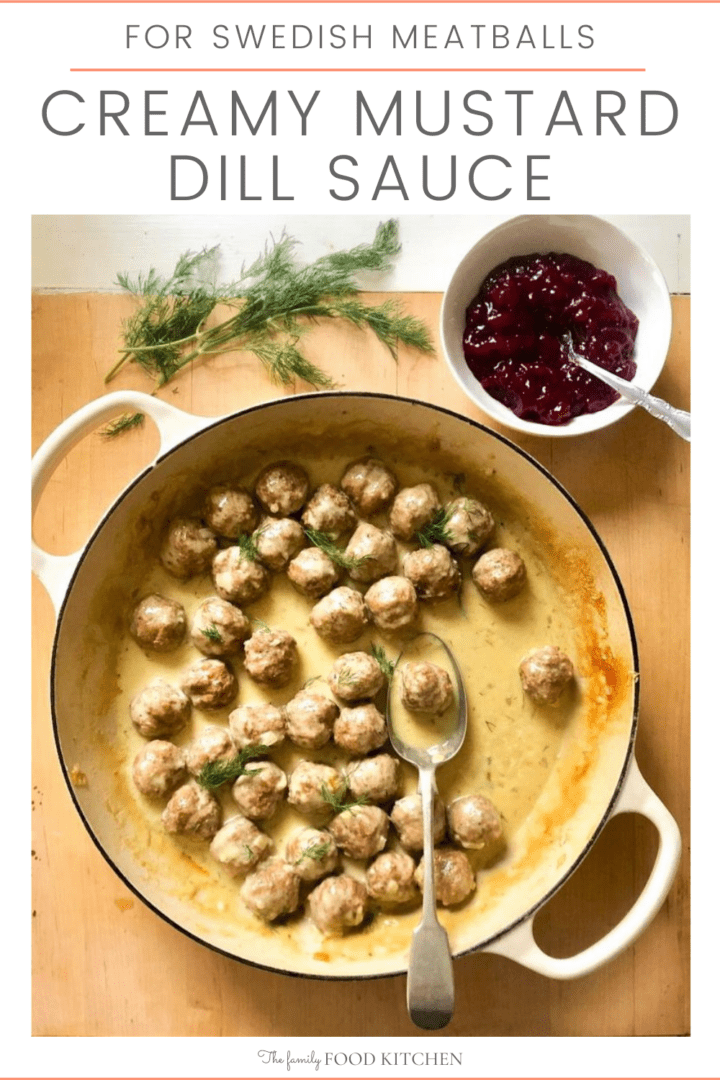 What Do You Think?!
I'd love to know what you think about this recipe! I'd be so grateful if you scroll down to the bottom of the page and leave a star rating and comment.
Don't forget to go over to Facebook and Instagram and make sure you're following me so you can join in the chat. And remember to save this recipe to your Pinterest too!
---
More Under 30 minute recipe Ideas
---
Printable Recipe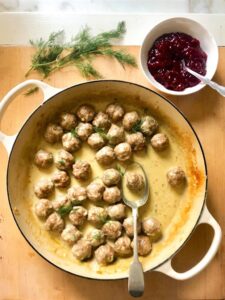 Creamy Mustard Dill Sauce for Meatballs
This quick and easy Creamy Mustard Dill Sauce for Meatballs is delicious. The perfect accompaniment to either store bought or homemade meatballs, it will tip the flavor of your midweek meal over the edge!
Ingredients
1

tbsp

Extra-Virgin Olive Oil

1

Onion

-

peeled and finely chopped

1

clove

Garlic

-

minced

½

cup

Chicken Stock

½

cup

Heavy Cream (Double Cream)

1

tbsp

Dijon Mustard

2

lbs

Swedish Meatballs

-

store-bought or homemade

1

tbsp

Fresh Dill

-

chopped

Sea Salt and Black Pepper
Instructions
1 tbsp Extra-Virgin Olive Oil |

1 Onion

In a large lidded frying pan or dutch oven, sauté the chopped onion in olive oil on a medium low heat until soft - around 10 minutes.

Add the minced garlic, and sauté a further minute.

½ cup Chicken Stock |

½ cup Heavy Cream (Double Cream) |

1 tbsp Dijon Mustard

Add the chicken broth, heavy cream and mustard then bring to a boil.

Sea Salt and Black Pepper |

2 lbs Swedish Meatballs

Season well to taste then add the meatballs and turn the right heat down to a low simmer. Cover with a lid.

Simmer for 15 minutes, removing the lid to stir occasionally, until meatballs are piping hot and completely cooked through. The sauce will have thickened somewhat. If the sauce looks too thick add a splash more stock and cream.

Sea Salt and Black Pepper |

1 tbsp Fresh Dill

Season again if needed and finish with the fresh dill.
Nutrition
Calories:
755
kcal
Carbohydrates:
5
g
Protein:
40
g
Fat:
63
g
Saturated Fat:
25
g
Polyunsaturated Fat:
5
g
Monounsaturated Fat:
27
g
Cholesterol:
205
mg
Sodium:
225
mg
Potassium:
753
mg
Fiber:
1
g
Sugar:
2
g
Vitamin A:
457
IU
Vitamin C:
4
mg
Calcium:
62
mg
Iron:
2
mg
Nutritional information is provided as a courtesy only and should be taken as an estimate rather than a guarantee. Ingredients can vary and the Family Food Kitchen can't guarantee the accuracy of this information.
This recipe was shared with the #cookblogshare community, this week hosted by Helen at Family Friends Food.