These Leftover Pulled Pork Tacos are a weeknight dinner of dreams. Seasoned to perfection, juicy meat is re-heated in minutes and served with all your favorite toppings. You'll never be so happy to use up pork leftovers!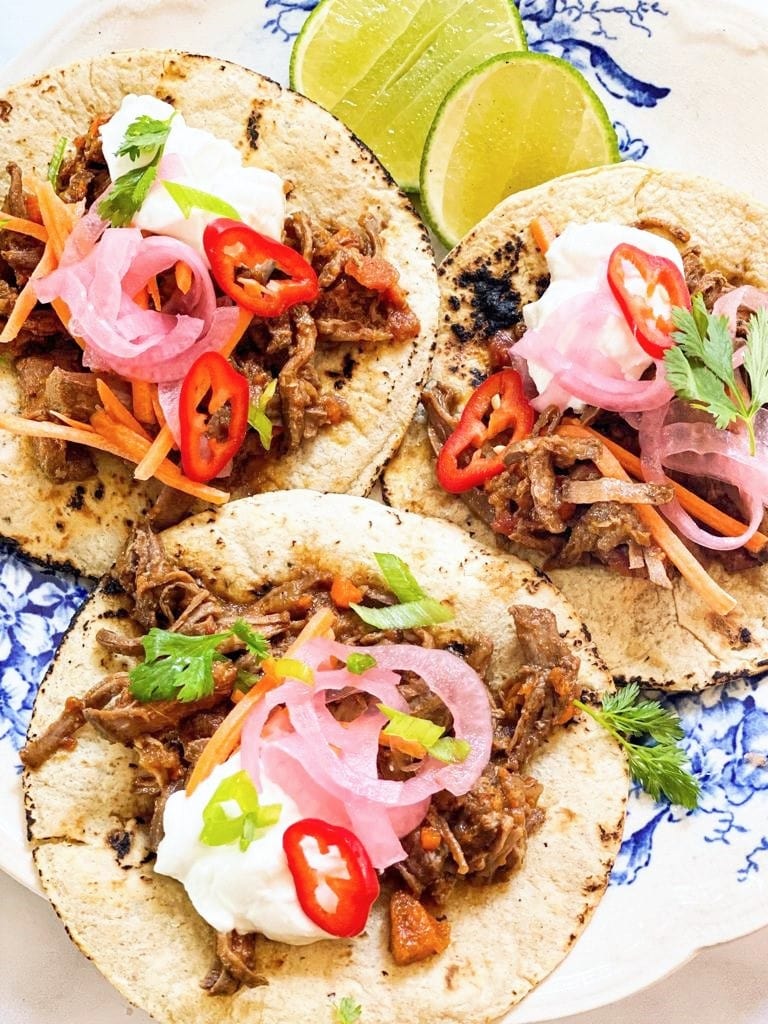 Pulled pork is not only easy and delicious - there's usually lots of leftovers to make the perfect dinner with minimal effort on busy weeknights.
These tacos are are one of my favorite answers for what to do with next day leftover shredded pork.
Using leftover pulled pork as carnitas could not be easier. This quick meal can be prepared in only 20 minutes, which makes it perfect for busy weeknights.
Really versatile too, swap out the toppings and load these leftover pork tacos with all your favorites and tuck right in.
No need to wait for Taco Tuesday - these bbq pulled pork tacos make a tasty dinner any night of the week.
Jump to:
Why You'll Love These Leftover Pulled Pork Tacos
Hands on prep time is minimal, these carnitas from leftover pulled pork can be on the table in 20 minutes.
This recipe is easily adapted to suit celiacs or anyone following a gluten free diet, by swapping regular tortillas for a 100% corn or gluten free tortilla.
Comfort food at it's best, it's easy to double or treble this recipe if feeding a crowd.
I find my kids love any food that's wrapped up in a tortilla, so this recipe can be enjoyed by all the family.
Leftover Pulled Pork Ingredients
Find the full list and quantities in the recipe below.
Pulled Pork - you can use any variety of pulled pork. To make your own try my simple recipe for Instant Pot Pulled Pork Shoulder. This recipe comes with instructions for making pulled pork in the oven too. It's fine to use pork which has been dressed with BBQ sauce too - it all adds to the flavor!
Quick Pickled Red Onion - making your own quick pickled onion could not be any simpler, the onion is set aside in a little apple cider vinegar and some sugar. I use red onion as it has a mellow flavor compared with a yellow onion. As an alternative to pickled red onions, try my Quick Pickled Shallots.
Tortillas - you can use any variety, or size of soft flour or corn tortillas. Soft shell tortillas are my favorite, but if you like hard shell they can work too for extra crunch.
How to Make Leftover Pulled Pork Tacos - Step-By-Step
Find the full printable recipe below.
Start by warming the pulled pork with a splash of extra liquid.
You can heat the pork in a pan on the stove, in the microwave or in a foil covered container in the oven.
Meanwhile make the pickled red onions by slicing the onion thinly then leaving it to sit in a mixture of sugar dissolved in hot water with apple cider vinegar and salt.
After a few minutes the onions will turn pink and are ready to use.
Warm small flour or corn tortillas in the microwave or in the oven then you are ready to assemble the tacos.
Drain the red onions from their pickling liquid.
Pile around a quarter of a cup of hot pork onto each tortilla.
Top with shredded carrot, the pickled onions, sour cream, jalapeno slices, lime wedges and fresh cilantro.
Frequently Asked Questions
What type of pork is best for pulled pork?
Pork butt, Boston butt roast and pork shoulder are tough and fatty cuts that come from the shoulder area of the pig.
These cuts are ideal for slow cooked pulled pork. The pork butt is a cut that is high on the foreleg, while pork shoulder has more muscle and is located further down the animal.
How do you re-heat pulled pork for tacos and not dry it out?
You can reheat pulled pork in the oven or in a skillet over a low temperature. Too high and you risk drying the pork out. Add some of the pork cooking juices or a splash of broth or water to keep the meat moist.
How do you know if leftover pulled pork is ready?
When ready, pulled pork will be very tender and break apart easily with a fork. However, to be absolutely certain I like to check the internal temperature with a meat thermometer to ensure it has reached 205ºF/190°C.
What is the best way to warm tortillas?
The trick to warming tortillas is not to dry them out. I recommend either wrapping them in foil and placing into a low oven to warm through.
Alternatively, wrap them in some damp paper towel and place them in the microwave. Allow 10 seconds for 1 tortilla or 30 seconds for 6-8 tortillas.
What Other Ways Can You Use Leftover Pulled Pork?
Pulled pork is a really versatile ingredient. If you're lucky enough to have some, here are other delicious recipes you can make with leftover pulled pork.
Variations & Substitutions for Leftover Pork Tacos
You could make this meal lighter by serving the leftover meat in lettuce wraps.
You could also make crispy tacos with crunchy taco shells.
These BBQ Pulled Pork Tacos are really flavorful but I love adding my own quick and simple taco toppings, here are some ideas: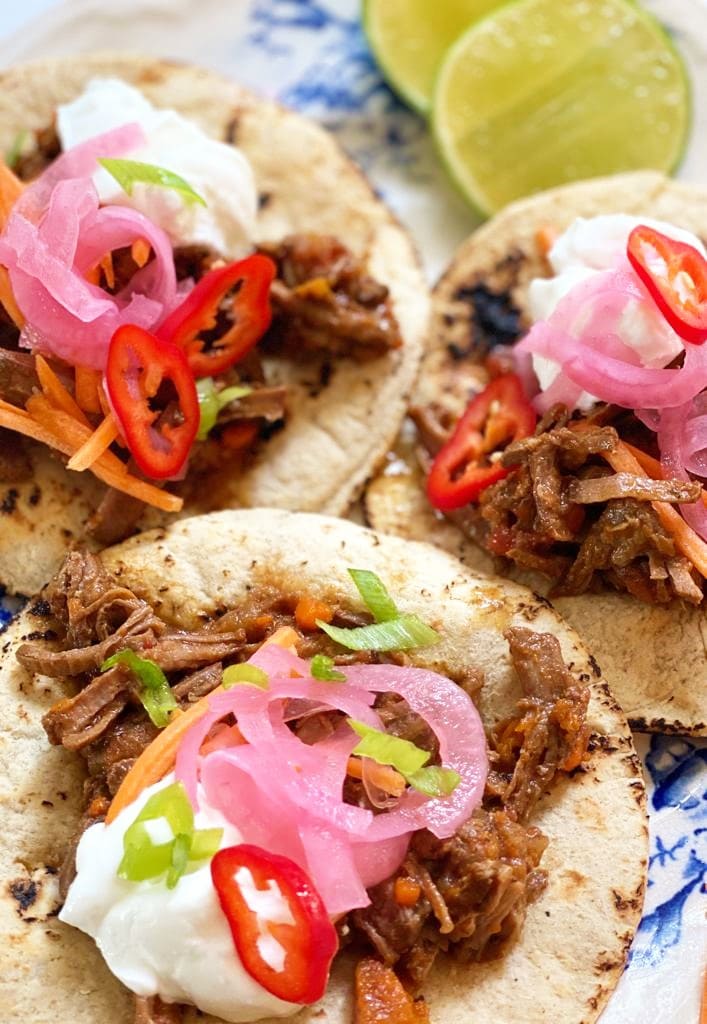 Tips & Tricks For Making Carnitas from Leftover Pulled Pork:
For gluten free Pork Carnitas replace regular wheat tortillas with corn tortillas or gluten free tortillas.
If the pulled pork looks dry, just stir through a little extra cooking liquor or BBQ sauce.
Place all the taco toppings into separate bowls, that way everyone can enjoy their tacos, their way.
What To Serve With Leftover Pulled Pork Tacos
Planning a Mexican feast night with family and friends? Then serve these pulled pork tacos alongside some other great tasting taco dishes like my Fish Stick Tacos or my Grilled Corn & Black Bean Tacos.
Or why not add a side of my Sweet Potato Fries or some Corn Riblets
Other options which would be delicious include some baked or re-fried black beans, my Smoky Eggplant Chili, Chicken Fajita Sheet Pan Dinner, or my easy vegetarian Oven Quesadillas.
How To Reheat Pulled Pork?
You can reheat pulled pork in the oven or in a skillet on a low temperature, not too high otherwise the pork will dry out. Add some of the cooking juices, a splash of broth or water to prevent the meat from drying out.
How to Store & Freeze Leftover Pulled Pork
Pulled pork shoulder is really easy to freeze. I like to cook enough to enjoy now and freeze some in individual portion sized freezer bags for later.
Don't forget to add some cooking juices to the freezer bag to keep the pork moist.
Pulled pork will store in the freezer for up to 3 months. Defrost in the refrigerator before using.
Pin This Leftover Pulled Pork Tacos Recipe For Later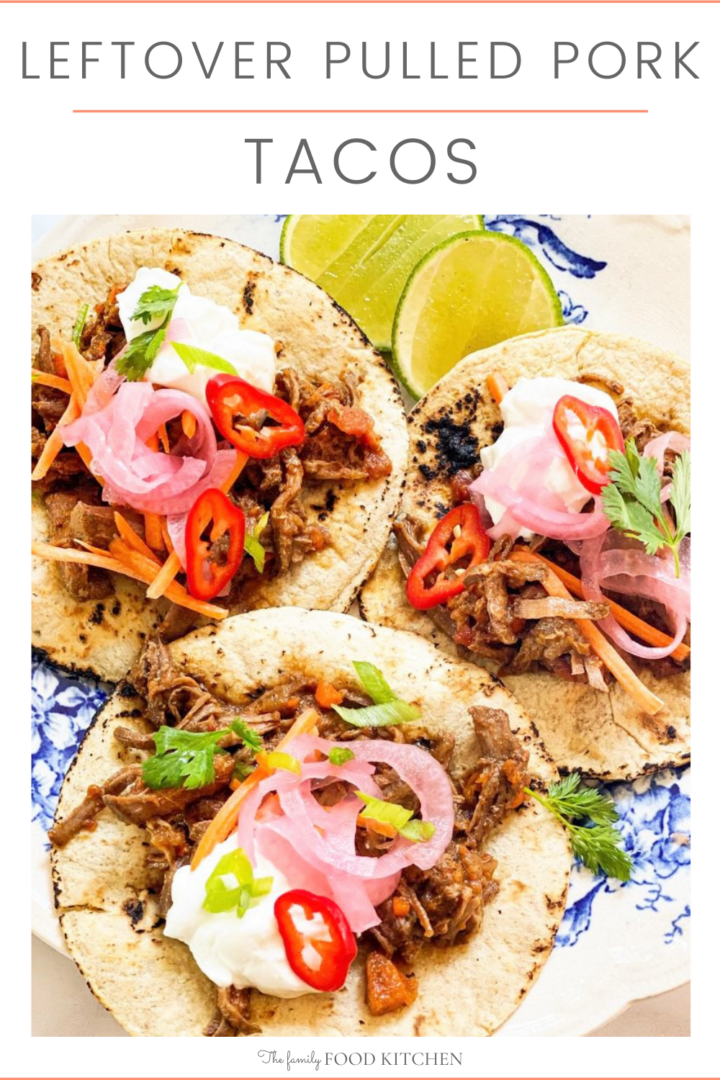 What Do You Think?!
I'd love to know what you think about this recipe! I'd be so grateful if you scroll down to the bottom of the page and leave a star rating and comment.
Don't forget to go over to Facebook and Instagram and make sure you're following me so you can join in the chat. And remember to save this recipe to your Pinterest too!
---
This recipe was shared with the #cookblogshare community, which this week was kindly hosted by Choclette at Tin and Thyme
More Quick & Easy Recipe Ideas
---
Printable Recipe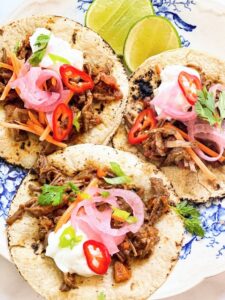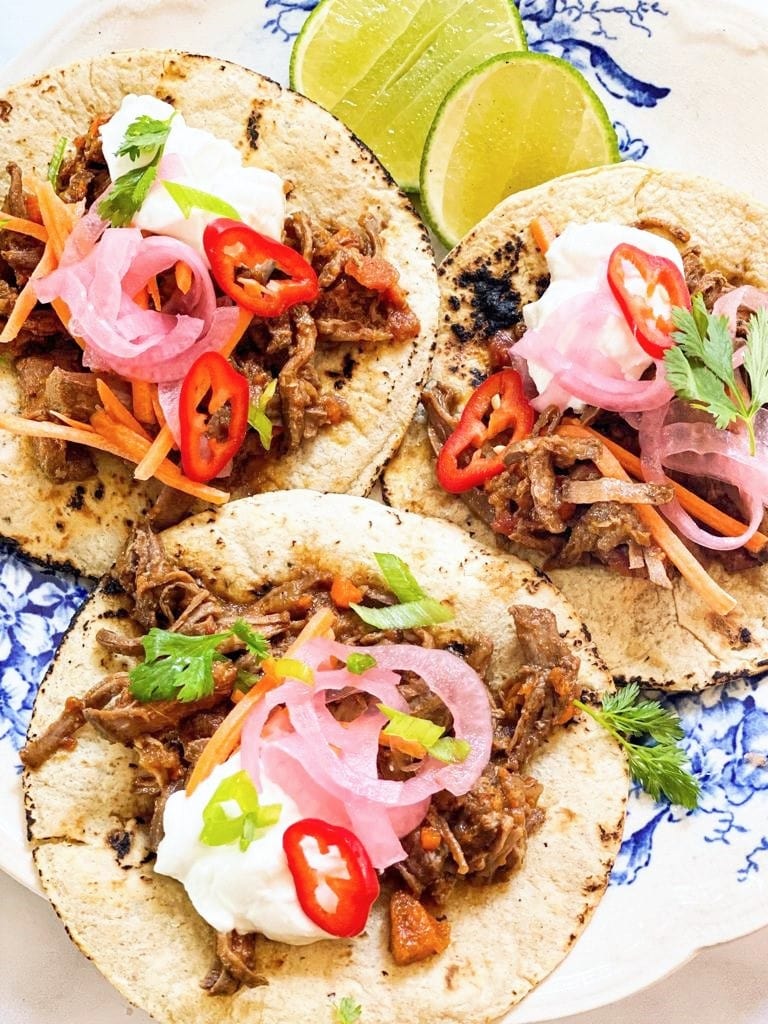 Leftover Pulled Pork Tacos
These Leftover Pulled Pork Tacos are a weeknight dinner of dreams. Seasoned to perfection, juicy meat is re-heated in minutes and served with all your favorite toppings. You'll never be so happy to use up pork leftovers!
Ingredients
2

cups

Pulled Pork

A

splash

chicken broth or vegetable broth

-

or leftover pork cooking juices or water

½

small

Red Onion

-

thinly sliced

¼

cup

Apple Cider Vinegar

¼

cup

Water

-

hot

1

tsp

Sugar

8

Small Tortillas

-

soft flour or corn

1

cup

Carrot

-

shredded

½

cup

Sour Cream

1

Red Jalapeño Pepper

-

thinly sliced

1

Lime

-

cut into 8 wedges

Fresh Cilantro (Coriander)

-

to serve if desired

Sea Salt
Instructions
Heat the pulled pork
Add a generous splash of leftover cooking liquid, broth or water to the leftover pulled pork to make sure it stays moist.

You can then warm the meat in a large pan on the stove, on a medium heat, stirring occasionally, until heated through.

OR

Heat the leftover pork in the microwave in 30 seconds increments until piping hot.

OR

Warm it a preheated 300ºF/150ºC oven in an oven proof container covered in aluminum foil until hot through.
Make the quick pickled onions.
White the pork is heating, carefully slice the red onion as thinly as you can.

In a small bowl, dissolve the sugar in the hot water. Stir in the apple cider vinegar and add a generous pinch of salt.

Next add the onions to the bowl. Let them sit for a few minutes until they turn very pink.
Warm the tortillas
Place your choice of small flour or corn tortillas in the microwave and cover with a damp paper towel. Heat in 30 second increments until just warm.

OR

If you have the oven on to warm the pork, wrap the tortillas in foil and place in the oven for a few minutes to warm.
Assemble the tacos!
Drain the quick pickled onions.

Add about a quarter of a cup of the hot pulled pork into each tortilla.

Pile on shredded carrot and pickled onions.

Add a generous helping of sour cream.

Serve with jalapeno slices, a wedge of lime and some fresh cilantro leaves, if desired.
Nutrition
Serving:
1
taco
Calories:
246
kcal
Carbohydrates:
30
g
Protein:
11
g
Fat:
10
g
Saturated Fat:
4
g
Polyunsaturated Fat:
1
g
Monounsaturated Fat:
1
g
Cholesterol:
34
mg
Sodium:
590
mg
Potassium:
136
mg
Fiber:
2
g
Sugar:
12
g
Vitamin A:
2872
IU
Vitamin C:
8
mg
Calcium:
99
mg
Iron:
2
mg
Nutritional information is provided as a courtesy only and should be taken as an estimate rather than a guarantee. Ingredients can vary and the Family Food Kitchen can't guarantee the accuracy of this information.